LG Electronics has won a patent for a foldable smartphone equipped with dual displays and a 3.5mm headphone jack. The patent was awarded to LG by World Intellectual Property Organisation after the company originally filed for the patent in September of 2016. Interestingly, LG's patent includes two variations of the same design which is somewhat similar to the design of the ZTE Axon M. The main feature of the patent is the fact that the smartphone includes two displays that are attached by a hinge, but LG's designs include some more interesting features.
The most notable difference between the design patented by LG and the ZTE Axon M is the fact that in LGs designs, the two displays are powered by their own batteries whereas the ZTE made smartphone incorporates just one battery. The LG design also has two individual 3.5mm headphone jacks, one for each screen in order to facilitate distinct video and audio playback on both screens simultaneously. According to the text in the patent, "Both versions of the device would be capable of displaying two different videos on their screens and allow two people to plug in their headphones and listen to their own content simultaneously."
Other details in the patent reveal dual cameras behind the primary display and an in-display fingerprint sensor as well. The primary display also seems to have curved edges much like Samsung's flagship device in order to better hide the hinge. The diagrams submitted by LG for the patent show that the dual screen, besides being used to playback two distinct media streams, can also be used for apps such as Mail where one display shows the content of the inbox while the second display is where the message is being composed.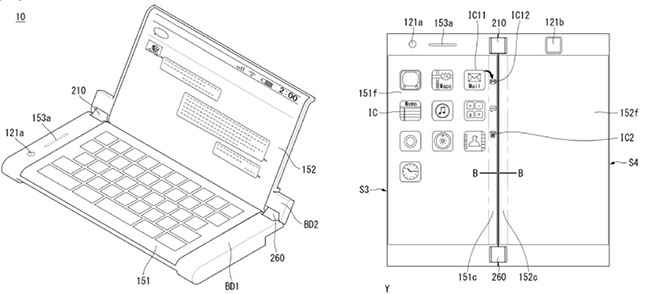 While LG may have a patent for a smartphone with foldable dual displays, ZTE beat the Korean electronics company to market with a device. The ZTE Axom M also has two displays that can be folded into one giant block, but it has a more rectangular design in comparison to LG's more curved displays. ZTE's smartphone has dual displays both of which are powered by a single battery placed under the primary display. The phone also has a single headphone jack, making it notably different from what LG has won a patent for.
Dual display smartphones, as enticing as the concept may sound, are yet to become a mass market phenomenon. While they may sound like an exciting type of smartphone to own, their utility and practicality is still rather limited due to the fact that there are not a lot of apps optimized for this kind of a form factor, not to mention, the Android OS is yet to be optimized for this kind of form factor. Interestingly, Oppo already has a patent on a foldable smartphone while Samsung had allegedly showcased their foldable smartphone privately at CES 2018.