The Lenovo Z5 Pro is due to be unveiled on November 1 in China, as announced last week. Ever since the announcement, Lenovo CEO has been releasing a poster every day counting down to the launch of the smartphone. The posters for the past two days confirm some new features of Z5 Pro. The first poster confirms the Lenovo Z5 Pro will indeed have a mechanised slider housing the dual front cameras. The poster shows that the Z5 Pro will use a 'double helix' slider with six guidance sensors. The text (written in Chinese) on the poster states the slider can last more than 300,000 times. It's the same figure the Oppo shared for its automated slider in the Oppo Find X. Moreover, the poster also confirms the Lenovo Z5 Pro will have dual front facing cameras as well as dual rear-facing cameras. The ones on the back will be positioned vertically in the center. There's also no cutout for the fingerprint sensor on the back, indicating that the sensor will be integrated under the display.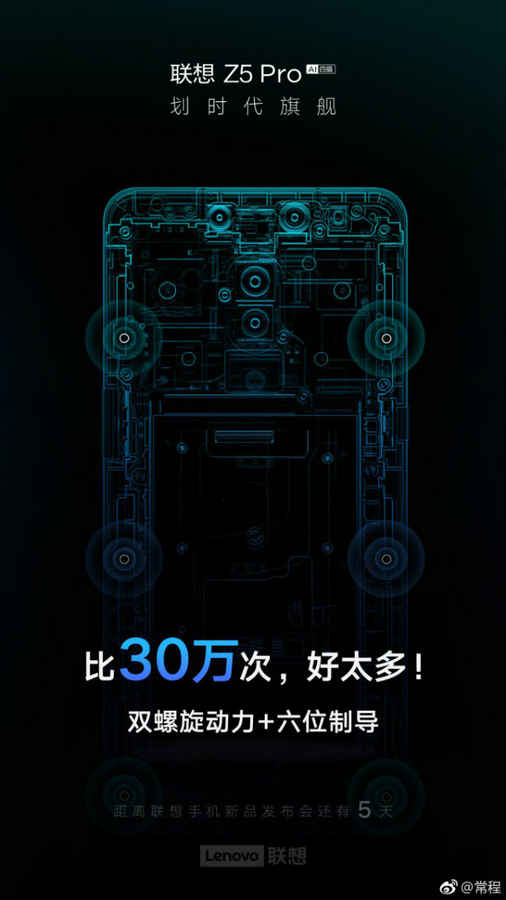 The second poster that the CEO unveiled hints at a specialised chip for hardware encryption. The Lenovo Z5 Pro could have a secure enclave to store sensitive credentials to protect the OS from being tampered. It's something that the new Google Pixel 3 phones also come with, and is aimed at businessmen and professionals who demand a certain level of security in their smartphones.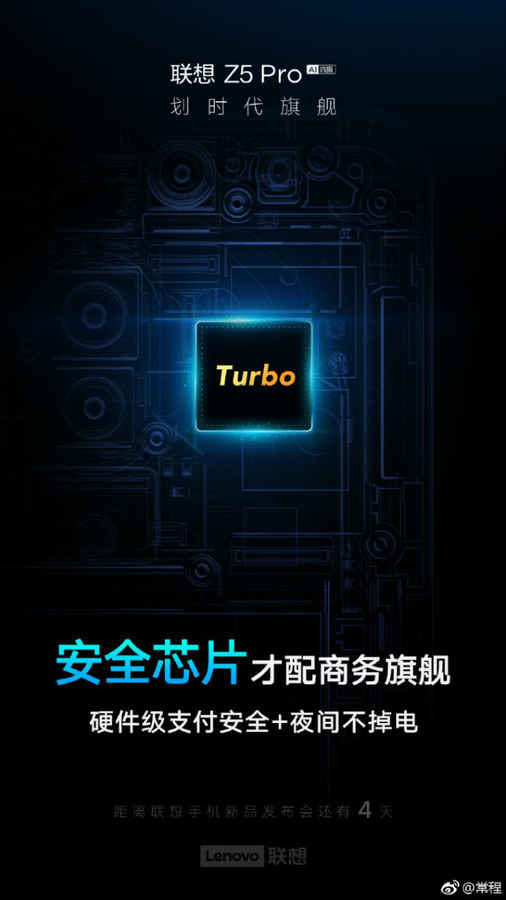 Further, the poster also has an image of a chipset with 'Turbo' written on it. Now, the CEO didn't really elaborate on what that could mean, but it's likely that the phone may have some capability to boost the performance. We have seen similar features in Oppo's phone where it is called Hyper Boost.
Previous leaks have revealed that the Lenovo Z5 Pro will sport an edge-to-edge 6.5-inch panel with 2280x1440 pixel resolution. The Snapdragon 845 will power the phone reportedly, coupled with 6/8GB of RAM and 64/128/256GB of storage along with a 4,000mAh battery. It's unknown at this point whether the phone will make its way to India. Lenovo recently came out of hibernation and announced two budget phones — The Lenovo K9 and the Lenovo A5, both aimed at the entry-level market with value-for-money hardware. If indeed the Z5 Pro comes to India, it's likely to take on the upcoming OnePlus 6T in the premium segment.