A product roadmap for upcoming Xiaomi phones has been leaked recently, detailing some of the company's upcoming products. According to this, the new devices will be called the Xiaomi Mi 4S, Xiaomi Redmi Note 2, Xiaomi Redmi Note 2 Pro and the Xiaomi Mi 5. All four of the smartphones seem to be upgrades to the company's current generation of devices.
Also read: Xiaomi Mi 4i Review
The Xiaomi Mi 4S has a 5 inch 1080p display along with the Snapdragon 810 SoC from Qualcomm. It also has a 13MP rear camera with optical image stabilisation, while the front camera stands at 5MP.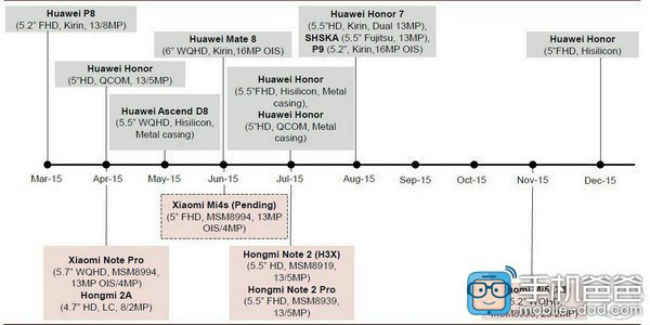 The Redmi Note 2 on the other hand will have a 5.5 inch HD display, along with the Qualcomm Snapdragon 410 SoC and 13MP and 5MP cameras on the back and front respectively. The Redmi Note 2 Pro on the other hand will have similar specifications, but will run on a Snapdragon 615 chipset, along with a 1080p display.
Lastly, the Xiaomi Mi 5, which has been rumoured for quite some time now, seems to finally be complete. According to the roadmap, this phone will have a 5.2 inch QHD display and will sport the much awaited Qualcomm Snapdragon 820 SoC along with a 20.2 MP rear camera.
Also read: Xiaomi Mi Band Review
Looking at the leaked image though, it is important to be noted that it could be meant only for China. The Redmi Note smartphones in this image are written as Hongmi Note, which is a China specific name. That said, it would also mean that the products would quite certainly follow through to India soon enough.
Also, going by Xiaomi's history of selling high-end features at very low prices, it wouldn't be a long shot to expect a fingerprint sensor in the Xiaomi Mi 5. In fact, such rumours have been floating on the Internet also. With the Snapdragon 820 SoC, Qualcomm has showcased an impressive fingerprint sensor, which could be put to use in the Mi5.
Source: Mobile-Dad
For more technology news, product reviews, sci-tech features and updates, keep reading Digit.in or head to our Google News page.