While it has been a while since Google unveiled Android Oreo, not all manufacturers have started rolling out the update to its device. However, we might have gotten a glimpse as to the Samsung devices that can expect the update soon. AndroidOS.in reported that Weibo user, Ice Universe has posted a list of 36 devices which might receive Oreo. Besides the most obvious candidates like the Galaxy S series and the Galaxy Note series, Samsung is also tipped to update its other series of devices such as the Galaxy A, Galaxy On Max, Galaxy Tab, Galaxy J and the Galaxy C series.
Besides updating its two year old flagships, Galaxy S6 series and the Galaxy Note 5, the list also contains names of a few devices that Samsung is yet to announce. These include the Galaxy A3 (2018), Galaxy A5 (2018) and Galaxy A7 (2018). This suggests that these devices might launch with Android Nougat, and will be updated to Oreo at a later date.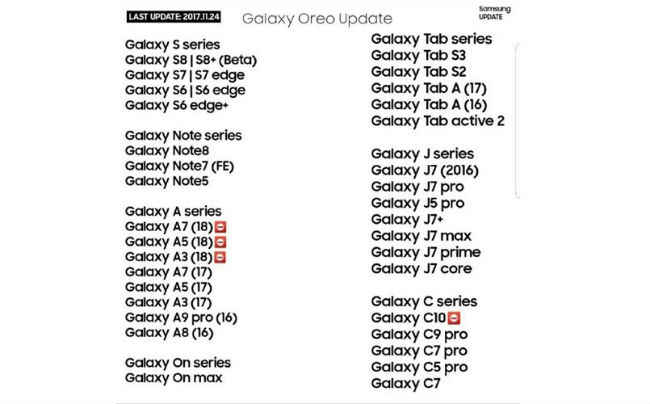 If the list is true and Samsung does indeed roll out the Oreo update to all 36 of the mentioned devices, then this should definitely increase distribution numbers for the latest version of Google's mobile OS. Current numbers show that Oreo has a share of about 0.3 percent, with Marshmallow leading the pack with a share of 30.9 percent. Besides being pre loaded on the Sony Xperia XZ1 and the new Pixel devices, the update has been rolled out to the previous gen Pixels, select Nexus devices, OnePlus 3 and OnePlus 3T.
Samsung is reportedly beta testing the Android Oreo update for the Galaxy S8 and Galaxy S8 Plus smartphones. Testers in the UK claim that they recently received the third Oreo beta update for their devices. Besides being more stable and fixing a few bugs, the new update also brings with it the November Security Patch. The security patch fixes the Wi-Fi KRACK vulnerability.