Lenovo will launch the Moto Z2 Force in India on February 15. The year-old rugged flagship phone will launch in India after being available in the US and Europe for the better part of 2017. Lenovo has sent out media invites for the event that will be held in New Delhi.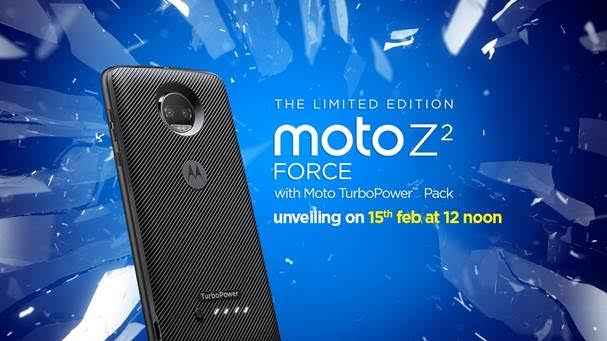 Like the older "Force" editions, the Moto Z2 Force is built to last. The phone features what Moto calls a "ShatterShield" display that's guaranteed to not crack or shatter under duress. Additionally, Lenovo will launch the Moto Z2 Force with the Moto TurboPower Mod that will extend the battery life of the phone by quite a lot.
The phone belongs to modular 'Z' series of phones and comes with flagship-level hardware under the hood. It is powered by the Qualcomm Snapdragon 835 chipset coupled with up to 6GB of RAM and up to 128GB of storage.
It also features a dual camera stack at the back. There are dual 12-megapixel sensors with one capturing light in colour, and the other in monochrome. Both lenses have Sony IMX386 sensors with 1.25-micron pixels and f/2.0 aperture. The camera features PDAF, laser autofocus and a CCT dual-LED flash. The camera offers bokeh effect, selective black and white, background replacement and real-time as well as post-shot depth of field manipulation.
On the front is a 5-megapixel shooter with f/2.2 aperture, 85-degree wide-angle lens and a front-facing flash.
The chassis of the phone is built using 7000-series aluminium and features an unibody design of 6.1mm thickness, which is quite slim. The slimness allows an underwhelming 2730mAh battery as well as sacrifices the 3.5mm headphone jack. The body is nano-coated with a water-repelling coating. On the back are the 16-pin gold connector for the Moto Mods. All the Moto Mods released so far will be supported.
The Z2 Force sports a 5.5-inch QHD POLED panel with the ShatterShield technology. Essentially, the display has a 5-layer protection system that are designed to absorb shock and prevent breakage. It remains to be seen though, whether the extra layer affect the display quality.
The phone launched in the US last year starting $799 which roughly converts to Rs 51,000 in India rupees. The phone is offered in Fine Gold, Lunar Grey and Super Black colour variants.