All the rumours regarding the new-generation of iPhones have suggested that Apple is expected to launch three iPhone models this year; two with OLED panels and one with an LCD display. Famous Apple analyst Ming-Chi Kuo had previously said that both the OLED iPhones, a 5.8-inch iPhone and 6.5-inch iPhone Plus variant, will be available on time but the LCD one will launch in November. On the same lines, a new report has claimed that the 'most affordable' iPhone of the three will undergo mass production in October.
"We currently see no delay in the ramp of Apple's upcoming flagship 5.8-inch or 6.5-inch OLED iPhones. However suspected issues with LED backlight leakage have caused a 1-month delay in mass production of the 6.1-inch LCD iPhone," Morgan Stanley Analyst, Katy Huberty, was quoted as saying. The report also mentions that Apple might have anticipated the production issues for the new devices, with suppliers telling Huberty "the four weeks is down from a 6-week delay baked into the original production forecast."
This could be a problem for Apple suppliers and partners who assemble the phones because they will have very less time to mass produce the phones before the holiday season comes knocking on the doors. This situation is not new for Apple. Last year, the iPhone 8 and iPhone 8 Plus started shipping in September itself but the iPhone X was made available in November.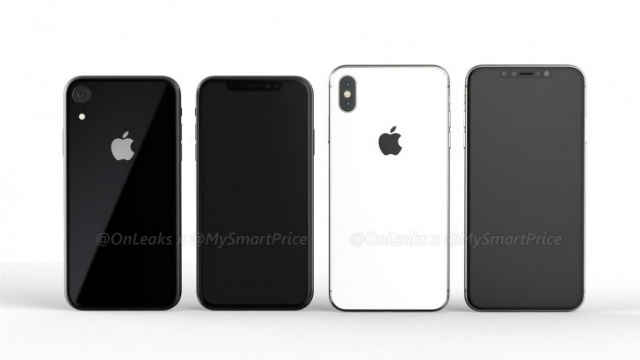 Leaked image of rumoured 2018 iPhones
The report also mentions that the LCD iPhone model is causing production issues due to "light leakage" problems with the display. This is because the Cupertino-based giant wants to streamline the design across all the phones and LCD panels have limitations when it comes to including the infamous notch. For those who don't know, OLED is easily capable of being cut, folded and can work without a backlight. "LCD screens need the backlight, making them thicker and less capable of being used for an edge-to-edge display with rounded corners and a cut-out section at the top," the report said.
Previously, we reported that Japan-based Nichia will be the exclusive supplier of 0.3t LED chips to be used in backlighting of LTPS-LCD panels of the 6.1-inch iPhone to make the bottom bezels of the smartphone thinner. Apple is expected to launch three iPhones this year which include a 6.5-inch OLED "iPhone X Plus" for $900-$1,000, a second generation OLED iPhone X for $800-$900 and a new 6.1-inch LCD iPhone.
Cover Image: Rumoured colours of the LCD variant of iPhone