Huawei, China's biggest smartphone brand, has started sharing media invites for an event scheduled in Paris, France for March 27. The invite all but confirms that the company's upcoming flagship smartphones, the P20 and P20 Plus, will sport a triple camera system at the back. The invite shows three circles, which resemble or signify camera lenses, overlapping the Eiffel Tower in Paris. The text that follows in the invite reads - "See Mooore with AI," once again hinting at three primary cameras with the triple 'O' in the word 'More'.
Huawei is expected to unveil the P20 and P20 Plus, successors to last year's P10 and P10 plus smartphones, at the March 27 event. The P10 and the P10 Plus sported a dual rear camera setup and Huawei seems to be adding one more camera to the mix this time around. According to reports, the cameras on the Huawei P20 and P20 Plus are being developed in partnership with Leica. Huawei has had a long-standing relationship with Leica, which also helped the company develop camera lenses for last year's P10, P10 Plus. If reports are to be believed, the P20 and P20 Plus will feature 5x Hybrid Zoom, higher than the iPhone X's 2x optical zoom.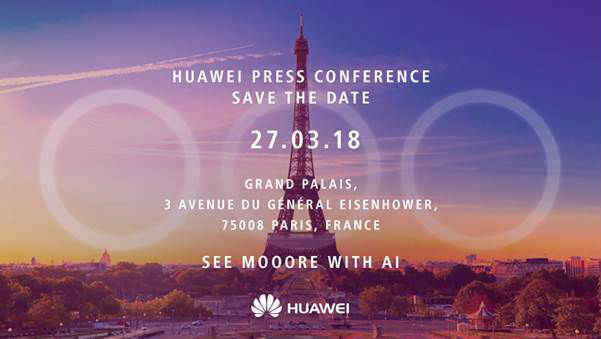 A third phone called the P20 Lite is also expected to be unveiled at Huawei's Paris event after surfacing on the U.S. FCC website. The P20 Lite was seen sporting an iPhone X-like notch, wich is expected to feature on more smartphones this year as manufacturers try to trim bezels to a minimum. The FCC listing also revealed that the Huawei P20 Lite could sport a 5.8 - 6.0-inch display, with a 2,280 x 1,080 resolution and a 19:9 aspect ratio instead of the common 18:9 adopted by most smartphone players in the industry. Moreover, The P20 Lite is expected to sport a dual camera system at the back.