Smartphone cameras have matured quite rapidly over a few years, but it seems the innovation in the field is not going to slow down anytime soon. Reputed leakster Evan Blass took to twitter (again) talking about several ads of a "Huawei PCE Series" phone. The online ads talk about the camera capabilities of the phone and revealing that the device will have triple lens rear camera setup with 5X hybrid zoom which will capture 40MP images. There would be a 24MP front facing camera on the phone as well. Going by the advertisements Blass shared, the phone will be co-engineered with Leica.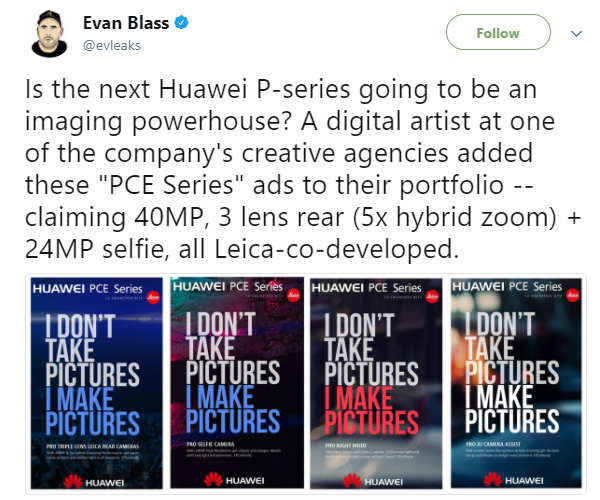 Blass poses the question whether this could be the next iteration of the Huawei P10 as that was the last phone we saw with Leica branded cameras. Blass says, "the reason I suspect that this is a member of the P-series is because the P10 is used as a placeholder handset in all of the creative material." However, the mock-up location used for this advertisement is the Kempegowda International Airport, Bengaluru. Now the Huawei P10 is not officially available in India, but this could be an indication, that the said phone may have a Indian connection or might be slated to launch in India in future.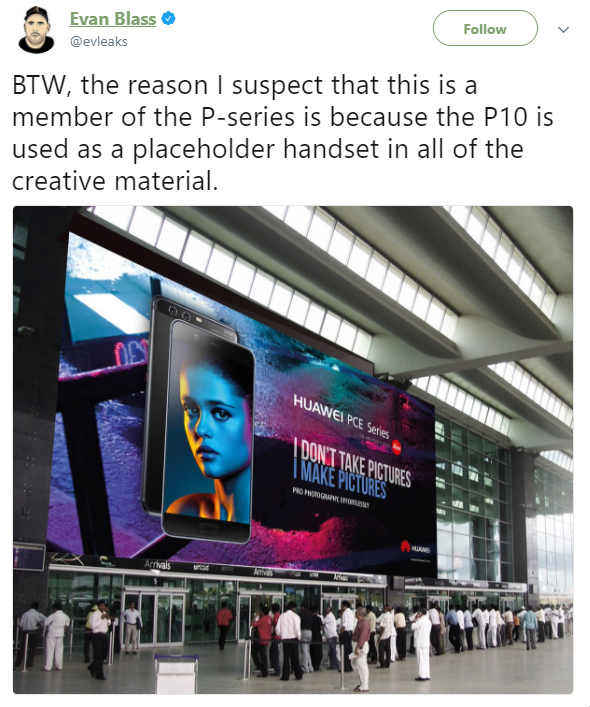 According to a CNET report, Blass claims that these images are from a creative agency which works for Huawei. The online advertisements themselves are not published yet and since then the unnamed agency has removed them from its portfolio.
Coming back to the next P-series phone, we don't know what to expect from a smartphone with a triple rear camera. That said, we can't be sure if Huawei is even working on something like that. However, if there is something like that in the works, we can expect something even better than what we have seen till now from Huawei. The advertisements also show that the device will have a "Pro Night mode" powered by a new sensor and optics. One of the ads also suggest that the camera will be AI assistant, something similar to what Huawei showcased during the View 10 press conference. We may hear more from Huawei at MWC next year.