Further, Google adds that the Pixel and Pixel XL will continue to get security updates till October 2019
Google is reiterating its two-year software update cycle for its Pixel and Nexus range of smartphones. The search giant has confirmed that it will continue to provide software updates for Pixel and Pixel XL till October 2018. At the launch of Pixel lineup in October 2016, Rick Osterloh, SVP Hardware at Google had stated that the company will support these phones for at least two years and now it has confimed the same on its support page.
As per the page, the Pixel and Pixel XL lineup will receive software updates till October 2018, while security updates will continue till next year. Google might also extend its software update for a later period like it has done with the Nexus lineup in the past.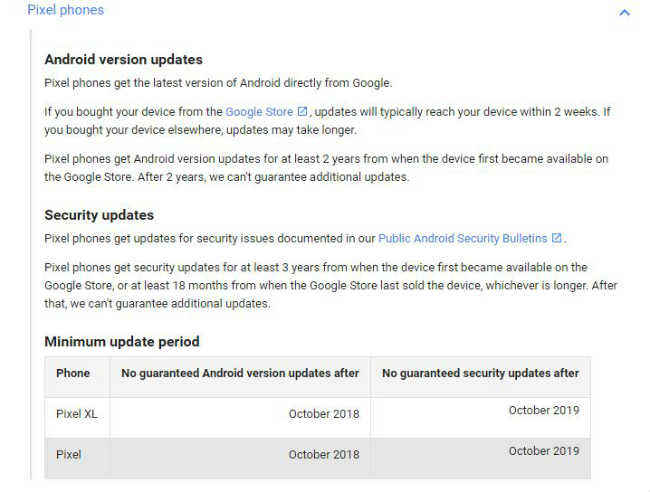 Google also adds that the Nexus 6P and the Nexus 5X will receive guaranteed updates until September 2017, while security updates will be pushed till September 2018. On the other hand, the Android One and Google Play edition devices will continue to receive software updates from the device manufacturer and Google says it may take up to 2 weeks to reach a particular device. The last Google Play edition device was HTC One M8, which was launched back in 2014.
Google is set to announce a new lineup of Pixel devices later this year. The company has reportedly started work on three such devices codenamed Walleye, Muskie, and Taimen. With the new announcement, Google is probably trying to ensure users of its commitment to newer devices.