Google keeps updating its offerings and services, and it recently introduced some new features like 'Stay Safer,' live train running status, bus travel times and more in India, which were later rolled out globally. The company has now announced three new features for Google Maps, which are aimed at making the service more India-centric. The navigation app will now feature a redesigned, India-inspired Explore tab and a new For You experience. In addition, the app will now start showcasing dining Offers to help users save some money while eating out. The new features are rolling out today for Google Map users.
The redesigned Explore tab now features seven new shortcuts that are apparently populated based on top queries and the way people interact with Google Maps in India. These seven shortcuts are Restaurants, Petrol Pumps, ATMs, Offers, Shopping, Hotels, and Chemists. Google Maps will make use of machine learning to automatically identify the top suggestions across these categories in every city. Tapping an arrow beside the Explore Nearby option will also enable users to find out popular neighbourhood in their cities. The For You section in Google Maps features curated list of places and activities that the user might like. This section will now enable users to follow a business, receive pertinent updates, news on events and stay updated on offers they post to the 'For You' tab.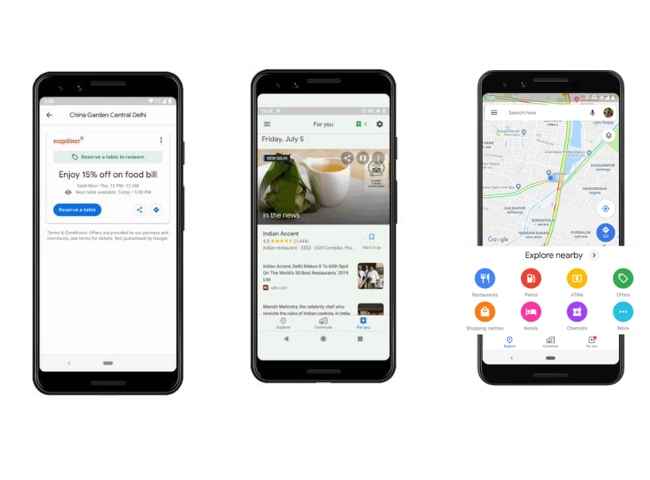 In addition, Google Maps will now display a new Offers section where users will be shown deals that can be claimed at restaurants across 11 Indian cities. The feature is now live in Bengaluru, Pune, Chennai, Kolkata, Goa, Delhi, Mumbai, Ahmedabad, Jaipur, Chandigarh and Hyderabad. The new Offers section can be accessed from the Explorer tab or one can look up offers by searching for restaurants with offers. Google has teamed up with EazyDiner to launch the service and over 4,000 restaurants are said to be included. More categories and partners are slated to be added soon.
Google Maps users will also get exclusive access to EazyDiner Prime offers for 15 days. This means they can avail at least 25 percent discount across more than 1,500 restaurants. They need to look out for Exclusive tag while exploring 'Offers' on Google Maps.