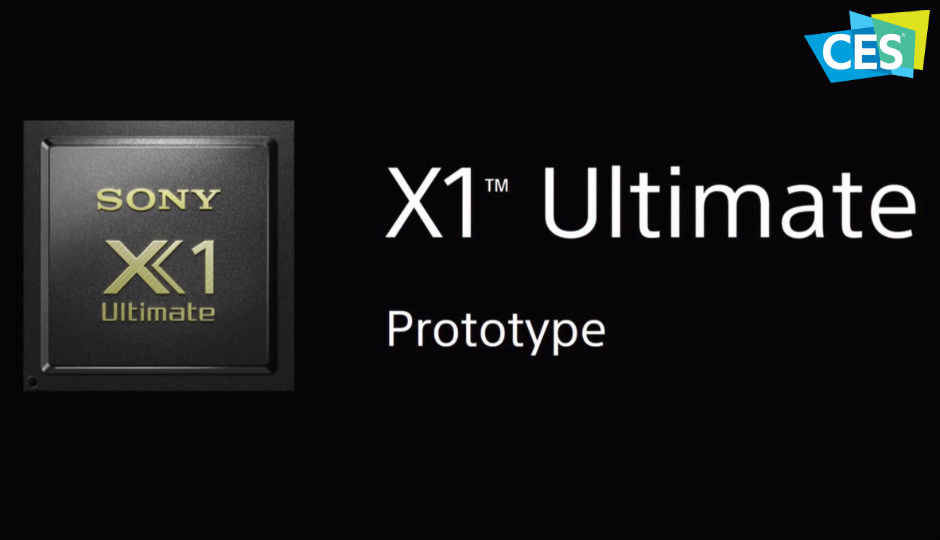 HIGHLIGHTS
Unlike the current X1 Extreme processor which processes images frame-by-frame, the X1 Ultimate is capable of object-based processing.
Sony showcased its next generation pictures processors for it TVs at CES 2018. Called the X1 Ultimate, the company claims that the new processor will offer twice the real-time processing power of the X1 Extreme being using in its current lineup of TVs. The new processor will work with LCD and OLED displays, and is currently only in the prototype stage. The biggest difference between the Sony's X1 Extreme and the X1 Ultimate processor is how both process the image. The X1 Extreme processes any content frame-by-frame. However, the X1 Ultimate is object-based. So it will render each object separately in any given frame.
Sony also showcased the capabilities of the X1 Ultimate by showcasing an 8K HDR display powered by the processor. The display offeres a peak brightness of 10,000nits, which the company says is the highest in the HDR format. It is not yet known when we'll see the processor available in Sony's consumer TVs as the company's 2018 lineup of devices run on the X1 Extreme.
Besides this, Sony also showcased its new 4K OLED Bravia A8F series of TVs. The new TVs comes an X1 Extreme processor along with the company's Acoustic Surface technology. This technology vibrates the display and enables sound to be output directly from the screen, instead of separate speakers. The new A8F series also features X-Motion Clarity technology and is available in screen sizes of upto 85-inches.
Besides TVs, Sony also showcased a number of its other products including three new smartphones. The company unveiled the Xperia XA2 and XA2 Ultra. Both devices are powered by a Qualcomm Snapdragon 630 SoC and run Android Oreo. At the back of the devices is a 23MP camera with support for 120fps slow motion videos. The Sony Xperia XA2 sports a 5.2-inch Full HD display, with a 3300mAh battery and a 8MP front camera. The Xperia XA2 Ultra sports a 6-inch Full HD display, 3580mAh battery and a dual-front camera setup consisting of 16MP and 8MP cameras. Besides this, the company also unveiled the Xperia L2, which is an entry-level device. It offersa 5.5-inch 720p dispaly and runs on a MedaTek MT6737T.