Apple could ditch a popular storage option for iPhone 13 Pro series. iPhone 13 Pro series could also feature a 1TB storage option.
Apple will most likely eliminate the 256GB storage variant option for its iPhone 13 Pro model rumoured to launch sometime in September. The information comes from a leaked poster which details information about all the iPhone 13 series and iPhone 13 Pro series smartphones.
The iPhone 13 Mini and iPhone 13 will get 64GB, 128GB, and 256GB storage options. Meanwhile the iPhone 13 Pro and Pro Max will skip the 256GB storage variant and instead debut with a 128GB, 512GB, and a 1TB variant.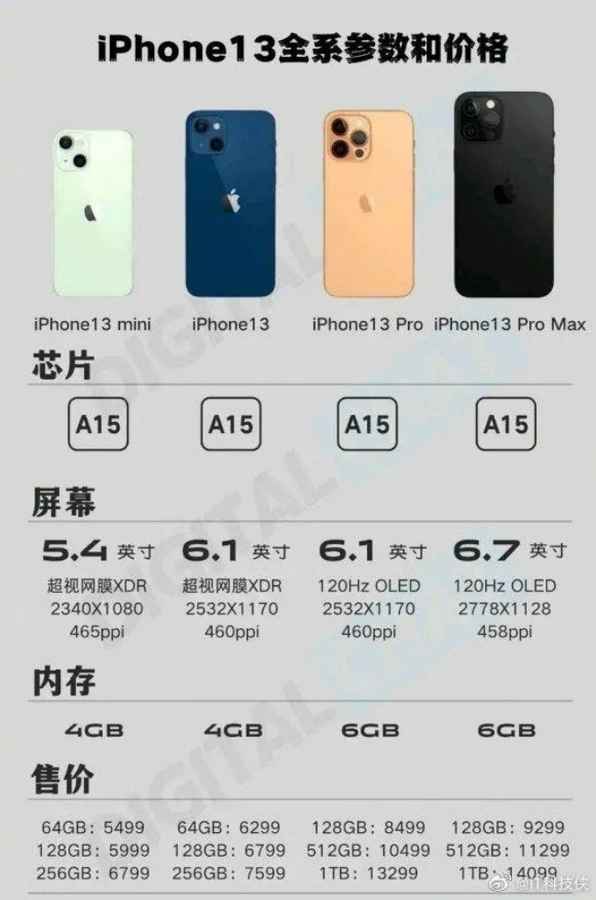 Apple iPhone 13 Pro 256GB Storage Variant Missing
Apple has had a history of cutting useful features from its iPhones. It first started the trend of removing headphone jacks from the iPhones and then regressed to removing bundled chargers.
Apple uses the strategy of cost-cutting to force people to buy its expensive products. For most people, the iPhone 13 Pro 256GB would suffice but it prevents people from opting for the more expensive 512GB variant, so Apple is removing this variant altogether. Furthermore, Apple is offering a top-spec 1TB variant for both iPhone 13 Pro and iPhone 13 Pro Max.
In terms of specs, the iPhone 13 will feature an A15 Bionic SoC, an XDR display for the iPhone 13 series and a 120Hz OLED panel for iPhone 13 Pro series, as per the leaked poster. The upcoming iPhone 13 is also rumoured to feature satellite calling abilities and more such over the top features. Alas, all shall be revealed really soon.
Furthermore, if you're planning to buy an iPhone, then buying one post Apple's event would be the best option as older devices like iPhones 11 and 12 will receive a permanent price cut.
Also Read: Classic Games Worth Revisiting On Apple Arcade