Apple iPhone 12(₹ 54900 at amazon) is months away from an actual launch but that hasn't stopped the rumour mill churning out leaks about the upcoming phone. As per the latest leaks, it looks like the design schematics of the iPhone 12 have popped up on the Internet giving fuel to earlier speculations. It shows that the Cupertino giant is looking to reduce the size of its notch cutout on the front of its upcoming iPhones.
Apple introduced the notch with the iPhone X flushed with a couple of sensors that make up the phone's Face ID system. Now, when the Android counterparts are making phones with a punch-hole notch, Apple seems to be sticking to its wide notch but will be tweaking it to be less space-hogging that on previous iterations.
Jon Prosser of FrontPageTech shared the alleged iPhone 12 schematics on Twitter and we can get an idea of how Apple will be ensuring the viability of its Face ID biometric system by reducing the size of its notch on top.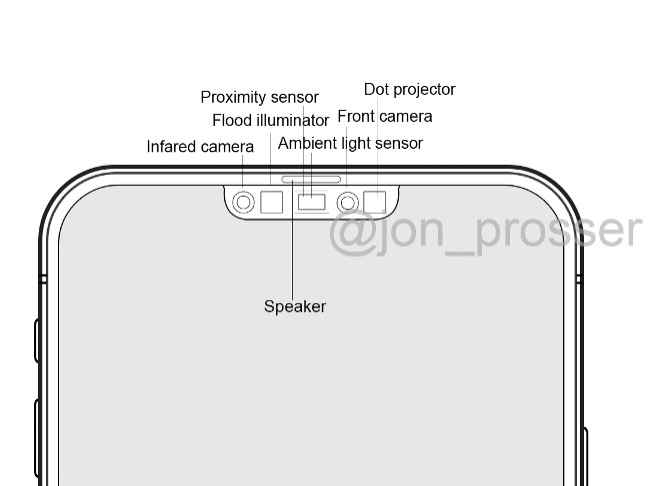 Apple iPhone 12 leaked design schematics
According to the images posted by Prosser, the iPhone 12 is set to feature a smaller notch design with a slew of sensors including proximity, ambient light sensors, flood illuminator, dot projector, infrared camera and a selfie camera. These sensors make up the phone's Face ID solution with a speaker unit positioned just above the sensor array. The company seems to have found a way to reduce the profile of the notch cutout by repositioning the speaker unit, but we'll have to wait for the official launch to find out for sure.
This schematic corroborates an earlier leak about iPhone 12's design which is more reminiscent of the iPhone 5's aluminium chassis than the recent iPhones. The leak hints that iPhone 12 features slim bezels that are 0.9mm thinner than the previous generation which means that users get a larger screen estate to play around.
The iPhone 12 is expected to follow the design of the latest iPad Pro with a touch of flat edges from the iPhone 5. The upcoming phone is also rumoured to be fitted with a LiDAR sensor for better depth-sensing in AR features of the phone.
Earlier reports have indicated that one version of the upcoming iPhone 12 is set to be delayed due to the Coronavirus outbreak in various parts of the world. The phones are usually unveiled in September but we don't have any official confirmation from Apple whether the iPhone launch is on track for scheduled launch.
Recently, Apple launched a revamped iPhone SE 2020 which essentially features the latest iPhone 11 hardware but in the body of the iPhone 8. The phone is a budget offering by the company and starts at Rs 42,500 in India.