OnePlus TV 32Y1 - Smarter TV
Android TV with superior craftsmanship and elegant design - Buy Now
Click here to know more
Advertisements
The United States Patent & Trademark Office (USPTO) has published a patent application filed by Apple, which describes a way for two Apple devices, like and iPhone and iPad, to wirelessly transfer power to each other. Theoretically, this would help users skip the hassle of finding a charging port and/or wait for a turn to charge the device. The patent says that inductive coils can be used to transmit as well as receive power from other devices. The schematics provided with the application suggest that an iPhone could be placed in the center of an iPad's display to be re-charged, with the iPhone's rear charging coil facing the iPad's screen.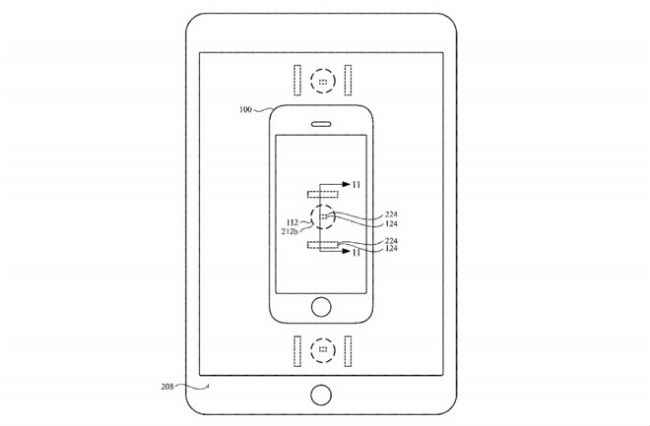 "A portable electronic device comprising: a main body including a plurality of keys exposed on a top side of the main body; and a display case attached to the main body and including a display, the display case movable between a closed position in which the display case overlies the main body and an open position in which the display case is angled away from the main body; a first inductive coil disposed within the main body underneath a first region of a top side of the main body positioned laterally away from the plurality of keys, the first inductive coil configured to provide inductive power to, or receive inductive power from, an external electronic device through the first region of the top side of the main body; and a battery electrically coupled to the first inductive coil," the application, filed on March 19, reads.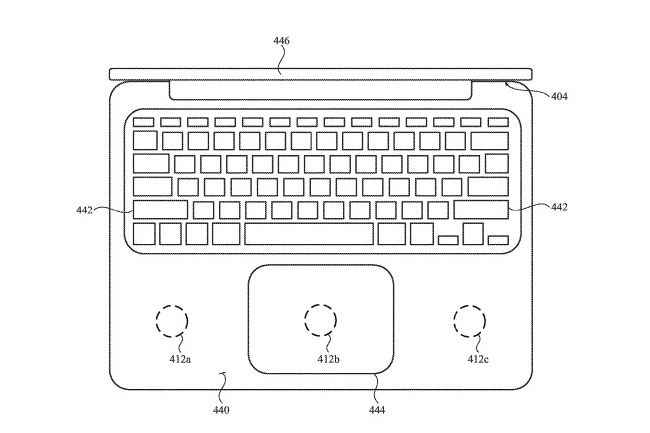 Some images also suggest the use of induction coils in notebooks. A schematic of apparently a MacBook shows the potential coil positions on the trackpad and to each side. There may be a case where the MacBook could have multiple coils for larger devices, or to charge multiple smaller devices, like iPhones and Apple Watches simultaneously. Further, the patent also mentions a mechanism in which only one device is plugged in and others are stacked above it so that every device is charged simultaneously. Last year, Apple introduced wireless charging in iPhone 8, iPhone 8 Plus and iPhone X. The company also announced that it is working on the AirPower Mat that can charge up to three devices at the same time.