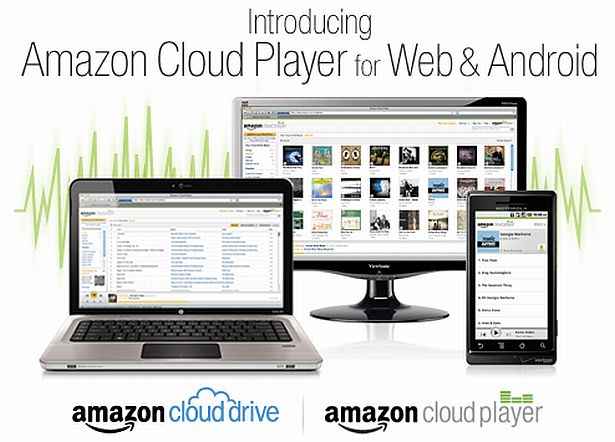 Amazon is certainly not shying away from expanding, and days after launching the Amazon AppStore for Android that competes with Google's Android Market, it has launched a free Amazon Cloud Player music streaming service that will compete with Apple's iTunes platform. In other news, Amazon is also actively encouraging developers to port popular educational iOS apps for their Linux-based Kindle platform, attempting to boost app availability for its popular e-ink e-reader. Things don't look to promising though, with the disparate APIs, and major hardware differences.
The Amazon Cloud Player for Web and Android is a strong push to the cloud by the retail giant, offering more than the music streaming service it pretends to be. Bearing the tagline - "Play Your Music Anywhere" – the free service is coupled with the Amazon Cloud Drive, allowing users to upload up to 5GB of their music for free, in the original bit rate. This space can be upgraded to 20GB for a $20 per year fee. Those who purchase an Amazon MP3 album get 20GB free storage for that year. Any Amazon MP3 titles or albums purchased will not count as part of the storage.
Cloud Drive uses the secure Amazon Simple Storage Service (Amazon S3), and, allows users to search and browse by artist, album or song, as well as create playlists. Both local and cloud music can be viewed and played
[RELATED_ARTICLE]For now, the service is supported by Windows PCs, Macs, and Android devices. No iOS devices – even via the web interface. BlackBerry or Palm devices are also not supported, but it looks like Amazon might be considering bringing them the service soon. Significantly, users have reported that the Cloud Player and Cloud Drive support music purchased from iTunes as well. With the iTunes anti-trust lawsuit still going on, it will probably take some inventive thinking for Apple to block Amazon from doing this, or, a competing cloud product of its own.
Bill Carr, vice president of Movies and Music at Amazon, spoke about the service:
"We're excited to take this leap forward in the digital experience. The launch of Cloud Drive, Cloud Player for Web and Cloud Player for Android eliminates the need for constant software updates as well as the use of thumb drives and cables to move and manage music…Our customers have told us they don't want to download music to their work computers or phones because they find it hard to move music around to different devices. Now, whether at work, home, or on the go, customers can buy music from Amazon MP3, store it in the cloud and play it anywhere."
Unfortunately, the Amazon MP3 service is currently only available for customers with a U.S. billing address, and will probably remain that way for a while.