Microsoft Centaurus foldable device has yet again appeared in new patents. It is expected to be a laptop-to-tablet foldable device.
Microsoft is all set to host an event on October 2 in New York City. Alongside the expected Surface Laptop 3, Surface Pro 7, and Surface Book 3 the tech giant is rumoured to showcase a dual-screen Surface device, codenamed Centaurus. The device has been reportedly in development for more than a year. Now, a report out of Germany discusses two new U.S. patents. These were published by the World Intellectual Property Organization (WIPO), and are related to the Microsoft Centaurus foldable device.
One of the patents show a hinge that could allow the device to move in a 360-degree arc. PhoneArena reports, "the Andromeda device was supposedly going to provide users with five pre-set positions including closed, concave, convex, tent mode, and full. Certain applications were to run on the device depending on the orientation of the screens, and we could see something similar for the new device."
Another patent discusses the use of a magnetic closure. It is tipped to use magnets mounted inside multiple sides of the device. The Microsoft Centaurus foldable device is expected to be a laptop-to-tablet foldable device, unlike Andromeda that was said to be a smartphone-to-tablet foldable.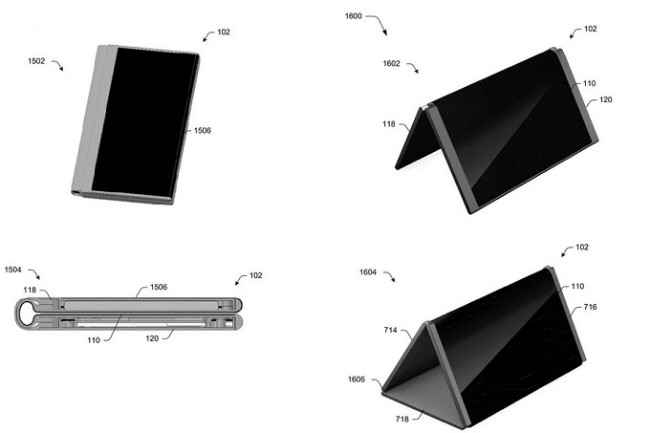 Microsoft could showcase the Centaurus at October 2 event. It is reported to run Windows Lite, which appears to not be ready for prime time yet. However, we are expecting Microsoft to briefly tease the device.
Microsoft is expected to update its Surface portfolio on October 2. The Surface Laptop 3 is expected to receive an AMD variant. It is said to launch with a spec bump and include a USB-C port this time around. The Surface Pro 7 could get an LTE variant that's powered by a Snapdragon 8cx processor. Expected updates include the inclusion of Intel 10th-generation processors, and USB-C. The Surface Book 3 is also rumoured to receive a spec-bump without any major design changes.