Qualcomm Snapdragon 8cx Gen3 and Snapdragon 7c+ Gen3 have officially launched during the ongoing Qualcomm Snapdragon Summit 2021. The Snapdragon 8cx Gen3 is the world's first 5nm Windows PC platform and enables Full HD gaming at upto 120FPS. The Snapdragon 7c+ Gen3 was also announced alongside and is designed for Chromebooks and low-powered laptops.
"Snapdragon 8cx Gen 3 builds on the technology that has transformed the PC industry, delivering premium experiences with breakthrough performance per watt, immersive camera and audio with enhanced AI-acceleration, lightning-fast 5G connectivity, and chip-to-cloud security in thin, fanless systems. With Snapdragon 7c+ Gen 3, we are raising the bar in the entry-tier by extending 5G mobile computing across ecosystems. Whether for consumers, business, or education, Snapdragon compute platforms deliver the capabilities and experiences that our ecosystem customers and end-users need," says Miguel Nunes, Vice President, Product Management, Qualcomm Technologies, Inc.
Qualcomm Snapdragon 8cx Gen3 features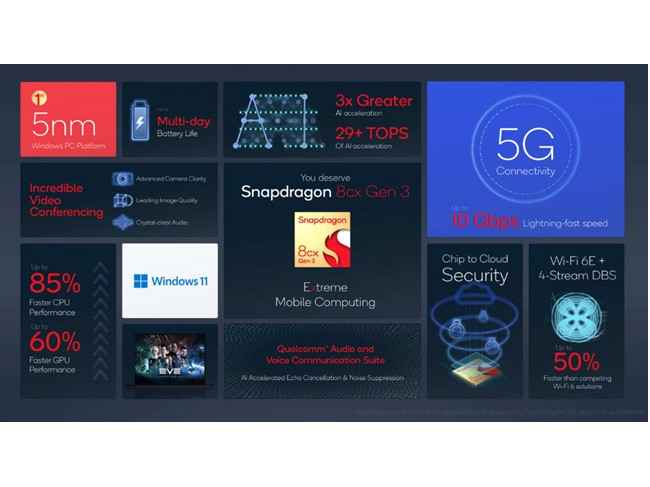 Qualcomm Snapdragon 8cx Gen3 features a new and upgraded Kryo CPU that brings in new prime cores and offers upto 85% generational uplift and over 60% more performance per watt over the x86 platform.
Meanwhile, the new Adreno GPU offers 60% performance improvement over the previous generation and also allows users to play games at 1080p at upto 120FPS.
The 8cx Gen3 is also equipped with the Spectra ISP that brings faster camera start-up time which is said to be 15% faster than the previous generation. It also supports upto a 4K HDR camera and upto a quad-camera array.
The 8cx Gen3 offers support for Snapdragon X55, X62 and X65 5G modem enabling speeds upto 10Gbps. It also features FastConnect 6900 that supports WiFi 6/6E and 5G/4G LTE connectivity.
The devices powered by Snapdragon 8cx Gen3 will launch in the first half of 2022.
Tags:
Qualcomm Snapdragon 8cx Gen3
Qualcomm Snapdragon 8cx Gen3 launch
Qualcomm Snapdragon 8cx Gen3 release date
Qualcomm Snapdragon 8cx Gen3 specs
Qualcomm Snapdragon 8cx Gen3 features
Qualcomm Snapdragon 7c+ Gen3
Snapdragon 7c+ Gen3 features