The teaser image has the Surface Go's signature kickstand along with the side profile showing the ports. Windows 10's Calendar and email alert icon are also clearly visible in the teaser photos. Furthermore, the lockscreen wallpaper in the teaser is the s
Is Microsoft getting ready to launch the Surface Go in India? Flipkart's landing page certainly points to that. A page on Flipkart is teasing the launch without explicitly naming the covertible. The Surface Go was launched in July, with Microsoft positioning it as a computer for use in home, schools and on the go. The landing page has recognisable photos of the Surface Go and even has the hashtag #OnTheGo. The advert doesn't outline a specific date for the launch. It only says the product is "coming soon."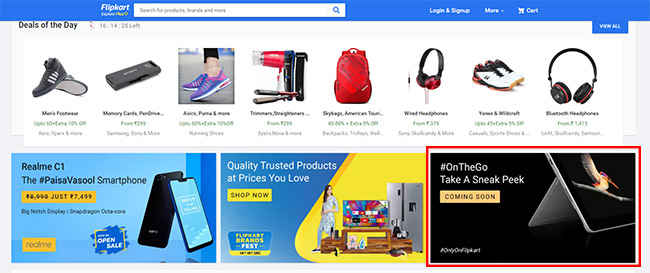 The teaser image has the Surface Go's signature kickstand along with the side profile showing the ports. Windows 10's Calendar and email alert icon are also clearly visible in the teaser photos. Furthermore, the lockscreen wallpaper in the teaser is the same as that on the Surface Go on Microsoft's store page.
The Surface Go is the lightest Surface device Microsoft has made. Weighing at just 522 grams, it's the most portable among the Surface lineup. The Surface Go sports a 10-inch panel with 1800x1200 pixels resolution. It even supports the Surface Pen along with 10-point multi-touch gestures.
The Surface Go is also the most affordable Surface device Microsoft has made. In the US, the prices start at $399 (roughly Rs 28,500) and goes up all the way to $679 (roughly Rs 48,700). The package, however, does not include the Surface Cover or the Surface Pen.
There's Corning Gorilla Glass 3 on top of the display while the body itself is made of magnesium that adds to the lightweight nature of the tablet-cum-laptop. Under the hood is a running dual-core Intel Pentium Gold 4415Y processor, clocked at 1.6GHz with a 6W TDP. It runs fanless and is based on Intel's Kaby Lake architecture. As for the ports, you get a USB-Type C port, a 3.5mm headphone jack, a microSD card slot and the Surface Connect Power and an accessory port that's seen in other Surface devices.
The Surface Go is available in the US in both Wi-Fi only and LTE variants. It is offered in 64GB eMMC storage and in the higher models, there is a 128GB SSD. You also have a choice between 4GB and 8GB RAM. There's an 8-megapixel rear camera along with a 5-megapixel front camera along with stereo speakers.
Microsoft claims the Surface Go offers up to 9 hours of battery life in the Wi-Fi only variant. It's unknown at this point which variants Microsoft is planning to bring to India. The Surface Go also runs on Windows 10S which means you can only use apps available on the Windows Store and rely on Microsoft Edge for web browsing. The S Mode can be disabled though and all the features of Windows 10 Pro can be leveraged after that. It's a no-cost upgrade but it only works one-way.
Microsoft has so far shied away from India as a market when it came to its hardware lineup. The company usually takes quite some time to bring the older products and the large Surface Studio is still missing in action from India. It recently launched the Surface Book 2 and the Surface Laptop in India priced Rs 1,37,999 and Rs 86,999 respectively.