Microsoft is definitely upping the developer interest for Kinect, by announcing it would be releasing Kinect for Windows in early 2012. While the drivers, and beta Kinect SDK for Windows have been around for a while, the new announcement heralds the launch of the Kinect Accelerator incubation program for developers, as well as a contest that will award $20,000 each to 10 startup companies or individuals with the best gesture interface ideas for Windows, or the Xbox 360.
Craig Eisler, Microsoft's GM for Kinect, also announced a few Windows specific enhancements, in a recent blog post:
"We have optimized certain hardware components and made firmware adjustments which better enable PC-centric scenarios. Coupled with the numerous upgrades and improvements our team is making to the Software Development Kit (SDK) and runtime, the new hardware delivers features and functionality that Windows developers and Microsoft customers have been asking for…

Simple changes include shortening the USB cable to ensure reliability across a broad range of computers and the inclusion of a small dongle to improve coexistence with other USB peripherals. Of particular interest to developers will be the new firmware which enables the depth camera to see objects as close as 50 centimeters in front of the device without losing accuracy or precision, with graceful degradation down to 40 centimeters. "Near Mode" will enable a whole new class of "close up" applications, beyond the living room scenarios for Kinect for Xbox 360."
According to Microsoft, the interest in natural user interfaces across technology companies is strong, and so far, more than 200 companies have signed up for the program. Licensed vendors and developers will also get access "ongoing updates in both speech and human tracking" from Microsoft.
The Kinect Accelerator program is accepting applications until January 25, 2012. So if you are interested, visit the Kinect Accelerator program's home page. Apart from winning $20,000, the top-ten companies/individuals will get an Xbox development kit, the Windows Kinect SDK, and a chance to show off their NUIs in front of investors and the media.
Some reports maintain that Microsoft is also looking to push the Kinect even further into the living room, and is expecting to incorporate the motion control aspect of the device for the television as well, making the remote control almost obsolete in the near future.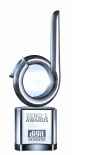 "Don't miss the Zero1 Awards in the December 2011 Collector's Edition of Digit. Book your copy now!"