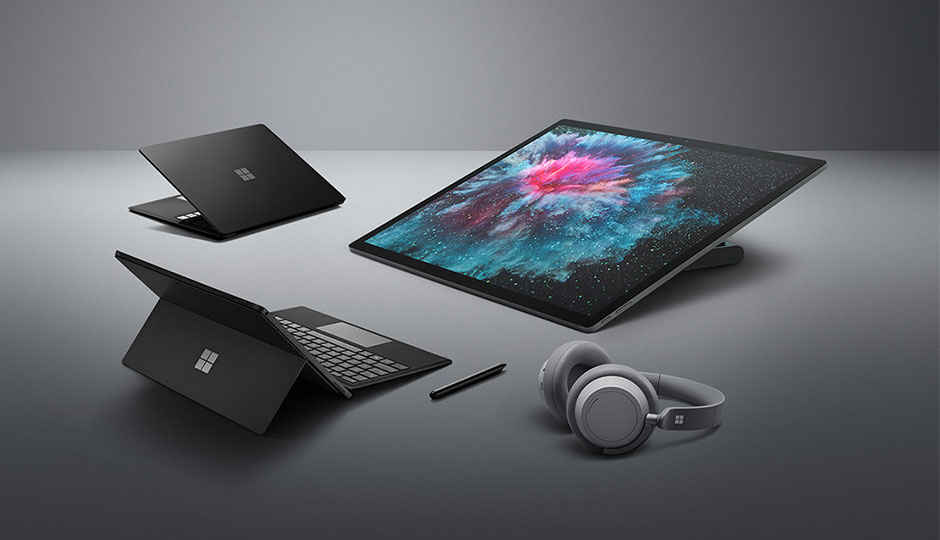 HIGHLIGHTS
Microsoft at an event hosted in New York announced the 2018 refresh for its Surface family of products while adding a new Surface Headphone to the family
Microsoft hosted the Surface event in New York and this time around, and announced a host of new hardware. This time around, we're getting the Surface Pro 6, the Surface Laptop 2, the Surface Studio 2 and an all new pair of headphones with active noise cancellation and Cortana built-in. the first three products are essentially a refresh to newer components while the headphones are a totally new product from the company.
Surface Pro 6
Microsoft's new Surface Pro 6 appears to be in many ways the same as the previous generation Surface Pro, with the changes occurring only on the inside. Now sporting Intel's 8th generation processors, the Surface Pro 6 also boasts of longer battery life. Other than that, the only new thing about the Surface Pro 6 will be the new matte black finish it will come in. The hybrid is expected to go on sale on October 16th for a starting price of $899 which will get a machine with 8GB RAM, an Intel Core i5 processor and 128GB NVMe storage. If you'd like the highest possible configuration, which happens to be Intel Core i7 processor paired with 16GB RAM and 1TB NVMe storage, you'll have to shell out $2299.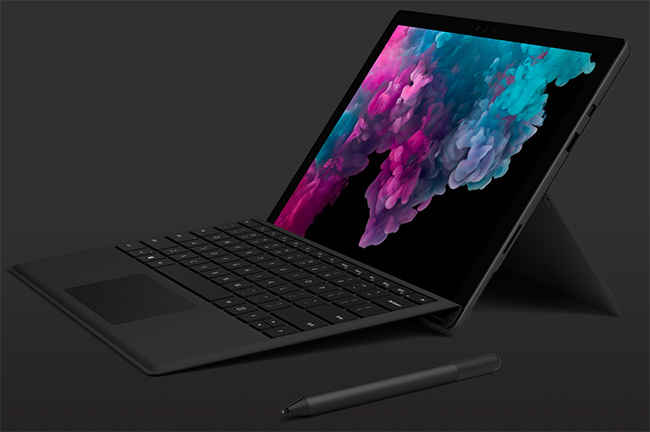 Surface Laptop 2
The new Surface Laptop 2 comes packing the latest Intel 8th generation processors (8650U), which Microsoft claims is part of the reason why the new Surface Laptop is up to 85 percent faster than its predecessor. The display has also been improved and now has a 1500:1 contrast ratio. Microsoft also said in its closed-door event that the keyboard has been upgraded to be quieter than the one found on the Surface Laptop. Lastly, the Surface Laptop 2 will also be available in the matte black finish like that of the Surface Laptop and will also be available starting October 16 for a starting price of $999, which will get you 8GB RAM, an 8th gen Intel i5 processor and 128GB of NVMe storage. A fully loaded version of the machine (16GB RAM, Intel i7, 1TB storage) will set you back $2699.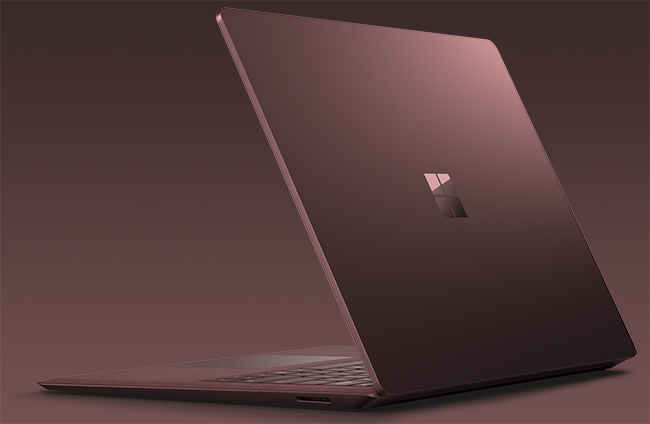 Surface Studio 2
Lastly, Microsoft's innovative all-in-one for creatives, the Surface Studio has also been upgraded and Microsoft is calling it 'the fastest Surface ever." All variants of the upgraded Surface Studio 2 are powered by Intel Core i7 -7820HQ chip. Which happens ot be a 7th-gen chip. You can choose between 16 or 32GB of high-speed DDR4 RAM, along with a significantly beefier GPU, the Nvidia GTX 1070. The 28-inch PixelSense display has been upgraded with a new liquid crystal material to create deeper blacks. There's also the additional USB-C port on the back of the machine, but there is a lack of literature on whether it supports Thunderbolt 3 or not. The Surface Studio 2 starts at $3499 for the base configuration and goes all the way to $4799

Surface Headphones
Microsoft has made it kind of a tradition to announce one product every other year that no one saw coming. This year, it's a pair of wireless headphones with active noise cancellation. Microsoft claims these can last up to 15 hours on a single charge, offer Cortana integration and of course the usual suite of touch based controls on the side of the ear-cups. What is perhaps most interesting are the rings around each of the earcups. While one controls volume, the other allows you to tune the active noise cancellation in up to 13 levels so that you can choose the amount of ambient sound coming in. Typically, most headphones offer you 2 or 3 levels, if even that. Apart from being wireless, the Surface Headphones also offer both USB-C and 3.5mm input connectors. The headphones are priced at $349 and don't have a release date yet, but Microsoft says they will ship "later this year."