Laptops with Max-Q enabled GEFORCE 1080, 1070 and 1060 to be available post-June 27
NVIDIA today introduced a new design approach with Max-Q, one that will redefine gaming laptops by making them thinner, quieter and faster. They will be available from all major OEMs worldwide, starting on June 27th.
If you find the term familiar, you aren't mistaken. Max-Q is an integral part of NASA's mission to launch man into space. It is defined as the point at which the aerodynamic stress on a rocket in atmospheric flight is maximised. Thus, the design of the rocket is precision-engineered around Max-Q. NVIDIA has taken this concept and applied the same philosophy to designing gaming laptops, enabling laptops to be built by OEMs that are 3X thinner with up to 3x more performance of previous generation products.
The results: Up to 70 percent more gaming performance than what is currently available at 18mm thickness – that is as thin as a MacBook Air.

Max-Q
This performance is powered by NVIDIA Pascal™ gaming GPU architecture. To deliver more performance to thin laptops, Pascal has been further optimised and configured for even higher efficiency by NVIDIA. And everything in the design is precision engineered with Max-Q — including the GPU, the drivers, and the thermal and electrical components and the laptop itself—to ensure peak efficiency.
Some of the highlights of what Max-Q can do:
Powerful GPUs at Max Efficiency: The popular GeForce GTX 1080 is manufactured on the FinFET 16nm process, and features GDDR5X memory. Max-Q achieves its results by combining a new way of operating the GPU at peak efficiency, with optimisations such as a low voltage optimised clock curve that brings out optimal gaming performance while reducing power.
Optimal Playable Settings: In addition to efficient GPUs operating at max efficiency, the Game Ready drivers have been improved to deliver optimal efficiency along with a great gaming experience for every game, regardless of the system.
Advanced Thermal Solutions and Optimal Regulator Efficiency: To extract even more performance out of a system, these Max-Q designed laptops are engineered with improved thermal and electrical design. New advanced thermal solutions, along with high regulator efficiency, enable the significantly higher performance and quieter operations in the thin gaming laptops than in anything else currently available.

The Ultimate Gaming Laptop
The entire GeForce gaming platform is supported by Max-Q gaming laptops, which includes the latest gaming technologies, Game Ready drivers, NVIDIA G-SYNC™ display technology, VR, 4K gaming, and more. They are also ready for NVIDIA GeForce Experience, a complete software platform that provides automatic game profiles.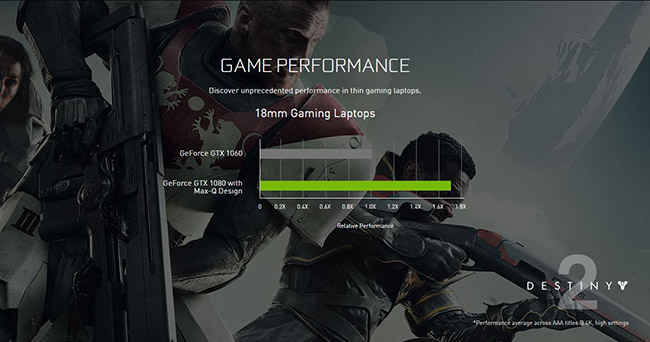 Introducing NVIDIA WhisperMode Technology
NVIDIA also introduced its silent NVIDIA WhisperMode technology, which is directed towards making laptops run much quieter while gaming. WhisperMode dynamically alters the game's frame rate while configuring the graphics settings for optimal power efficiency during gameplay. This reduces the overall acoustic level for gaming laptops. WhisperMode will be available soon through a GeForce Experience software update for all Pascal GPU-based laptops, and it will be completely user adjustable.
Availability
MaxQ-designed gaming laptops equipped with GeForce GTX 1080, 1070 and 1060 will be available starting on June 27th from laptop OEMs and system builders, including Acer, Aftershock, Alienware, ASUS, Clevo, Dream Machine, ECT, Gigabyte, Hasee, HP, LDLC, Lenovo, Machenike, Maingear, Mechrevo, MSI, Multicom, Origin PC, PC Specialist, Sager, Scan, Terrans Force, Tronic'5, and XoticPC. Features, pricing and availability may vary depending on the OEM and system builders.