Intel has released a reference gaming laptop kit called NUC X15. This laptop kit is a high-end laptop featuring an 11th Gen Core CPU and NVIDIA RTX 30 graphics. We have no info about its recommended pricing though.
Intel has released a reference gaming laptop kit called the NUC X15. We're looking at a handful of configurations for this laptop, all powered by the Tiger Lake processors and Nvidia GeForce RTX 30 series GPUs. We're not entirely sure about the companies that plan on releasing the NUC X15 kit, but we do know all the confirmed specifications of all configurations, via Notebookcheck.
Save for the core specifications, all configurations have dual-SODIMMs, a mechanical keyboard with per-key RGB lighting, and a 16:9 display. You also get a choice to get a QHD display with up to a 165Hz refresh rate. So we're looking at some high-end features here for this laptop kit.
Intel NUC X15 Specifications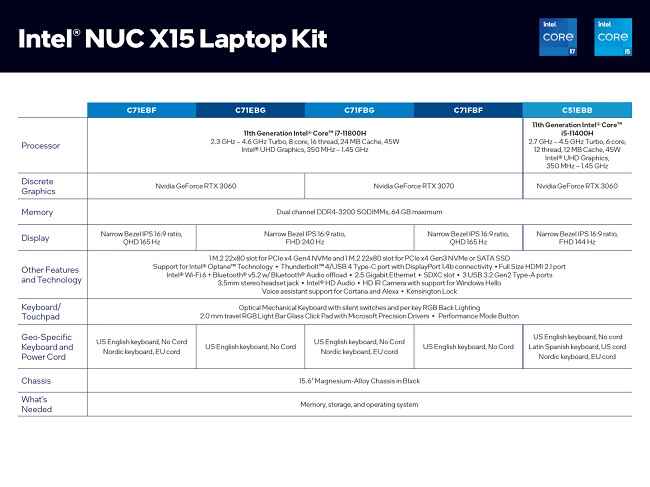 Intel NUC X15's entry-level unit comes with a Core i5-11400H and an RTX 3060 GPU. You get an FHD 144Hz panel with this particular laptop. The rest of the configurations come fitted with a Core i7-11800H CPU and an RTX 3070 GPU. For these units, you get to choose between a QHD/165 Hz display or an FHD panel with support for up to 240Hz.
Essentially, all CPUs powering these kits are Intel's new H45 processors. That being said, Intel hasn't mentioned the TGP ratings of the RTX GPUs, so we're not entirely sure if we're looking at the normal Max-P or Max-Q variants of those cards. All units are kept powered by a 94Wh and we're looking at some other noteworthy additions like support for PCIe Gen4 NVMe, Intel Optane memory, Thunderbolt 4, magnesium alloy chassis, and more.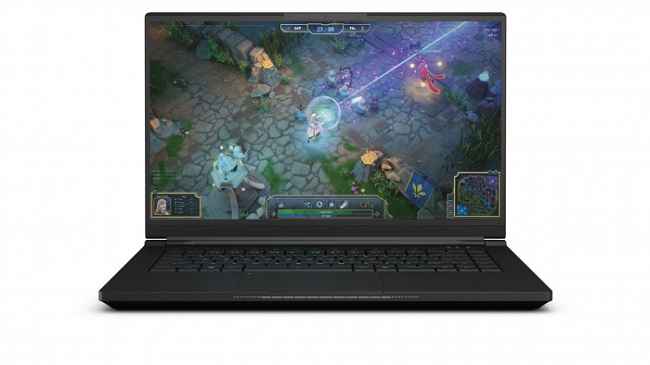 As mentioned earlier, Intel hasn't hinted at any recommended pricing for these reference kits, and it's also hard to tell which OEMs will be willing to carry these kits. It's interesting to see these laptops kits coming directly from Intel to show the kind of performance you can expect out of gaming laptops now. We'll try to get our hands on one of these reference machines, so stay tuned for more info. In the meantime, if you are curious about Intel's NUC lineup, we recently reviewed one of their more powerful machines dubbed the NUC 11 Extreme "Beast Canyon".
Also Read: Intel Arc desktop graphics cards to take on NVIDIA and AMD GPUs
Tags:
intel
intel nuc x15
intel nuc x15 laptop
intel nuc x15 laptop price
intel nuc x15 laptop india
intel nuc x15 availability
intel nuc x15 laptop specifications
intel nuc x15 laptop review