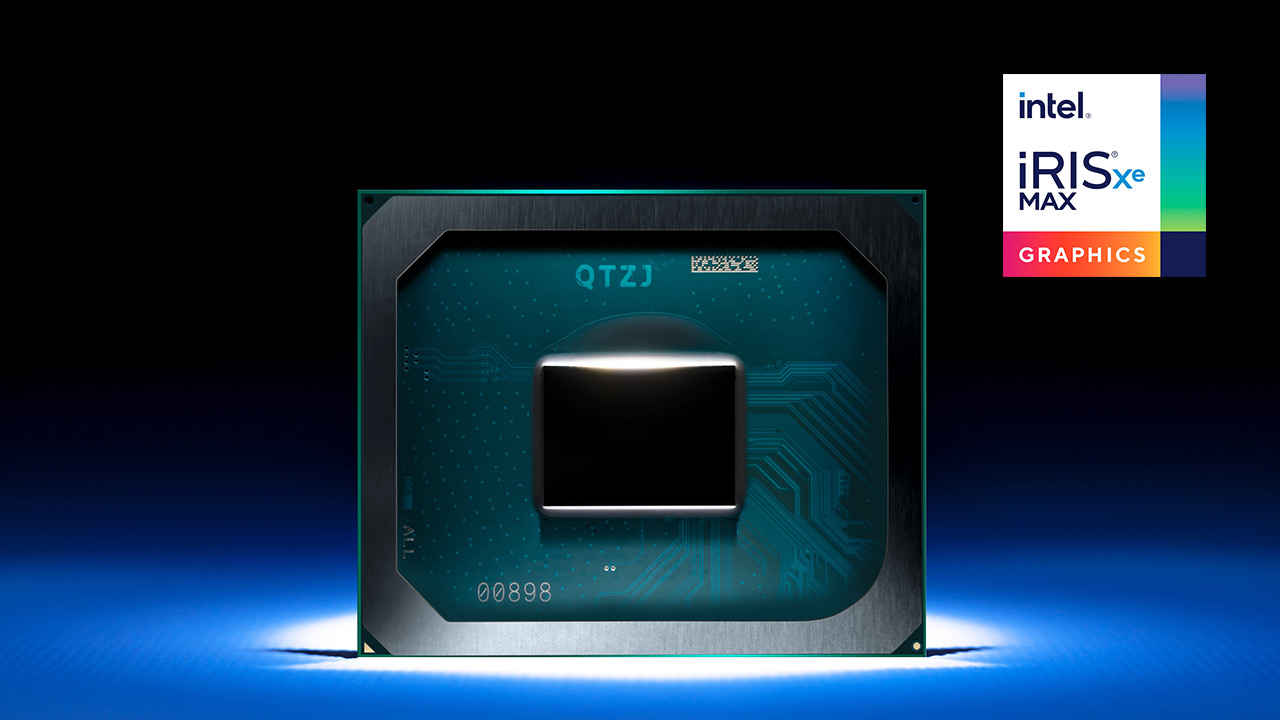 HIGHLIGHTS
Intel Iris Xe MAX is a discrete GPU for low-power notebooks

Iris Xe MAX key features include Deep Link, PCIe Gen 4.0 Support and DirectX Variable Rate Shading

Iris Xe MAX will compete with NVIDIA MX350 discrete GPU
Intel launched their Iris Xe MAX discrete graphics chip for thin and light notebooks and they already have a few SKUs on the market with Acer (uses Intel 11th Gen Tiger Lake Core processors along with Intel Xe Iris MAX Graphics) and more partners are expected to launch their Intel Iris Xe MAX powered notebooks in the weeks to come. Unveiled at the Intel Architecture Day 2020, the Xe-LP microarchitecture was designed for low-power applications with focus on media decode, casual gaming and accelerating AI features in compatible applications. Intel's Iris MAX Xe will compete with the likes of NVIDIA's MX-class Discrete GPUs (ex. MX350) and AMD's RX Vega 8 Integrated GPUs. Key features of the Intel Iris Xe MAX discrete graphics chip include PCIe Gen 4.0 support and Intel Deep Link. The latter allows dynamic power sharing between the Intel CPU and Intel GPU, and can leverage the media encoders in both silicon to work in tandem to accelerate certain workloads.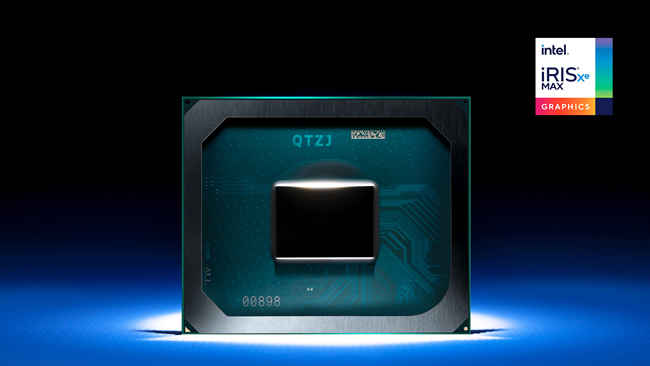 "We set out to redefine the role of discrete graphics in thin-and-light laptops and address a growing segment of creators who want more portability. Iris Xe MAX graphics and Intel® Deep Link technology serve as examples of the kind of platform-level innovation that Intel plans to bring to market in the future as we execute our scalable Xe Roadmap." said Roger Chandler, Vice President and General Manager of Client XPU Product and Solutions in the Intel Architecture, Graphics and Software Group.
Intel Iris Xe MAX Graphics
The Intel Xe graphics architecture is a scalable architecture which is designed to work in a wide variety of applications ranging from low-power notebook graphics to discrete gaming graphics cards to machine learning GPUs to enterprise HPC applications. What we're seeing today is the Xe-LP microarchitecture which is designed for low-power notebooks. The Iris Xe MAX GPU has 96 EUs which can go up to 1.65 GHz and will be hooked up to 4GB of LPDDR4X memory with a peak memory bandwidth of 68 GB/s. It's using Intel's 10nm Superfin process.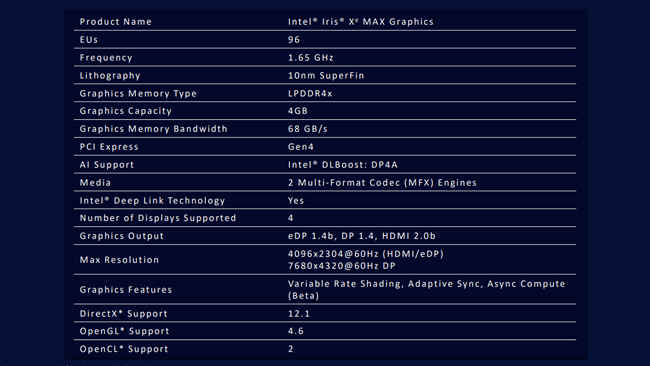 Since Iris MAX Xe is designed to compete in the same league as NVIDIA's MX-class GPUs and AMD's RX Vega Integrated GPUs, it hosts several features such as variable rate sharing, Intel DLBoost, AV1 decode support, PCIe Gen 4.0 support, adaptive sync and Intel Deep Link which we will get to shortly. It should be noted that Iris Xe MAX supports DirectX 12.1 and has Variable Rate Shading which is a DX12 Ultimate feature. Other DX12 Ultimate Features such as DirectX Ray Tracing are not performed on low-power GPUs so expecting them on the Iris MAX Xe would be silly.
Intel Deep Link
Intel Deep Link is a new feature that comes into play when an Intel 11th Gen processor is paired with the Iris Xe MAX GPU. Since both the GPUs (IGP on the CPU, and the GPU) have the same Xe microarchitecture, it's easy to combine their strengths via software to accelerate certain workloads. This does not mean that Intel is running multi-GPU configurations for gaming, for such situations, the Iris MAX Xe GPU will be working alone. Although, users will be able to switch between the GPUs if they chose to. Certain games such as Dota 2 benefit from lower latencies so an IGP can outperform the discrete GPU. But for most use cases, the discrete GPU would be best for gaming.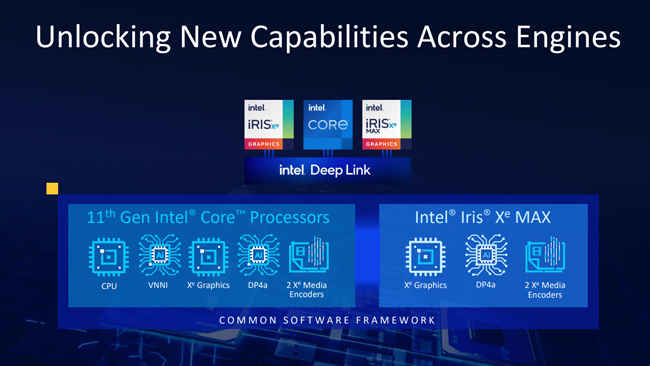 Coming back to Deep Link, developers will be able to utilise OneAPI toolkits such as OpenVINO to accelerate certain AI applications. The Xe GPU has two media encoders so the two chips working together can use four media encoders together. Intel revealed that they have a proof of concept of how the two GPUs were able to accelerate media encoding far quicker than even some discrete high-end graphics cards. This would mean that you can export videos much quicker using Intel's codecs accelerated by Deep Link compared to something like NVENC. Intel will shed more light on this development next year.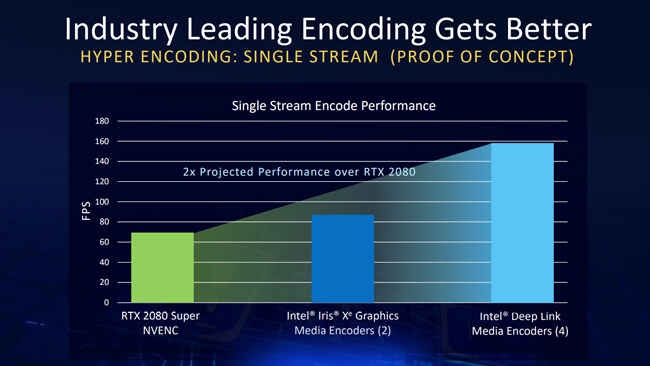 Gaming performance on Intel Iris Xe MAX
While Intel is not enabling multi-GPU on the Iris Xe MAX, it should be noted that even NVIDIA is distancing itself from multi-GPU configurations. The new GPU is positioned for casual gaming and Intel did share some internal gaming benchmarks on the Iris Xe MAX.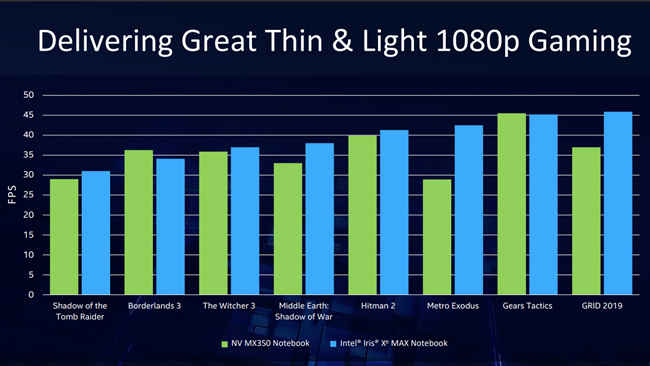 We see several recent titles such as Metro Exodus, Borderlands 3, Gears Tactics and GRID 2019 in the chart showing that the Iris Xe MAX does perform at par with the NVIDIA MX350. We don't see any of the popular eSports titles such as DOTA 2, League of Legends, CSGO and Valorant in the chart so we'll have to wait for real world benchmarks for those games.
Notebooks powered by Intel Iris Xe MAX Graphics
Several OEMs have already announced designs featuring Intel's 11th Gen Tiger Lake Core processors along with Intel Iris Xe MAX discrete graphics. Acer's Swift 3x is the first unit to feature the new Intel GPU and other OEMs such as ASUS and Dell will be releasing their SKUs shortly.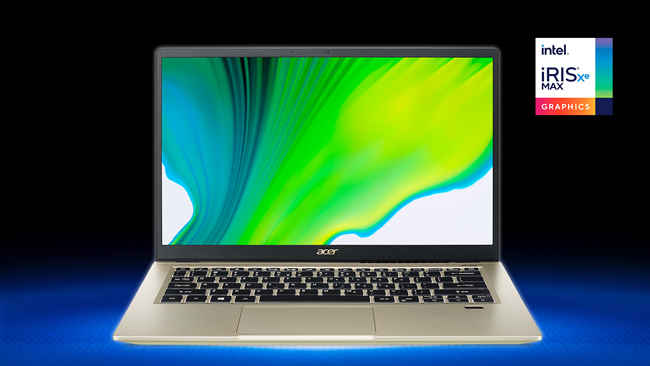 Intel Iris Xe MAX DG1 GPU will be present in the ASUS VivoBook Flip TP470 and the Dell Inspiron 15 7000 2-in-1 laptops.