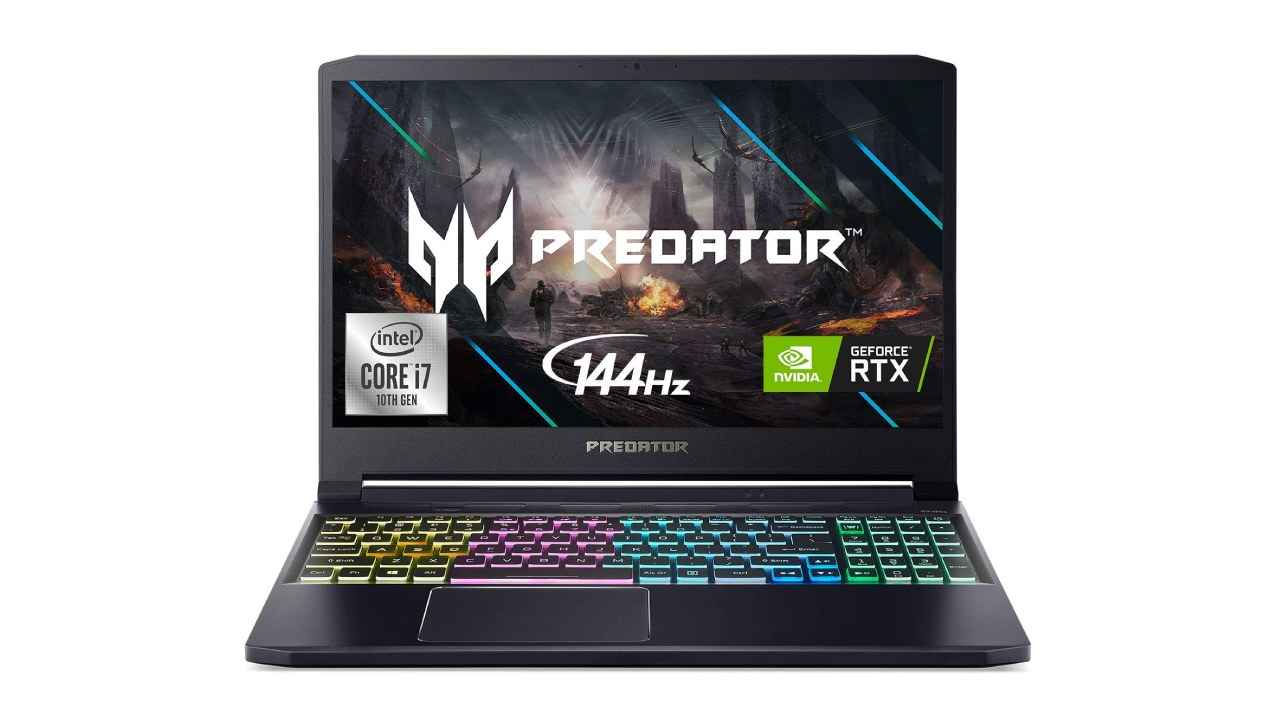 When it comes to gaming laptops, RGB lighting is a significant design aspect. RGB lights don't make for better gaming performance but do add the feel of a gaming machine. RGB has been a significant design element of most gaming laptops. Not only do they add to the look of the laptop, but can also serve a purpose- the RGB lights can be tuned to different in-game indicators, and even come in handy when you're playing games in the dark. So, here are some of the best gaming laptops on Amazon which come with RGB lighting.
Asus ROG Strix G17
Here is a gaming laptop from ASUS in the ROG lineup catching the eyes of gamers since its design was first released. The laptop features updated specs with an Intel core i7-10750H processor and Nvidia 1660Ti graphics card, bundled with 16GB of RAM and 1TB of SSD storage. The display is a 17.3 inch 144Hz FHD display. Making the laptop visually appealing is not just the RGB backlight keyboard but also the bottom edge of the laptop, which is RGB LED all along the edge of the laptop, and it can be tuned with the ARMOURY Crate software. If you are looking for a laptop with RGB lighting, then this is a not to be missed one for any gamer.
Acer Predator Triton 300 Gaming Laptop
The Acer Predator Triton 300 Gaming Laptop is one of the best gaming laptops in the market right now. It comes with an Nvidia RTX2060 GPU and a full HD 144Hz refresh rate display panel- together, both of these specifications make it the ultimate gaming device to play the latest triple-A game titles. The laptop has a full ten-key keyboard deck, with zone-based backlighting, divided into 4 RGB zones. You can shake up the keyboard's look using the laptop's in-built software and control the fan speed too.
Lenovo Legion 5Pi
This is a gaming laptop which is all about high-end gaming performance. It comes with top of the line specifications- 16GB of RAM, a 10th Gen Intel i7 CPU and an RTX 2060 GPU for incredible gaming performance. The captivating 15.6-inch display is a 144Hz panel, which gives you a drastic edge over your competitors, especially in first-person shooter games. The keyboard deck houses all the RGB on this laptop, split into four zones and can be customised to your liking. The laptop also has ample air vents, making for efficient intake and output of air while intense gaming sessions.
Asus ROG Strix G15
Here is a gaming laptop that strays from the beaten track – it comes in a white/silver finish, which is pretty rare in the world of gaming laptops. It has many gamer-y elements like the RGB light strips on the sides. The RGB lighting on the keyboard can be useful while playing certain games. Incidentally, it comes with a 15.6 Full HD-144hz screen. The specifications on this laptop make it a good pick for casual gamers as well as professional ones – it comes with a GTX 1650Ti for immersive graphics, 8GB of RAM and a 1TB SSD to store all your games and access them quickly.
MSI GE63 Raider RGB-011
The MSI GE63 Raider is a gaming laptop which can give you a good gaming experience no matter what games you're playing. This is because it comes with an Nvidia GTX1060 GPU, which makes for impressive graphical fidelity. Furthermore, it is backed by an Intel i7 CPU, a quite competent processor, especially for gaming. The 256GB SSD and 1TB HDD ensure that you're short of storage space. For RGB lovers, this is one of the best laptops in the market currently, as it comes with a Steelseries Keyboard with individually backlit keys, which allows you to be more creative with how you display your laptop.
Acer Predator Helios 300 Gaming Laptop
For those gamers who demand gaming performance, the Acer Predator Helios 300 is more than a good laptop. It has top of the line specifications, including the Intel i7 10th generation CPU, an NVIDIA GeForce RTX 2070 Max-Q GPU for not just the best graphical showcase, but also efficient performance and optimal cooling. The 15.6" FHD 240Hz 3ms IPS display gives you a tremendous edge over the competition in FPS games like CS: GO, Call of Duty and Valorant. The 16GB RAM on the laptop ensures that your gaming experience isn't marred by lag or unwanted applications crashing in the background.