MSI also launched the PS63 Modern Prestige laptop, GE75 Raider laptop, Trident X compact desktop, GUNGNIR 100 Case, a couple of MSI Graphic Cards and the MSI Vigor GK60 gaming keyboard.
Highlights:
MSI unveils GS75 Stealth laptop with NVIDIA GeForce RTX 2080.
It showcased Trident X compact desktop with MSI GeForce RTX 2080 Ti.
MSI also launched Vigor GK60 gaming keyboard.
Taiwanese computer hardware company MSI has debuted a series of gaming machines and hardware at the ongoing CES 2019 in Las Vegas. The gaming machines include the GS75 Stealth laptop that comes with the latest NVIDIA GeForce RTX GPU and the GE75 Raider laptop. The company also launched the PS63 Modern Prestige laptop, which is designed for business executives and content creators.
At the event, MSI also showcased a series of graphic cards, including the GeForce RTX 2080 Ti GAMING X TRIO and the Trident X compact desktop, GUNGNIR 100 Case and the MSI Vigor GK60 gaming keyboard. "MSI is devoted to gaming and our new lineup reaffirms our position as an industry leader endorsed by gamers and eSports teams worldwide. We are honoured to be recognized by the CES awards panel and will continue to push boundaries to achieve extreme performance, superior design, and maximum reliability," Charles Chiang, MSI's Global CEO, said in a statement.
When the CES show floor opens in a few hours, MSI will also be debuting exclusive gaming technologies with interactive functions designed for full immersion. MSI has partnered with Ubisoft to "enrich the gaming experience" of Assassin's Creed Odyssey with RGB light which are synced to the game and haptic feedback underneath the palm to generate vibration upon in-game events, such as gunshots during battle scenes.
MSI GS75 Stealth gaming laptop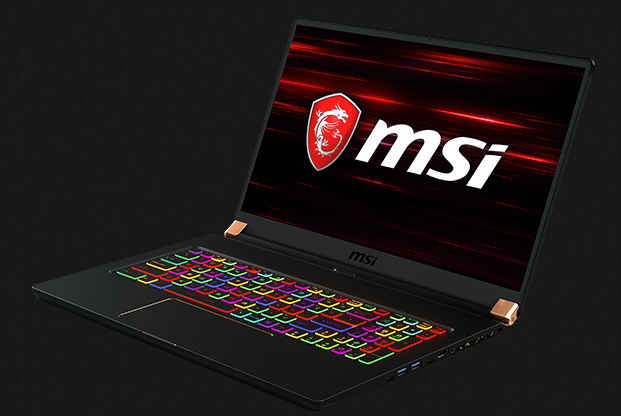 MSI's GS75 Stealth gaming laptop is made to deliver extreme performance with realistic in-game lighting on-the-go. The machine is equipped with the latest Intel Core i7 CPU and NVIDIA GeForce RTX 2080 GPU for powerful output. The laptop has a 17.3-inch 144HZ IPS-level display with thin bezels, and a large touchpad, encased in an aluminum alloy body. The GS75 Stealth has an internal passive radiator that delivers audio with booming bass.
MSI claims that with a thickness of 0.75-inches, the GS75 Stealth gaming laptop breaks the stereotype of bulky and heavy gaming laptops. MSI also announced a revamped version of the GS65 gaming laptop. The GS65 comes with a 15.6-inch display and is armed with the latest CPU and GPUs. According to the company, the GS65 gaming laptop weighs less than 4.19 lbs, which roughly translates to 1.9kg.
PS63 Modern laptop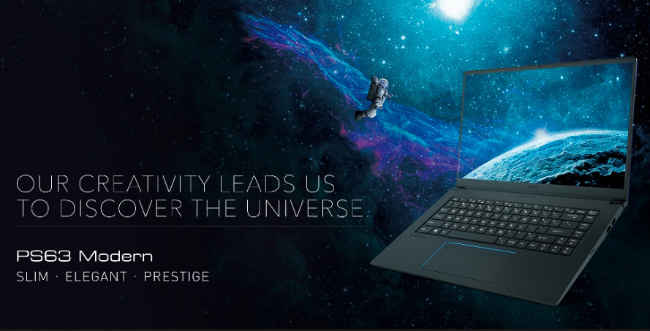 The PS63 Modern laptop is powered by the Intel Core i7 processor and NVIDIA GeForce GTX 1050 graphics. MSI says that the laptop is designed for content creators and ships with a 15.6-inch display. The laptops weighs 3.53 lbs (approx 1.6kg), is 0.63 inches thick, and has a four-sided thin bezel design. The PS63 ships with a touchpad that supports multi-finger gestures, and a fingerprint sensor for added biometric security. The machine is claimed to deliver up to 16 hours of run time on a single charge, and it comes with Qualcomm Quick Charge 3.0 technology. The laptop is Quiet Mark certified, ensuring a silent working environment.
There is a new proprietary software "Creator Center" for optimisation with adjustable system modes for a wide range of creator software. "The PS63 is the result of cutting-edging technology and exploratory spirit, showing us that the impossible can be achieved through boundless exploration, inspiration and creativity. This laptop celebrates our collaboration with Discovery Channel, a true global leader in pushing the limits of content and possibility," Derek Chen, MSI NB Marketing Leader, said.
GE75 Raider gaming laptop
The GE75 Raider gaming laptop is powered by Intel Core i7 Processors, and is claimed to be the first 17-inch laptop with a NVIDIA GeForce RTX 2080 GPU. The laptop gets reflective diamond-cut trims which form a "3D Dragon Spine" design, which is made from a three-dimensional surface with red anodized finish. In addition, the GE75 features the MSI Cooler Boost 5 technology with two dedicated fans and seven copper heat pipes. It has a per-key RGB gaming keyboard by Denmark-based SteelSeries, MSI's App Player for gaming experience between mobile and PC, and speakers sound by Denmark headquartered Dynaudio.
MSI Trident X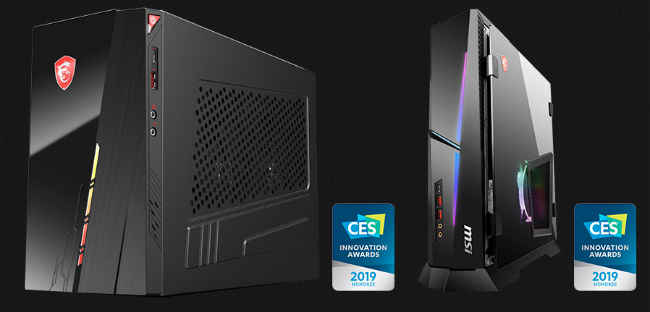 MSI is also showcasing the recently introduced Trident X compact desktop, which is a CES Innovation Honoree. Powered by the latest MSI GeForce RTX 2080 Ti graphics cards and an Intel 9th Gen Core K series processor, the Trident X is claimed to be the first compact desktop PC to incorporate an SFX power supply and a GeForce RTX GPU into a 10-liter case.
GUNGNIR 100 case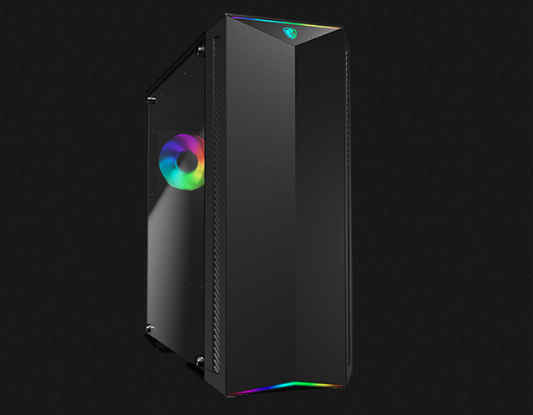 MSI has also introduced the GUNGNIR 100 Case, which the company says is inspired by the spear wielded by the Norse god Odin. Fitted with an RGB fan, the case features a 4mm tinted tempered glass panel that shows the internals. With 1 to 8 A-RGB LED hubs, GUNGNIR 100 offers customisation options and comes with MSI's Mystic Light software. There is also the support for for up to 7 system fans as well as 3D-printable parts for personalisation.
MSI Graphic Cards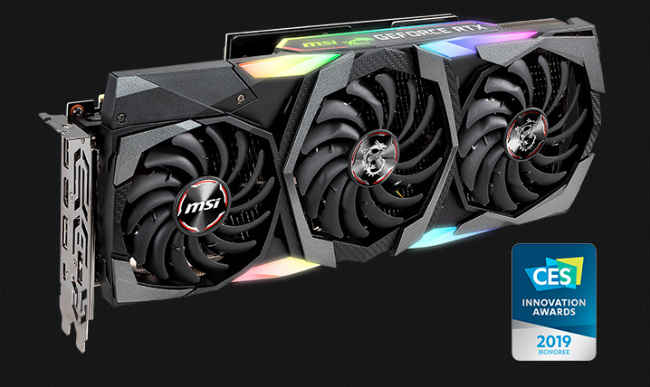 MSI is also showcasing a selection of high-performance graphic cards, including the latest GeForce RTX 2080 Ti GAMING X TRIO. Awarded as a CES Innovation Honoree in the Computer Hardware & Components category, this graphics card has a new TRI-FROZR cooling design, with three efficient TORX 3.0 fans to cool an oversized heatsink. The GAMING TRIO Series features a black and gunmetal grey design with a brushed metal backplate highlighting the customisable RGB effects in the front and side of the card.
MSI Vigor GK60 Gaming Keyboard

MSI also introduced the Vigor GK60 gaming keyboard, which is built on an aluminum frame. The keyboard has Cherry MX Red switches and the company says that each switch has been tested for more than 50 million keystrokes. The keyboard supports MSI's Mystic Light software, allowing for personalisation with a selection of keyboard lighting effects.
Related Read:
Acer Predator Triton 500, Triton 900 gaming convertibles with RTX 2080
Asus ROG Strix Scar II, Strix Hero II, Zephyrus S, G703 and Mothership gaming laptops