ASUS has unleashed an arsenal of new laptops for creative professionals. All these new laptops have an OLED panel with 100% colour coverage. These new laptops target creative professionals working with "colour-critical" applications.
ASUS has launched a bunch of laptops that are targeted towards creative professionals. In addition to the two new ProArt StudioBook laptops, the company has updated a handful of its existing machine to come with OLED panels now. It includes the budget-oriented VivoBook line, the ZenBook Pro Duo 15 OLED, and the ExpertBook business laptops. So let's take a quick look at them -
ASUS ProArt StudioBook 16 and StudioBook 16 Pro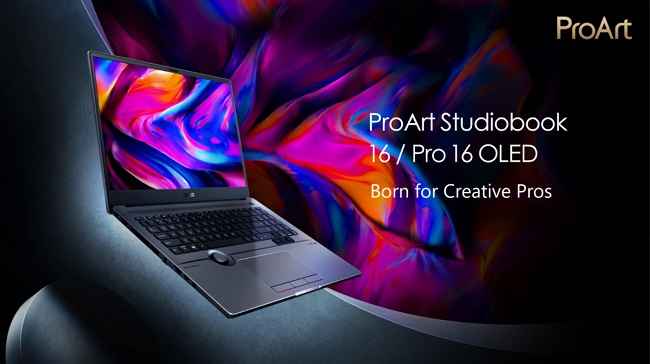 Both the ProArt StudioBook 16 and the StudioBook 16 Pro have 16-inch OLED HDR panels that cover 100 per cent of the DCI-P3 colour gamut and deliver a 1,000,000:1 contrast ratio. They're clearly targeted towards the creative professionals working with colour critical applications.
The laptops also come with a new peripheral called the ASUS Dial, which is essentially a physical wheel that sits on the left side of the keyboard deck. This particular wheel can be mapped to adjust various parameters in photo and video editing applications.
In terms of the specifications, the StudioBook 16 Pro can be configured with either an AMD Ryzen 5000 H-Series mobile processor or an Intel Xeon processor along with an Nvidia RTX A2000 or A5000 GPU. The regular StudioBook 16 can come with a Ryzen 5000 H-series or Intel Core i7 chip. This particular model comes with Nvidia's 30-series GPUs. It will be interesting to see which variants will eventually land in India.
Both of these machines will go on sale in Q4 2021 and they start at $1,999 AND $2,499. There's no word about the Indian availability for these laptops though.
Other Creative-Centric Laptops
In addition to StudioBook laptops, ASUS has also updated a handful of its other laptops. The budget-centric VivoBook line has also been updated to have OLED panels now. Some of the laptops in this series will also have a digital version of the ASUS Dial built into the touchpad. We'll have more to talk about the pricing if/when they're ready to arrive in India.
There's also a new ZenBook Pro Duo 15 OLED model featuring the secondary touchscreen on the keyboard deck. This particular laptop can be configured to have up to a Core i9 processor and an RTX 3070 GPU. There's also a Ryzen variant with an RTX 3050Ti GPU.
ASUS has also updated the ExpertBook business laptop to have an OLED panel now. We reviewed the last ExpertBook laptop a few months back and we think the addition of the OLED panel will make it even better. The new ExpertBook B5 OLED and convertible B5 Flip OLED are both powered by 11th Gen Intel processors now.
We like how ASUS is going all-in with OLED panels now. More specifically, it's good to see even the budget-oriented laptops in the VivoBook lineup get the OLED treatment. We'll have more to talk about these laptops when they're ready to launch in India. Stay tuned for more info on that.