The seven Apple MacBook models were registered in the Eurasian Economic Commission database.
Hinting that it could refresh its MacBook notebook line-up, Apple has registered seven unreleased Mac models in the Eurasian Economic Commission database. These machines bear model numbers A2141, A2147, A2158, A2159, A2179, A2182 and A2251, MacRumors reported citing listings on the executive body's website. The reason why all these seven models appear to be notebooks is because they are as "portable" computers.
This is not the first time that Apple products are seen listed on the website. Other hardware, including Macs, iPhones, iPads, iPad Pro, Apple Watches, and AirPods have also appeared on the platform previously. These filings are required for all encrypted devices sold by any company in Russia and select other countries. The listing could mean that we might see the 12-inch MacBook -- that has been in dire need of an upgrade -- launch later this year.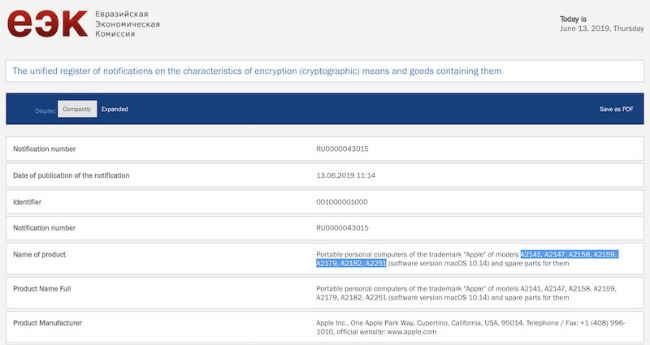 Further, there are reports about a 16-inch MacBook Pro in development. Recently, a report said that Samsung is in talks with Apple for supplying its flexible OLED panels for the rumoured MacBook Pro laptops and iPad Pro tablets. Samsung is reported to use Thin Film Encapsulation (TFE) to manufacture these displays. This is said to reduce the cost by replacing glass as the substrate material. Well-known Apple analyst Ming-Chi Kuo also noted that Apple might launch MacBook with 15 to 17-inch screen sizes in the first half of 2021.
In May, Apple updated its 13-inch and 15-inch MacBook Pro with faster 8th and 9th generation Intel Core processors. Apple claimed that the updated MacBook Pros deliver "two times faster performance than a quad-core MacBook Pro and 40 percent more performance than a 6-core MacBook Pro. Reportedly, Apple has changed the material in the keyboard's butterfly mechanism to reduce the issues faced by users.