Apple M1X could be the name of the successor to the recently announced M1 processors and is likely to make its debut in 2021 with the 16-inch MacBook Pro. Apple announced its octa-core M1 SoC earlier this month and unveiled three products. Apple's homegrown M1 silicon powers the latest 13-inch MacBook Air, MacBook Pro and the Mac Mini.
According to multiple tweets by LeaksApplePro, the M1X could be the name of the successor to the M1 chip. It further cites a source who used a prototype and said, "if you think M1 is fast, you haven't seen M1X". The M1X is expected to be a 12-core processor with eight performance cores and four power-efficiency cores driving all the power. The current Apple M1 chip has an octa-core CPU with four performance cores and four power-efficiency cores.
Another tweet from the same account indicates that Apple is working on a 24-inch iMac with a redesigned Magic Mouse that is slated to launch in March 2021 at a price of $1,399.
Moreover, some recent reports indicate that benchmark numbers from the MacBook Air powered by Apple's M1 silicon seem to outperform the top-of-the-line 16-inch MacBook Pro. On GeekBench 5, single and multi-core scores for the M1 powered MacBook Air are 1687 and 7433 respectively. On the other hand, Apple's 16-inch MacBook Pro powered by the Intel Core i9-9989HK (8-core chip) and 64GB RAM scores 1097 and 7014 respectively.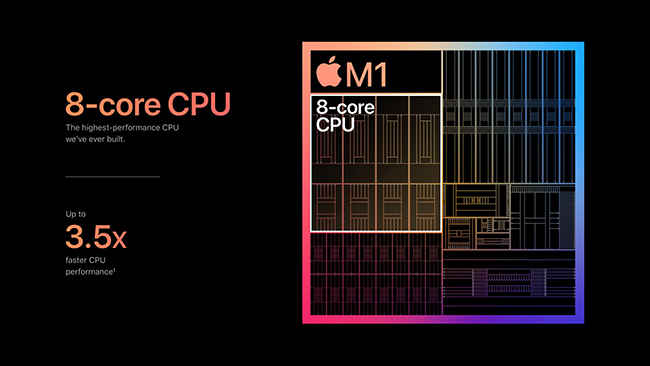 While the name of the successor to the M1 isn't confirmed, the 16-inch MacBook Pro seems a likely candidate to get an upgraded processor that takes the company's transition to its own chips forward. Apple's M1 silicon is fabricated using a 5-nanometer process and consists of an octa-core CPU, an eight-core GPU and a 16-core Neural Engine. The previous generation Mac devices used multiple chips for the CPU, GPU, I/O, memory, Thunderbolt and security, however, with the M1 combines it all on a single SoC making the new devices highly efficient and powerful.
The new MacBooks with Apple M1 chipset are currently on sale in India and you can purchase them from the Apple Store Online as it also allows buyers to upgrade the configuration. Additionally, you can read more about the Apple M1 processor here and about the pricing, specs and availability of the new Macs in India here.