HIGHLIGHTS
Apple silently discontinues Intel-based MacBook Air

New MacBook Air powered by Apple M1 silicon

MacBook Pro with upto Intel Core i7 processor still available
Apple MacBook Air powered by Intel processors has been discontinued in India following the debut of Apple M1 chip earlier this week. Apple's homegrown M1 silicon powers the latest 13-inch MacBook Air, MacBook Pro and the Mac Mini. As part of its transition to its own SoC, Intel-based MacBook Air is the first product to be axed in lieu of Apple M1 chip.
As for the 13-inch MacBook Pro, Apple is currently offering it with 10th gen Intel Core i5 processor and is configurable upto Core i7 processor. This is paired with 16GB RAM that can be increased to 32GB along with 512GB SSD and 1TB SSD options that's configurable upto 4TB SSD. Having said that, the MacBook Pro with Intel processors now starts at Rs 1,74,900 in India while the M1-powered retails starting at Rs 1,22,900.
Similarly, the Mac Mini with Apple M1 chip with 8GB RAM and 256GB SSD starts at Rs 64,900 while the Intel Core i5 version with 8GB RAM and 512GB SSD starts at Rs 1,04,900 and is upgradeable to Core i7 processor, 64GB RAM and 2TB SSD.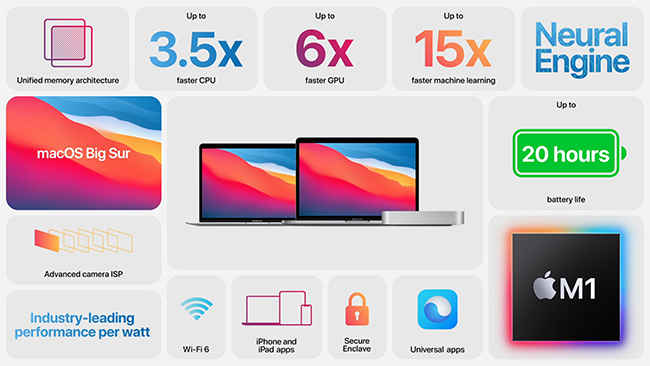 Apple's M1 silicon is fabricated using a 5-nanometer process and consists of an octa-core CPU with four performance cores and four power-efficiency cores, an eight-core GPU and a 16-core Neural Engine. The previous generation Mac devices used multiple chips for the CPU, GPU, I/O, memory, Thunderbolt and security, however, with the M1 combines it all on a single SoC making the new devices highly efficient and powerful.
The Apple MacBook Air with M1 chip starts at Rs 92,900 for the base model with 8GB RAM and 256GB storage and Rs 1,17,900 for the 512GB storage option. The 13-inch MacBook Pro with the new chip starts at Rs 1,22,900 for the base variant with 256GB SSD storage and Rs 1,42,900 for the 512GB SSD storage option. Do note, however, that this new MacBook Pro features two USB Type-C ports instead of four on the previous generation.
The new MacBooks with Apple M1 chipset are currently on sale in India and you can purchase them from the Apple Store Online as it also allows buyers to upgrade the configuration. Additionally, you can read more about the Apple M1 processor here.