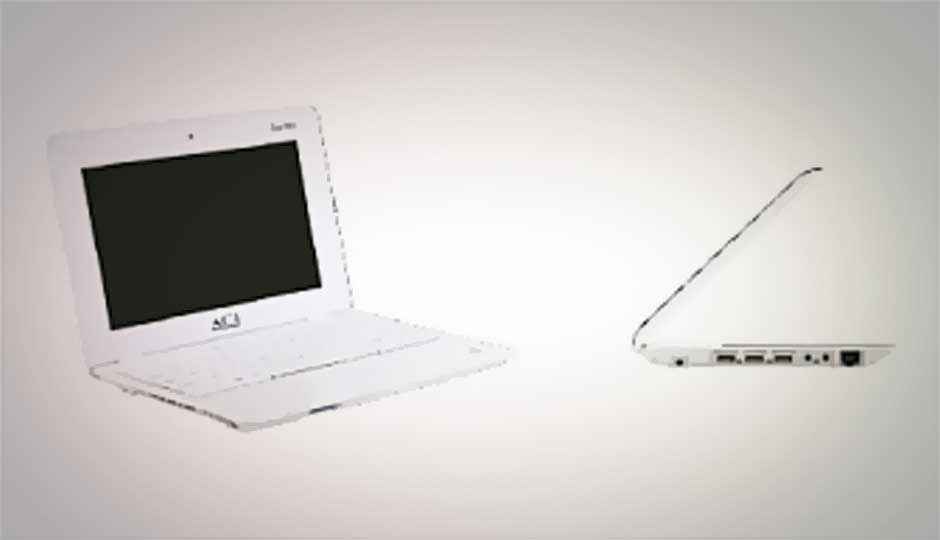 ACi or Allied Computers International, a laptop specialist brand from the UK, has launched a super-affordable "laptop" in India – the ACi Icon 1100, which will be retailed for as little as Rs. 4,999.
With its specifications and feature set however, the device qualifies as an affordable netbook. Featuring a 10.2-inch 1024×768 pixel display, the ACi Icon 1100 runs on an undisclosed VIA CPU, along with 512MB of RAM (1GB optional). Dimensions are 11 x 7.25 x 1 inches, and it weighs in at 0.7kgs.
Other specifications include a MMC/SD push card reader, 10/100 Ethernet adapter, Wi-Fi, 3G support via USB dongle, 3 USB 2.0 ports, and 4GB of storage, expandable up to 32GB. It will ship with 12 months replacement warranty.
The ACi Icon 1100 is sold in India by the BSE listed company, Allied Computers International (Asia) Limited. Speaking on the launch of the ACI Icon 1100, Mr. Hirji Patel, Managing Director, ACi (Asia), said:
"Ergonomics and proper usability of a Laptop by the today's deprived segments is what we have focused on today in our ACi ICON model. We will by no means stop here and will continuously develop the models in months to come in order to meet consumers' entire needs of today in order for them to up-bring their families to one day own slick, stylish and power laptops of tomorrow's world."
The company will also be launch other laptops from its portfolio in India, from mid-to-high end segments.
"At the same time as us fulfilling our goal of developing India as a Laptop Nation with never ending price breaks, we will continue to house latest technology in laptop computing in all our laptop models to ensure India is never used as a dumping ground by the MNCs of this world," added Mr Patel.