The Aspire Z 24 all-in-one (AIO) PC, and the Aspire 7, Aspire 5 notebooks ship with Amazon's AI-powered virtual assistant Alexa. They also have built-in Microsoft's Cortana support.
Acer has refreshed its Aspire Z 24 all-in-one (AIO) PC and added new laptops to the Aspire 7, Aspire 5, and Aspire 3 notebooks series. All these products are powered by Windows 10 and cater to the needs of a wide range of users. The Aspire Z 24 AIO is an ideal PC for families, the Aspire 3 notebook caters to the needs of students, the practical and functionality-driven Aspire 5 notebook is aimed at work and gaming, while the top-of-the-line Aspire 7 notebook is specially designed for creators, designers and pr consumers.
The Acer Aspire Z 24 series will be available in North America in October at a starting price of $899, and in Europe, the Middle East and Africa (EMEA) in October, starting at €899.99. The Acer Aspire 5 series will be available at a starting price of €549 and the Acer Aspire 3 series will be available, starting at €399, in EMEA in December.
Acer Aspire Z 24 All-In-One
The Acer Aspire Z 24 is designed for casual usage like web browsing, social media surfing, watching movies and casual gaming. The AIO is 11 mm (0.4 inches) thin and ships with an ultra-narrow bezel. The Aspire Z 24 is equipped with a far-field microphone array made up of four digital microphones so using a virtual assistant, Amazon Alexa or Cortana, to get weather reports, play music and manage everyday tasks from up to 4 meters away (13.12 ft) shouldn't be problem. The AIO features Acer TrueHarmony and Dolby Audio Premium technology to deliver crisp audio through dual front stereo speakers.
It is powered by the latest 8th Gen Intel Core i7+ desktop processors, with support for up to 32GB of Intel Optane memory and NVIDIA GeForce MX150 graphics. The 23.8-inch Full HD IPS screen has 178 degrees viewing angles and customers can navigate with ease using the 10-point touch display. It comes with Acer BlueLightShield and Flickerless technologies that allow adjusting of the screen's blue-light emission over extended periods of use.
Acer Aspire 7
The new Aspire 7 laptop is designed for users looking for a high-performance notebook. It comes with up to 8th Gen Intel Core i7-8705G processor that features Radeon RX Vega M GL graphics on the processor. Aimed at designers and content creators, the Acer Aspire 7 ships with a full metal chassis with an extra-light magnesium-lithium bottom cover. It has a 15.6-inch IPS display with a narrow bezel design with resolutions of up to Ultra HD (3840x2160). Weighing 1.5 kg, the machine has up to 16GB DDR4 memory, up to 512GB SSD storage, and a backlit keyboard. It features a 4K display with Acer ColorBlast technology and Acer Color Intelligence, and speakers featuring Dolby Atmos sound and Acer TrueHarmony technology.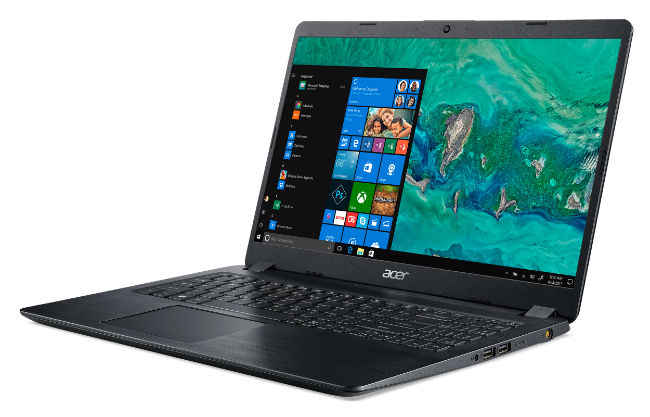 Acer Aspire 5 (A515)
Acer Aspire 5
Acer Aspire 5 is aimed at people who need a laptop for media consumption. It has a hairline brushed pattern and an aluminum cover for strength, and comes with 7.82 mm bezel design. With Acer Color Intelligence, users can adjust gamma and saturation in real-time to optimise the colours and brightness of the 15.6-inch Full HD IPS display. It features up to 8th Gen Intel Core i7 processor, support for multiple personal assistants (Alexa and Cortana), and up to NVIDIA GeForce MX150 GPU.
Acer Aspire 3
The Acer Aspire 3 is a value laptop built for everyday tasks. The 14-inch Full HD display Acer Aspire 3 comes in a different colours and is ideal for multimedia experiences and entertainment. The Aspire 3 packs up to 8GB of DDR4 2666 MHz memory, a Precision Touchpad, Acer BluelightShield, an HDMI port, 3 USB ports and an optional built-in DVD drive.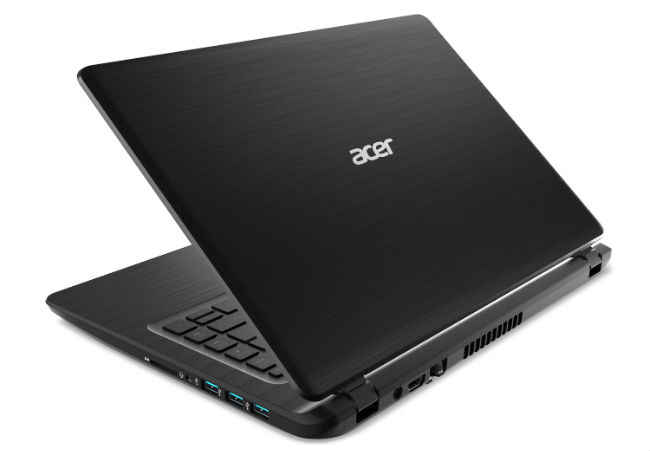 Acer Aspire 3
The Aspire Z 24 all-in-one PC, Aspire 7 and Aspire 5 notebooks are powered by 8th Gen Intel Core processors and feature Amazon Alexa built-in. "We're thrilled to collaborate with Acer to provide customers with a natural way to increase their productivity. With Alexa built-in, you can use your voice to effortlessly manage tasks, hear the news, control smart home devices, access tens of thousands of skills, and more," Priya Abani, Director of the Alexa Voice Service, said in a statement.