Highlights:
YouTube has updated it Community Guidelines.
It will ban all videos with content that present physical harm to beings.
External links and thumbnails should also follow under purview of new rules.
While we may follow or subscribe to only the best channels of our interests on YouTube, there are a lot of unethical and shady videos that pose harm to society. In a bid to protect the community from those who upload such videos, YouTube has announced that it has updated its Community Guidelines. These new rules bind content creators not to use the platform to propagate certain content which the company doesn't allow on the platform.
YouTube says that the new set of rules not only apply to videos but all the content on the platform, which includes comments, thumbnails, links, posts, live chat, etc. YouTube does not allow pornography, incitement to violence, harassment, or hate speech in any form on the platform, and it relies on a combination of people and technology to flag inappropriate content and enforce these guidelines.
"Through community feedback, we've identified areas where we can strengthen enforcement and/or clarify our policies to better protect the YouTube community from people who abuse the platform. Based on this, we're sharing reminders and ramping up enforcement across a few key areas," the company said in a blog. Under its new rules, the company has covered three major areas that it thinks can pose threat to people.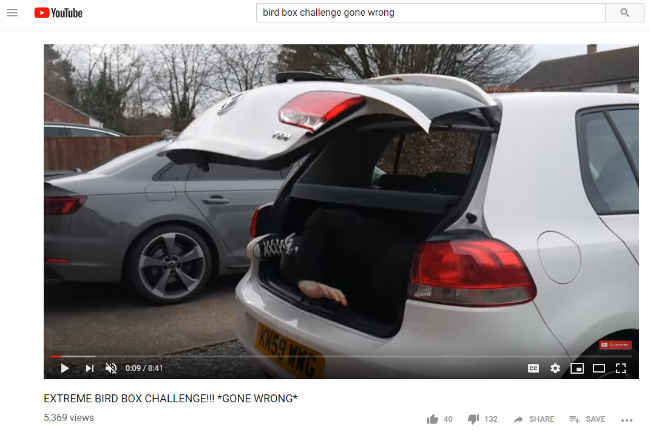 Dangerous challenges and pranks
YouTube is filled with videos that show people taking up challenges, like the infamous Tide Pod challenge and a recent Bird Box challenge, which pose threat to human lives. In the Tide Pod challenge, people are dared to swallow Tide Pods - a detergent pod, which can be deadly if ingested. The Bird Box challenge is inspired by a latest movie Bird Box, and people do regular work, like driving a car blindfolded, posing danger to their lives.
"Reminder – content that encourages violence or dangerous activities that may result in serious physical harm, distress or death violates our harmful and dangerous policy, so we're clarifying what this means for dangerous challenges and pranks. We need to make sure what's funny doesn't cross the line into also being harmful or dangerous. We prohibit challenges presenting a risk of serious danger or death, and pranks that make victims believe they're in serious physical danger, or cause children to experience severe emotional distress," the company said.
External links and Custom thumbnails
Content creators are advised to only use external sites that follow its Community Guidelines. Adding links to external sites that "egregiously violate" YouTube's policies (for example, pornography, malware, or spam) will now result in a Community Guidelines strike. Similarly, the video publishers are only allowed to use thumbnail images in the video which do not contain pornography or graphic violence. If the images aren't in the actual video and flout its Community Guidelines, the account is liable to get a strike.
YouTube says that it wants to be transparent and it won't start issuing strikes to channels right away, but will give the content creators a "grace period" of two months to review the updates and make changes to their content. As the company ramps up enforcement in these two months, content that violates its Community Guidelines related to custom thumbnails, external links, challenges, and pranks will be removed but the channel will not receive a strike. "Content that was posted prior to these enforcement updates may be removed, but will not receive a strike," the company said. Also, if a channel gets three strikes in 90 days, the account will be terminated.
Related Read:
For more technology news, product reviews, sci-tech features and updates, keep reading Digit.in or head to our Google News page.