Xiaomi has stated that it would 'love' to bring the Mi Water Purifier to India 'soon' — a compact water purifier can be synced with phone to show statistics
The Mi Water Purifier by Xiaomi might be on its way to India soon. Hugo Barra, Xiaomi International's Vice-President, recently posted on Facebook, stating that the company would 'love' to bring the Mi Water Purifier to India. This would be the first connected home device by Xiaomi to sell in India.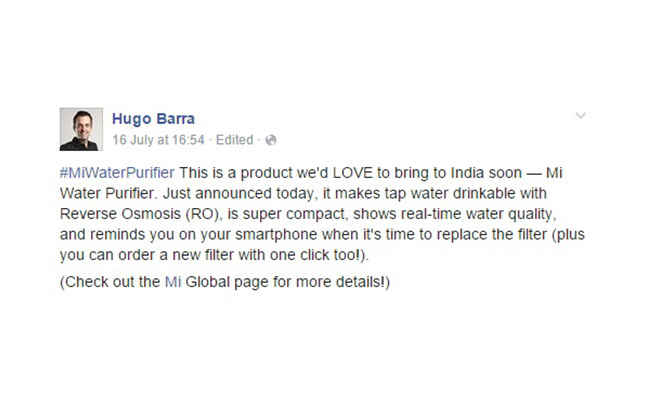 The 'smart' water purifier is a compact device that purifies tap water into drinking water. It uses Reverse Osmosis (RO) technology, and houses four filters inside - a cotton filter, two coconut fibre filters and an RO membrane - to remove impurities and deodorize water. It has been said to be eight times faster than other similar purifiers. The Mi Purifier can also be synced with a phone via an app, which relays live data on water purification and filter status notifications to users. it also gives an option to place orders for filter replacement with one click. These capabilities have lent the 'smart' tag to the water purifier.
Xiaomi has recently launched the Mi TV 2S, a 48" 4K TV which is just 1mm thicker than Xiaomi's Mi 4 smartphone. It has been introduced in China at a price of CNY 2,999 (approx. Rs. 30,706). The Beijing-based company is also scheduled to launch its upcoming flagship smartphone, the Mi 5, later this year. With the Mi Water Purifier scheduled for an India launch soon, Xiaomi might be bringing other products of its home range to India, which features an air purifier, a blood pressure unit and smart light bulbs, among other products.