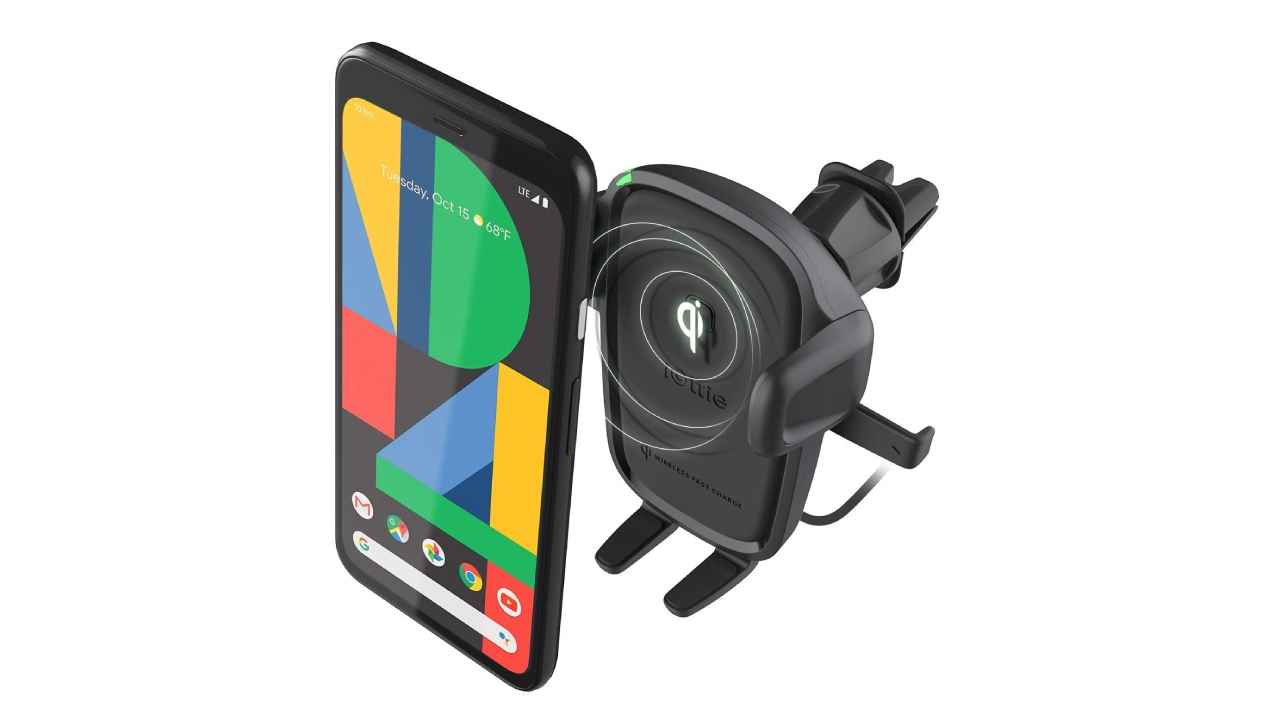 Watching your mobile phone's battery drain while wading through endless traffic sends panic signals to your brain – how will you receive calls from home? How will you tell your boss about an important piece of information? How will you delegate work to your co-worker? The solution to this never-ending list of questions lies in a good, functional wireless charger for your car. Check this list of wireless car chargers for Qi-enabled Android phones available, just for you!
iOttie Easy One Touch Qi Wireless Fast Charger
iOttie Easy One Touch Qi Wireless Fast Charger is compatible with a range of devices, including Apple iPhones and Qi-enabled Android phones – which is almost every Android phone that supports wireless charging. The product has an easy one-touch trigger modelled on a patented Lock and Release system. It can easily align with the shape of the phone. The product is a dual USB charger with another port for charging an additional device. It has a good grip, and the phone can be used in landscape mode without any risk of falling.
NOYMI Wireless Car Mobile Holder charger
NOYMI Wireless Car Mobile Holder charger is a fast wireless charger with an in-built smart chip that can prevent overheat, short circuit and voltage fluctuations. It is a convenient product to use as one needn't remove a phone case within 8mm thickness except for metal and magnetic phone cases. It also has a 360-degree infinite rotation angle and a one-hand placement of the mobile phone. The infrared sensor can detect an approaching phone and the powerful motor provides the right clamping force needed. The thickened non-slip silicone pad base will hold the mobile firmly. The charger supports 10 watts charging, and its double heat dissipation system ensures that thermal stability is maintained.
Belkin 10W Lightweight Fast Wireless Vent Mount Car Charger
Belkin 10W Lightweight Fast Wireless Vent Mount Car Charger is an ergonomically designed product that ensures that it will work well for most Android phones. The product comes with additional safety for the phone with overheat and short circuit protection. The charger securely mounts to the car vents and can easily work through 3mm thick cases. The adjustable bracket can expand to securely fit phones of different shapes and sizes.
RAYA Wireless Mobile Charger for Car
Enabled with infrared sensors, the RAYA Wireless Mobile Charger for Car is ideal for auto-clamping one's phone while driving. The product delivers 10 watts of fast wireless charging with its copper coil. The grip is firm on both the dash as well as the AC vent, regardless of the fact that the phone has been kept with the case on. The product has a zero noise motor and a fan at the back to prevent overheating. It is compatible with multiple phone sizes and models.