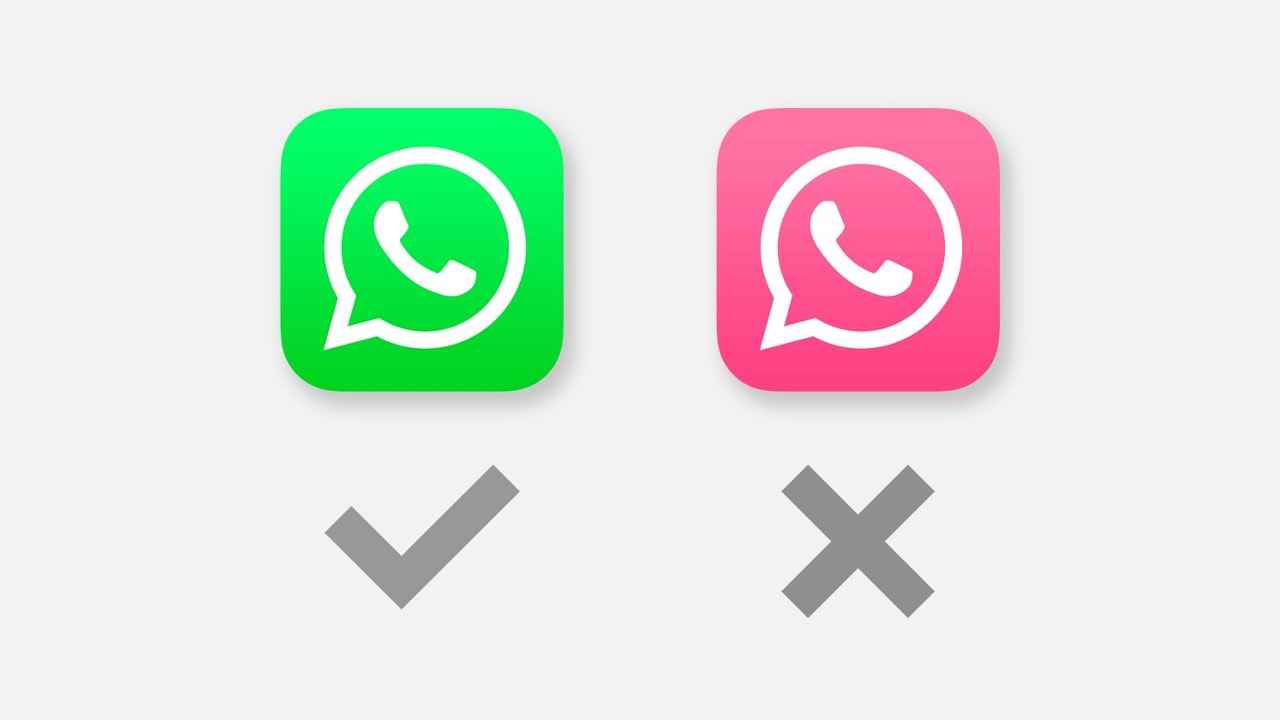 HIGHLIGHTS
Fake WhatsApp message claims to change colour theme and add new features

WhatsApp Pink scam message being circulated in India

Here's how to stay away from such spam messages on WhatsApp
WhatsApp Pink is a new scam message being shared on the popular messaging service. The message being circulated claims to be an official new look of the app that will change the colour theme from green to pink. This message is accompanied by a malicious link to a third-party website which gives complete access to the attackers once clicked.
Internet Security researcher Rajshekhar Rajaharia took to Twitter to warn users about the new scam message that is being circulated across various WhatsApp groups. The scam message has fake images that show WhatsApp in a pink colour theme with a "download now" button. While the message looks fake at the outset, there are users who can still fall prey to such messages. As such, it is advisable to steer clear of such messages on WhatsApp and report it if anyone comes across this message.
Beware of @WhatsApp Pink!! A Virus is being spread in #WhatsApp groups with an APK download link. Don't click any link with the name of WhatsApp Pink. Complete access to your phone will be lost. Share with All..#InfoSec #Virus @IndianCERT @internetfreedom @jackerhack @sanjg2k1 pic.twitter.com/KbbtK536F2

— Rajshekhar Rajaharia (@rajaharia) April 17, 2021
The attackers have targeted police personnel and media persons with this new WhatsApp Pink scam message. For now, the hackers are targeting Android users with the new message that claims to change the colour of WhatsApp to pink along with adding new features. However, once clicked, the app starts sending spam messages to contacts and also gives data access to attackers.
If you have come across any such malicious link and have inadvertently clicked on it, Rajshekhar advises users to uninstall the WhatsApp pink app. The app can get hidden automatically after installation and to uninstall it, users will need to go into the Settings menu and check the list of installed and system apps from where they can uninstall the hidden apps.
How to be Safe from #WhatsAppPink Virus
1. Uninstall #WhatsAppPink Immediately.
2. Unlink all Whatsapp Web Devices.
3. Clear Browser cache from settings.
4. Check Permission for all Apps.
5. If found any suspicious permission to any app, revoke it.#InfoSec #CyberSecurity https://t.co/GoyRz5B6b4 pic.twitter.com/bZcf9Xr1Ub

— Rajshekhar Rajaharia (@rajaharia) April 19, 2021
Furthermore, users should clear browser cache from the settings menu and check permissions for apps installed on their phones as a hygiene check.
In an official statement to the media, WhatsApp said "Anyone can get an unusual, uncharacteristic or suspicious message on any service, including email, and anytime that happens we strongly encourage everyone to use caution before responding or engaging. On WhatsApp in particular, we also recommend that people use the tools that we provide within the app to send us a report, report a contact or block contact."