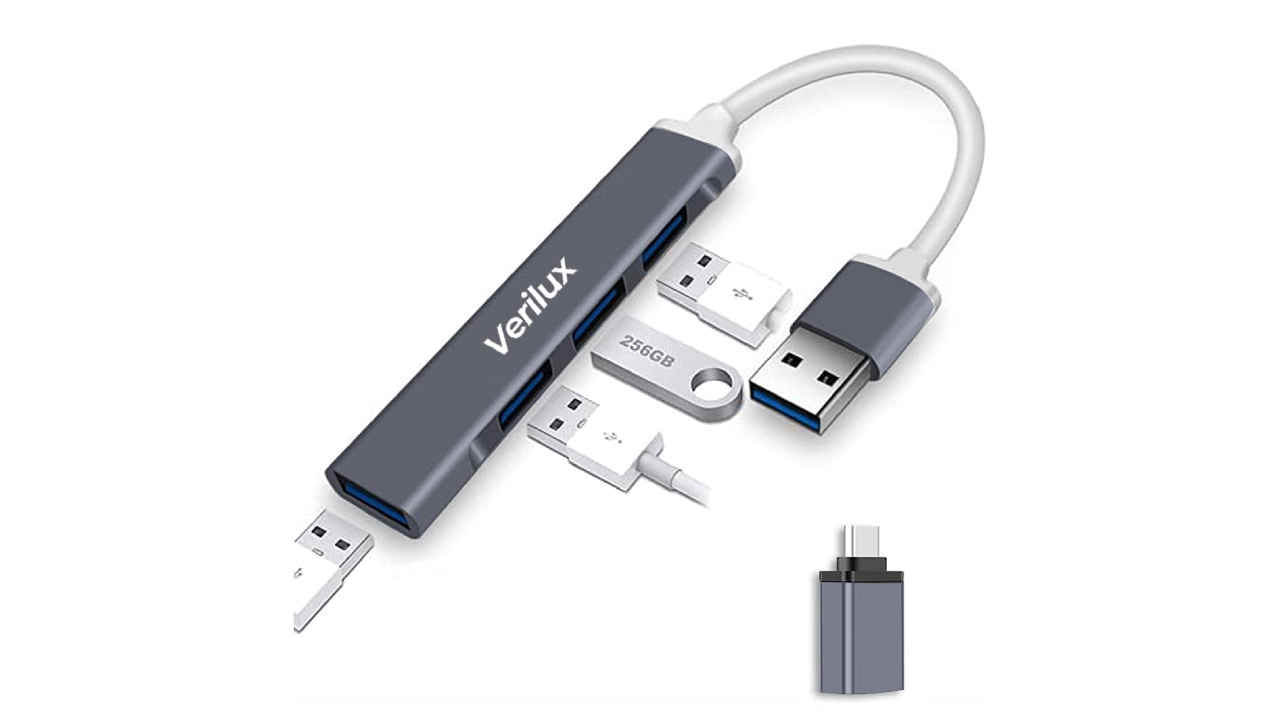 In an effort to make laptops slimmer and lightweight, manufacturers are ditching a wide range of ports on the latest models – not just types but also numbers. The available ports are mostly USB Type-C. While that can work well for compatible devices, it can pose a problem when you need to connect something that requires a Type-A port. Additionally, you could also reduce the clutter on your desk by keeping all wires connected to the same side. To do that, you'll need more USB ports on that particular side. To help you achieve these objectives, we've curated some of the best USB hubs available on Amazon. These models offer the right mix of useful specifications and unique features and are also easy to use.
Verilux USB Hub 3.0
This USB Hub from Verilux comes with its own USB to USB-C adapter. This lets you use the same hub for laptops that come with either type of port. With USB 3.0 support, the hub allows high-speed data transfer for all your needs. Additionally, it can connect with a wide range of input and output devices. Built-in surge protection keeps all the connected devices safe from unsafe voltage levels. The design is slim and lightweight, making it highly portable and easy to carry for your travels. It can also function as a multi-device charger by connecting directly to your USB charging adapter.
Zinq Technologies ZQ4H
The flat and sleek design of the ZQ4H USB Hub from Zinq technologies makes it easy to carry around and store in your backpack. With four high-speed USB ports on one hub, you can connect all your important devices. It comes with Over-Current protection, which protects the devices linked to the hub from surges in power. Being a plug-and-play device, it requires no additional drivers and is ready to be used as soon as you plug it in. The black exterior finish can add to the style quotient of your desk.
QZ USB Hub 3.1
With a 1-foot long cable built-in, the QZ USB Hub 3.1 gives you complete freedom to place it. It features the VL813 chipset, a single-chip fully-integrated design focusing on low power consumption and high-speed data transfer. With a high-grade ABS plastic enclosure, the QZ USB Hub is designed for durability. It weighs just 100g and has a slim design. This makes it great to take with you on the go. Once plugged in, you get instant access to four high-speed USB 3.1 ports for data transfer in a flash. A blue LED light indicates successful operation.
iBall Piano 423
With a port on the top, the iBall Piano covers all sides for a highly space-saving design. This also lets it have a smaller footprint overall, resulting in a compact build. The glossy exterior finish is designed to resemble a piano and makes the hub aesthetically attractive. It also features rubber foot pads for a better grip with any surface you place it on. The hub supports USB 2.0 connectivity and is also backwards compatible with USB 1.1. Its connecting USB wire features a reinforced design on one end to prevent it from tearing over long term use.