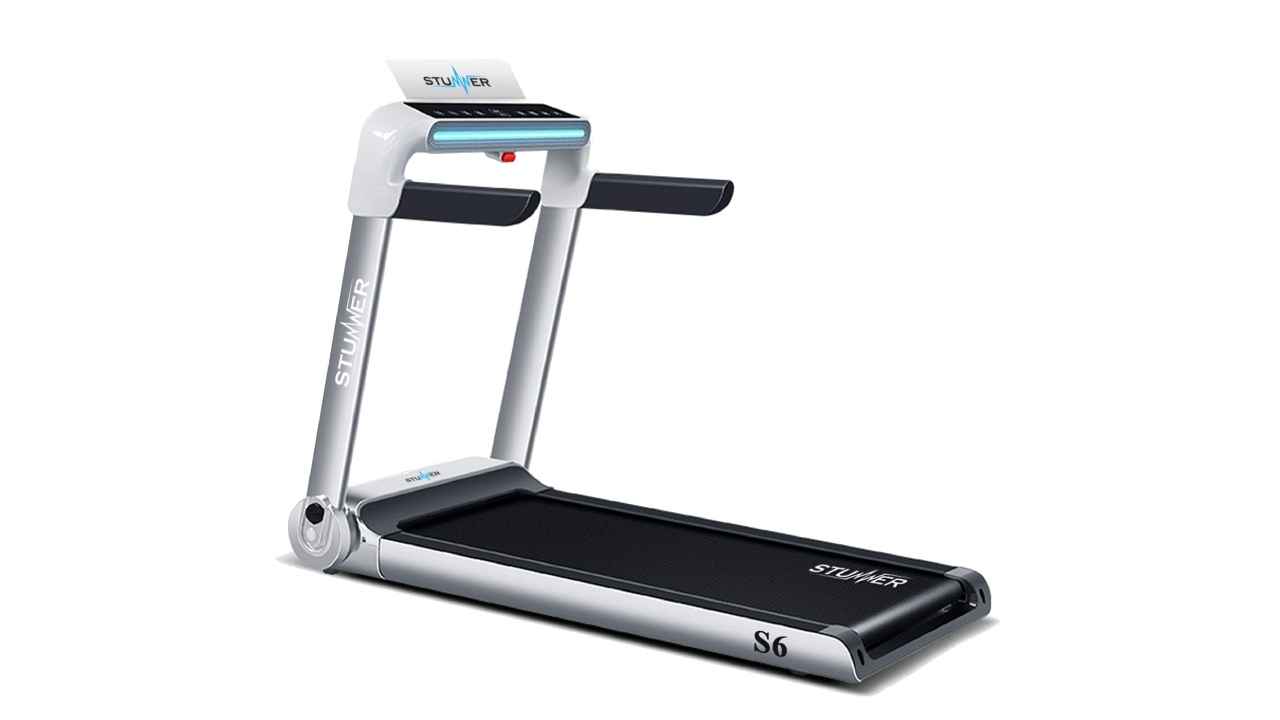 To ensure you are fit, whether the gyms are closed or open, you must consider getting a treadmill for your home. However, as there are many options available in the market, it can become challenging to pick the best one. If you are looking for a treadmill for home, make sure that the one you finalise offers a powerful motor, a robust hydraulics system, and a durable build. However, most importantly, make sure that the one you pick is compatible with your smartphone so that you can easily monitor your progress and workout stats.
Stunner Fitness Treadmill S6
The Stunner Fitness Treadmill S6 is powered by a heavy-duty DC motor that can churn up to 2.0 HP of continuous and 3.0 HP of peak power. Its futuristic and minimalist design is a real eye-catcher and can enhance the aesthetics of your interiors. Every training value (time, distance, calories, and heart rate) are clearly displayed on its LED screen. The Stunner Fitness Treadmill S6 features 12 pre-programmed training modes and 3 preset target-based modes to burn calories more effectively. This also makes way for a customised routine of exercises! With an enlarged running surface (1210 x 460 mm), it delivers a comfortable running experience. In addition to these specs, it also incorporates an automatic stop key, built-in dual speakers, a foldable mechanism, and app compatibility.
Reach Treadmill (T-301)
The Reach Treadmill (T-301) has built-in pulse sensors on its handlebars, enabling you to keep track of your heart rate. This helps ensure that you are always in your desired intensity zone! Thanks to its pro-cushioning system, it offers the most comfortable deck to run. It has a large LED screen panel that indicates the time, distance, and calories burnt. Featuring a hydraulic folding system, the Reach Treadmill (T-301) can be folded and stored in any corner of your home. It also has a 3-step inclination mechanism that allows you to break a sweat by tough workouts. Plus, as it has 12 user programs, the treadmill can make your routine exercises a bit more fun! Its other notable features are a 2 HP DC motor, smartphone app connectivity, and heavy-duty construction.
Stunner Fitness Treadmill (STX-360)
The Stunner Fitness Treadmill (STX-360) boasts a 1.6 mm-thick, multi-layered, polyester running belt that helps reduce shocks. Its digital console comes equipped with a 5-inch screen that displays the time, distance, calories, speed, pulse, and incline. Moreover, it comprises a mobile holder for optimum convenience. The motor of the STX-360 has been crafted for the highest loads and allows a peak power of up to 4.0 HP. Training on the Stunner Fitness Treadmill is almost noiseless despite the powerful engine! Under its 12 pre-installed training programs, you will indeed find the optimal program that suits you. It also has a powerful MP3 function, owing to its AUX/USB connectivity and high-quality stereo speakers. Apart from these specs, this running machine also has an auto-lubrication system, transport wheels, and a maximum weight capacity of 115 kilograms.
PowerMax Fitness Treadmill
The PowerMax Fitness Treadmill sources its power from a robust 5.0 HP peak brushless DC motor that can churn speeds ranging between 0.5 – 10 km/h. However, since it can manage the speed on its own through its intelligent algorithms, you won't need to worry about setting a fixed speed. Offering a wide running surface, rest assured your experience on this treadmill would be comfortable! Since it can be folded, the PowerMax Fitness Treadmill can be stored anywhere in your home. Its Android and iOS app can send you real-time fitness statistics, ensuring you are always aware of your progress. The treadmill also has wheels on the bottom, making transportation easier and more convenient.