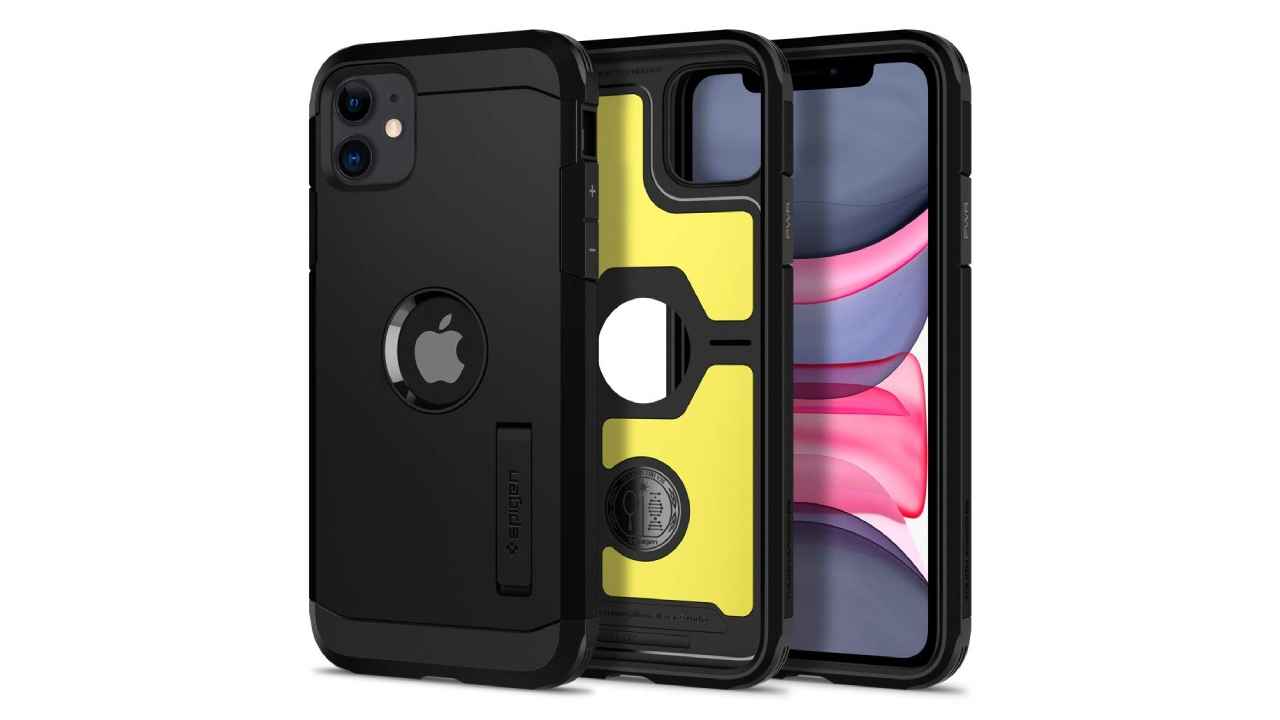 Let's face it. Most of us have had the unfortunate experience of dropping our phone or have it slip out of our hand mid-game. Sometimes you get off easy with just a few scratches on your phone; other times, you are not so lucky and will have a cracked phone screen reminding you of the spider web in the corner of your room! If you wish to protect your precious iPhone 11 from any drops or scratches, then check these tough Apple iPhone 11 covers available on Amazon right away.
Spigen TPU, PC/Polycarbonate Tough Armor Back Cover Case
Spigen TPU, PC/Polycarbonate Tough Armor Back Cover Case offers durable protection in a slim frame. The case is made of a combination of TPU and Polycarbonate for dual protection from drops and scratches. The impact foam adds an extra layer of protection. The phone cover has certified protection and the air cushion technology offers anti-shock protection. The raised lips of the kickstand will ensure that the screen and the camera are fully protected. The tactile buttons with precise cutouts are an added advantage. The cover allows for easy viewing with its prop-and-watch stand, and one can charge their phones even with this case on.
Nik case Back Cover
Nik case Back Cover has an inner microfiber lining and durable three-layer protection to safeguard one's phone. It has raised lips to prevent any scratches on the camera. It is compatible with an iPhone 11 with its precise cutouts and buttons and is easy to take off. It is soft to touch and is lightweight but provides the user with a very good grip over the phone, avoiding slippages and consequent damage. It has a shockproof case that offers wholesome protection for the phone. The cover can be easily removed and cleaned with a wet cloth.
Amozo Autofocus TPU Clear Back Cover Case
Amozo Autofocus TPU Clear Back Cover Case comes with a clear black panel that has a soft matte finish edge. The raised bezels prevent the camera from getting scratched when placed on any surface, and the cutouts are precise. This phone cover offers protection for iPhone 11 with its drop protection feature that involves having air cushion corners and A-grade silicone sides. The product has an acrylic non-yellowing panel that will retain the transparency and look of the cover even after a period of time, making it a product that has good aesthetics along with needed protection.
EGOTUDE Hard Back Case
EGOTUDE Hard Back Case is made of a hard plastic back and soft rubberised silicone bumper, protecting the user's iPhone XR from accidental falls or drops. The raised edges at the four corners provide extra protection for the phone screen glass and camera. It is a scratch-resistant and shock-absorbing product. It provides the user with an easy grip over their phone and has a slim profile. The product is designed so that there is easy access to all buttons, controls and ports at all times. Also, the edge near the lower end of the screen does not protrude, allowing the user to have an uninterrupted upward swipe. It comes in a range of colours, and the back panel is easy to clean with water and detergent.