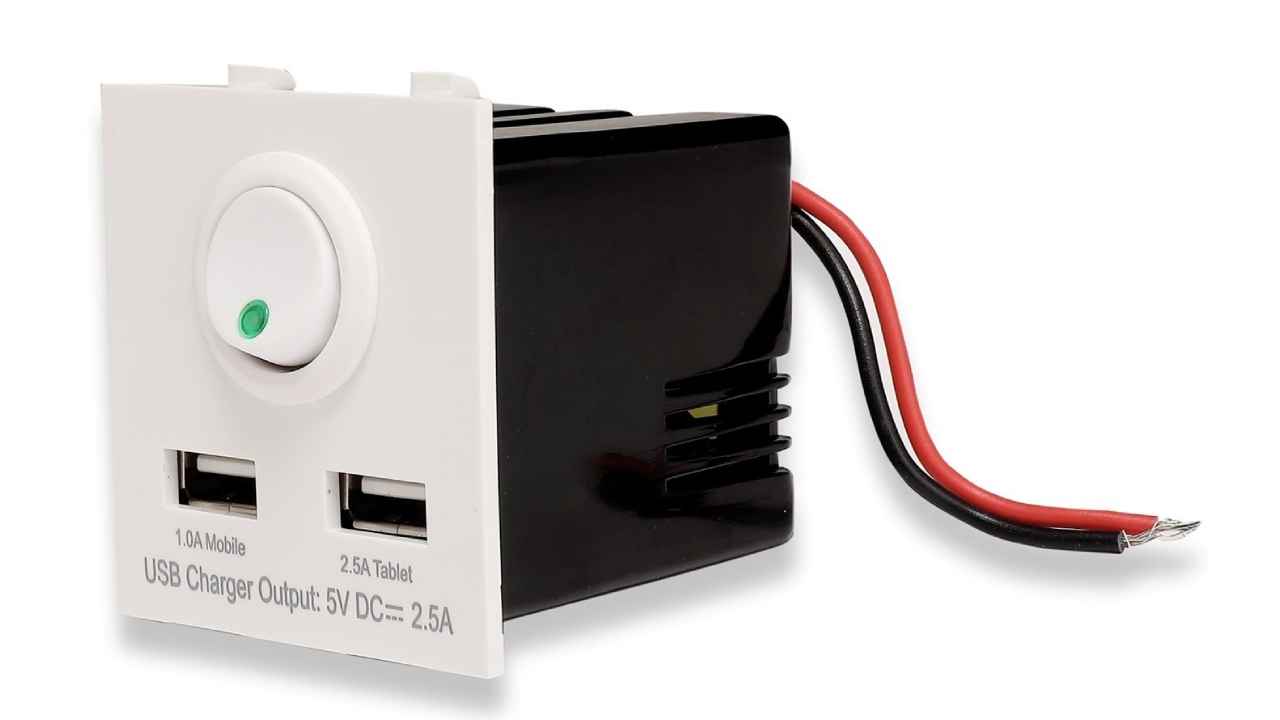 Since most of us have multiple devices at home that need regular charging, a USB Type-A Port fitted right in the wall socket can prove to be an unmatched convenience. These ports can be used to charge devices like phones, tablets, trimmers, watches, fitness bands, or just to plug in Wi-Fi dongles. Given below is a list of the top wall sockets with USB charging ports available on Amazon!
Shubh Empire Kart Shubh Empire Dual USB Wall Socket
Shubh Empire Kart Shubh Empire Dual USB Wall Socket is a modular wall plug socket that provides a 2.5A output for charging multiple gadgets ranging from mobile phones, tablets, music players, Bluetooth devices, etc. There is a second 1A port that can be used for slowly and steadily charging gadgets like trimmers, smartwatches, fitness bands, and more. The charger has inbuilt surge protection resistance, high speed charging with protection against over-charging, overheating and short circuit. Users also have the option of inserting a Wi-Fi dongle into the USB port to establish a Wi-Fi network.
Generic PC 2.1 A 2 USB Wall Socket
Generic PC 2.1 A 2 USB Wall Socket is a cost-effective solution with two USB ports that support up to 2.1A charging current. The module also includes a regular socket and an on/off button that you can use to commence or end charging. This wall socket can be used to charge two products simultaneously conveniently. These could include your smartphones, tablets, your smartwatch, etc. You can also use the USB ports to directly power small devices like Chromecast, FireTV stick, or a Wi-Fi dongle for your home.
Salzer USB Socket
Salzer USB Socket is contemporary and sleek and is made out of high grade, flame retardant UV Stabilized Polycarbonate material. The product is safe to use with features such as finger protected terminals and Anti-Spark Shield. The captive screws allow for easy snap-fit installation, and the contacts are made of silver nickel for an enhanced electrical life of over 75,000 trouble-free operations. The terminals allow for tight gripping of the plugs, and the sockets are shuttered for safety. The range of devices that can be connected includes universal sockets, USB Sockets, Telephone Jacks, Computer Jacks, audio sockets, etc.
Techspark Universal 2A 1 USB Wall Switch Socket
Techspark Universal 2A 1 USB Wall Switch Socket is capable of supplying power for mobile phones, digital products, or other electrical equipment – it is a universal charging port. It has one USB port that provides the user with a hassle-free solution for charging portable devices. It is made out of plastic and is quite durable. It is easy to install and safe to use.