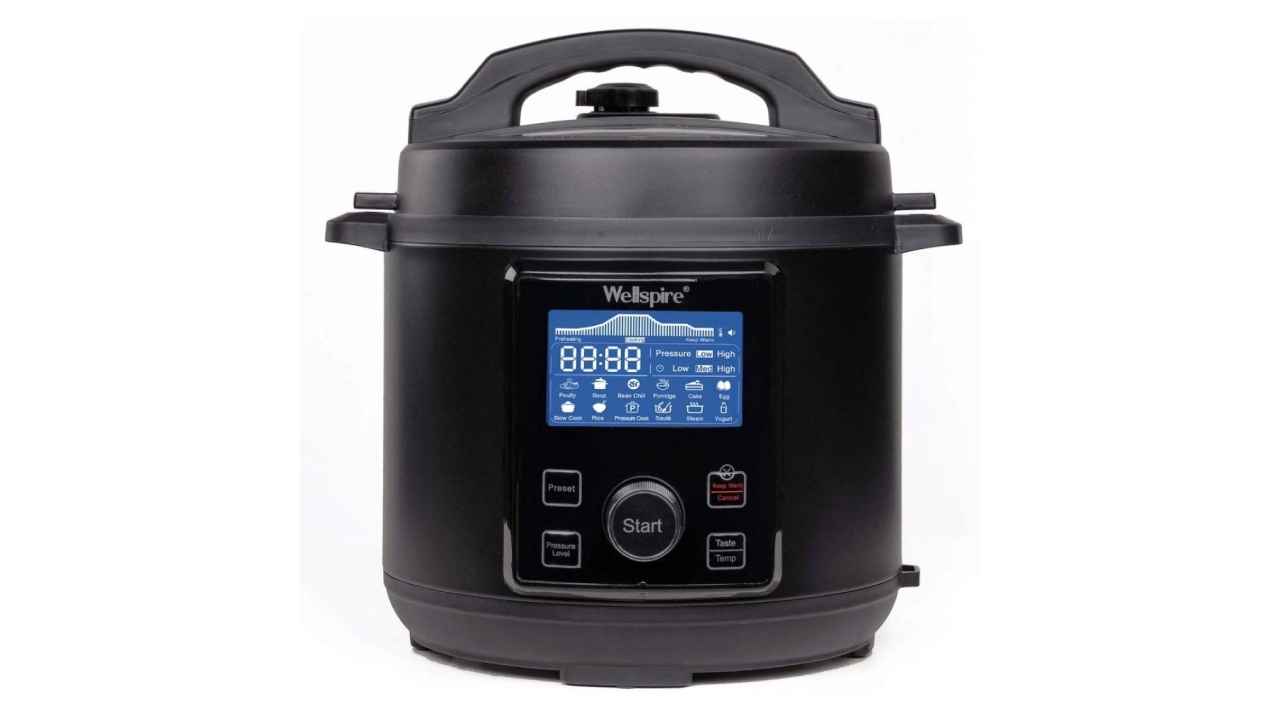 The market for electric cookers has exploded, and all credit goes to their versatile usage and less cooking time. You can pressure cook, slow cook, steam and much more, which makes them a great addition to any modern kitchen. Finding a good one out of the lot won't be an easy task, so here's a list of some of the best multifunction cookers suitable for versatile cooking needs.
Wellspire Multi Cooking Pot
Wellspire Multi Cooking Pot is a 6 litres multi-function electric pressure cooker that you can use as a slow cooker, rice cooker, steamer, saute pan, food warmer and yoghurt maker. To ensure the user as well as the cooker's safety, Wellspire has packed it with 10+ safety features like a multi-layered pressure safety mechanism, overheat protection, safety lock and many more. It has 14 one-touch smart programs that make cooking dals, rice, soups, yoghurt, desserts, etc., child's play. It has a large LCD panel along with touch buttons that help you cook even the most complicated dishes without much supervision. Its stainless steel inner pot and smart design result in proper pressure regulation, which cooks food thoroughly and quickly. This electric cooker measures 33 x 33 x 38 cm and weighs just 6.5 kilograms.
Mealthy MultiPot
If you are looking for an electric pressure cooker with a stainless steel inner pot, check this one out from Mealthy. The Mealthy MultiPot is a smart cooker with 14 easy touch cooking programs that you can use to pressure cook, slow cook, saute, steam and make yoghurt, egg, rice, soup, cake, and meat. Mealthy has packed it with the necessary accessories to help you make the delicacies mentioned above. You can check the real-time progress of your dishes using its LCD panel and use the touch-sensitive buttons to make the necessary changes. It comes with a smart recipe app that helps you cook even the most complex dishes. It is a relatively compact and lightweight cooker that measures just 29.5 x 29.5 x 34 cm and weighs just 5.92 kilograms.
Crock-Pot Express Electric Pressure Cooker
Stainless steel and grey with an intuitive digital display, Crock-Pot Express is an electric pressure cooker with a capacity of 5.6 litres. This cooker from Crock-Pot is pretty easy to program and can be used to pressure cook, slow cook, saute, steam and make numerous tasty dishes. It is equipped with 13 one-touch programs to help you cook quick and healthy meals with the touch of a button. You can track the progress of your dish using the progress bar displayed on its digital display. It has a removable non-stick cooking pot that is dishwasher safe, making it easy to clean and serve. Crock-Pot claims that this electric pressure cooker can cook up to 70% faster than a conventional oven.
Geek Robocook Zeta
Geek Robocook Zeta is an electric cooker with a capacity of 5 litres, making it a great choice for a family of 3 to 4 people. This 11-in-1 electric cooker can be used as a pressure cooker, slow cooker, pressure canner, insulation warmer, rice cooker, soup cooker, egg cooker, steamer, simmer, sous vide and saute pan. It is pretty easy to program, thanks to its digital display and touch-sensitive buttons. Geek Robocook Zeta comes with 13 preset menus to help you cook your favourite dishes with the touch of a button. It has 7 safety guards and preset menus controlled by advanced microchips to ensure your as well as the cooker's safety. This has earned it a BIS certification. The electric cooker is easy to store, which further makes it a great choice.