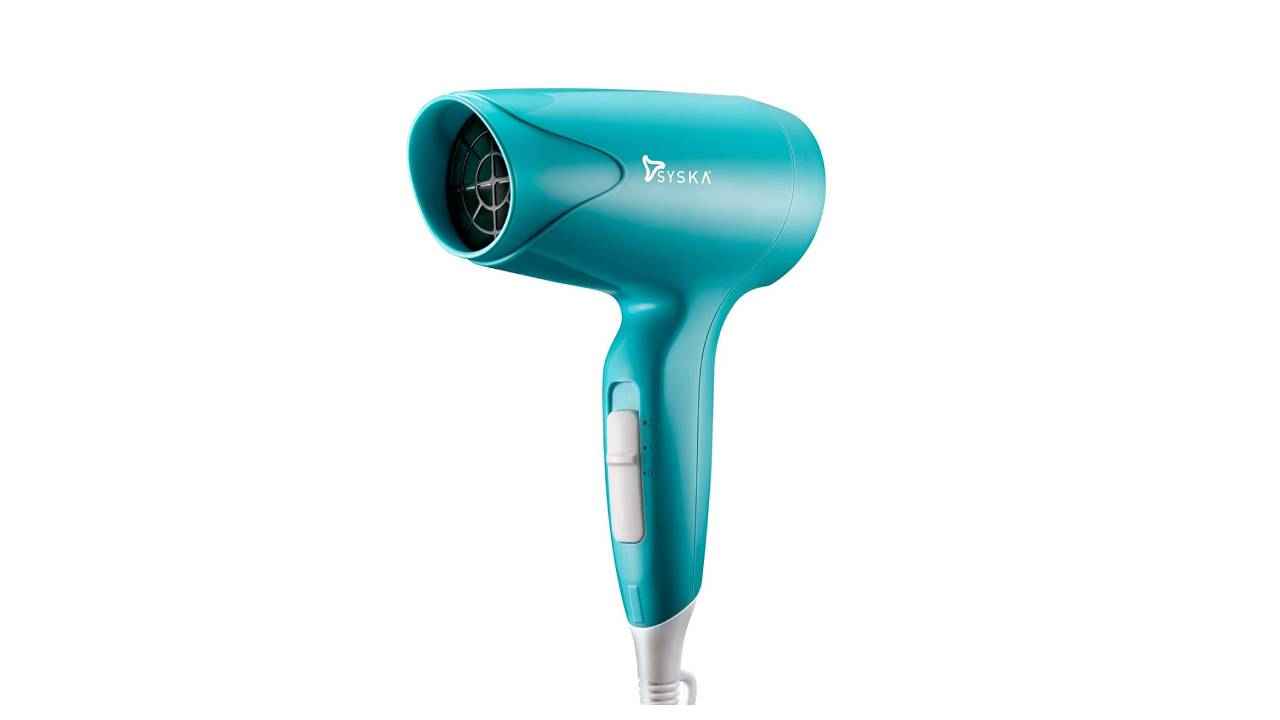 No matter what people say, looks do matter, and it's important to carry yourself well so you can turn heads. But it's not always possible to visit a parlour before every social event. So you should have a grooming kit at your disposal at all times. A hairdryer is one of the essential electronic equipment to possess for styling. Here's a list of some of the best hair dryers for men and women that money can buy. Note that these products have been curated based on their availability on Amazon as well as their listed features.
Havells HD3151 1600W Foldable Hair Dryer
When it comes to high-quality electronic equipment, Havells is second to none, and this hair dryer proves that. The Havells HD3151 is a 1600W hairdryer with a storage hook, and it can also be folded, making it easy to store and carry around easily. It has three temperature settings (hot, warm and cold) to ensure that you can style your hair the way you want. The 1.6m power cord ensures that you can dry your hair without worrying about the cord running short. It even has a detachable nozzle for focused air-flow and a honeycomb inlet specially designed to prevent the tangling of the wire. This quality hair dryer by Havells has two-speed settings to get the perfect hairstyle for all your date nights and meetings.
Syska HD1600 Trendsetter Hair Dryer
If you're looking for a lightweight and compact hair dryer to carry around conveniently, then this might be the right choice. The Syska HD1600 has a wattage of 1000W and a cord length of 1.8m so you can move around while using it. This hair dryer from Syska has two-speed settings to help you get the desired hairstyle for every occasion. The wave heating element used in this hairdryer allows instant heating and quick drying. To prevent the hairdryer from becoming a fire hazard, Syska has used heat balance technology which protects it from overheating. It measures 19.5 x 13 x 7cm and weighs only 327g, making it one of the lightest and most compact hair dryers that you can find in the market.
Philips HP8100/60 Hair Dryer
The Philips HP8100/60 is a wired hairdryer with a wattage of 1000W for strong and consistent airflow. It has two-speed settings so you can nail the style you are aiming for, without any problem. Philips has also added a storage hook so the user can keep the hairdryer without causing any hindrance. The Thermoprotect technology protects the hairdryer from overheating, thus decreasing the number of fire hazards in your home by one. Its 1.5m cord gives you the freedom to style your hair without completely restricting your movement. Its narrow concentrator and two flexible heat settings provide you with enough heat to dry your hair efficiently and easily. Finally, its ergonomic design and lightweight make it a perfect choice for people who travel around a lot.
VEGA Blooming Air 1000 Hair Dryer
VEGA is one of the most well-known brands in the beauty segment, and this hairdryer is a no different story. The VEGA Blooming Air 1000 is a foldable hair dryer rated to work at 220-240 Volts and has a wattage of 1000W. The detachable nozzle lets you focus the air coming out of it, and it can be removed to increase the portability. It has two heat settings that you can choose from for an efficient and quick drying experience. It is equipped with a safety automatic overheat cut off to protect the hairdryer from overheating. The storage ring makes sure that you can easily store it, no matter how crammed your dresser is. VEGA has designed this product keeping portability in mind, and that explains its compact size, lightweight and foldable design.