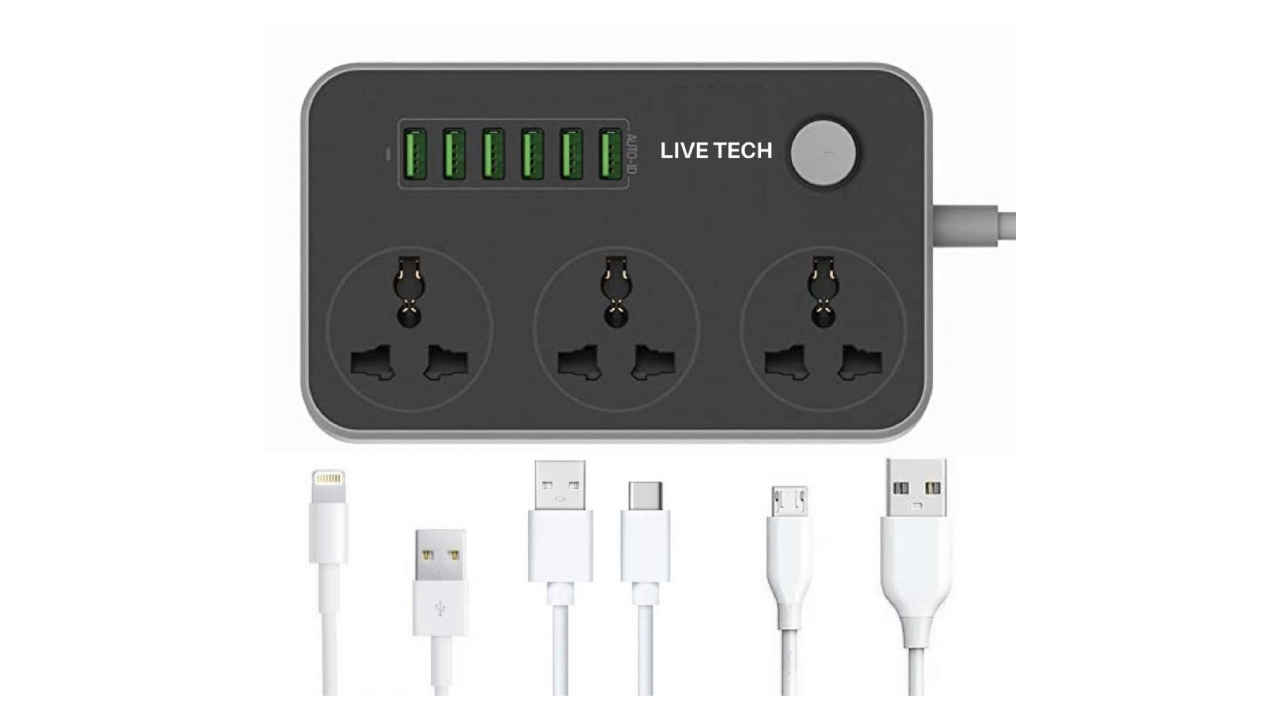 Most of us have multiple smart devices at home, most of which accept charging from the universal USB port. In such situations, having USB ports in a power strip can be immensely helpful, especially when you are setting up multiple devices like home theatres, TVs with streaming dongles, and more. Check out this list of the top extension boards with USB charging ports available on Amazon right away!
Live Tech 2500W Extension Board with USB Slots
Live Tech 2500W Extension Board with USB Slots is a well-designed extension board that caters to different demands of durability, safety and accessibility. The product has a robust build and is made of flame retardant material to protect the user and the device from any mishap. There are four individual charging ports along with four USB charging ports that enhance accessibility. Each of these have individual switches. The product also comes with child safety doors and an overload button. The product ensures that there is a stable current inflow and there is a surge protection feature added to the device. The product weighs just 45 grams.
ADDMAX Extension Cord with USB Port
ADDMAX Extension Cord with USB Port has built-in smart technology that will detect the devices automatically and deliver the fastest charge speed. It has 6 pin outlets and 2 USB outlets along with a 1.8-metre extension cord. There are convenient on/off switches for each part of the board, and the small indicator light lets the user know that the power is active in the dark. The extension cord is lightweight and easy to carry. The product has an ABS shell with flame-resistant material that makes it more durable. The product has complete protection ranging from electrical short circuit, overheat, over-charging, to over-current.
Live Tech PS06 Universal Sockets
Having received CE and ROHS certification, the Live Tech PS06 Universal Sockets has three anti-splash and dusty and smart pin outlets and four-port USB high-speed charging at the same time. The product has a fire-resistant PC material body, and the cord uses high-quality copper wire PVC material that can withstand more current, low heat and is highly elastic. The plugs fit into the receptacles snugly. The product has a total control switch button and a blue LED indicator light and can be used for home office, entertainment centre or any other location of one's choice. It does not occupy much space and is easy to carry around.
Hoteon 2500W Extension Board with USB Slots
Hoteon 2500W Extension Board with USB Slots can be used to charge up to 8 devices at a time with 4 pin ports, 4 USB ports and an extension cord. The 3-PIN Power strip is made of high strength fire-resistance ABS and PC shell, making it fireproof. It also has a child safety door to avoid electric shocks and a 10 A overload protection with a reset button. The USB port allows for fast charging of devices bringing the charge up to 70% in just 45 minutes. It auto-detects devices to maximise the charging. The intelligent circuitry with built-in voltage sensing detects and responds to your device's power needs. It has a compact design and is travel friendly.