Tata Sky unveiled its plans to launch 4K enabled set top boxes for the Indian subcontinent by early 2015 at an event where they showcased a live 4K broadcast of the World Cup 2014 Quarter Final match between France and Germany.
With 4K increasingly getting popular as far as display technologies go, Tata Sky - the DTH (Direct To Home) provider in India was the first one to announce its plans to roll out 4K set-top boxes for the country by first quarter of 2015. These launch plans were unveiled at an event where Tata Sky showcased the first ever Live telecast of 4K on Sony Six HD using Sony's huge 85-inch Bravia 4K enabled UHD TV and the Tata Sky 4K set top box. In order to make things interesting and to show-off the difference between 4K, HD (High Definition) and SD (Standard Definition), the World cup quarter final clash between France and Germany was broadcasted live simultaneously on three different screens with 4K, HD and SD feeds respectively for comparison purposes. To put it into perspective, 4K is four times full HD and has a resolution of 3840x2160 which is a whopping 8.3 Megapixels and so 4K content is bound to have a much greater level of detail as compared to anything we've seen before in the consumer market.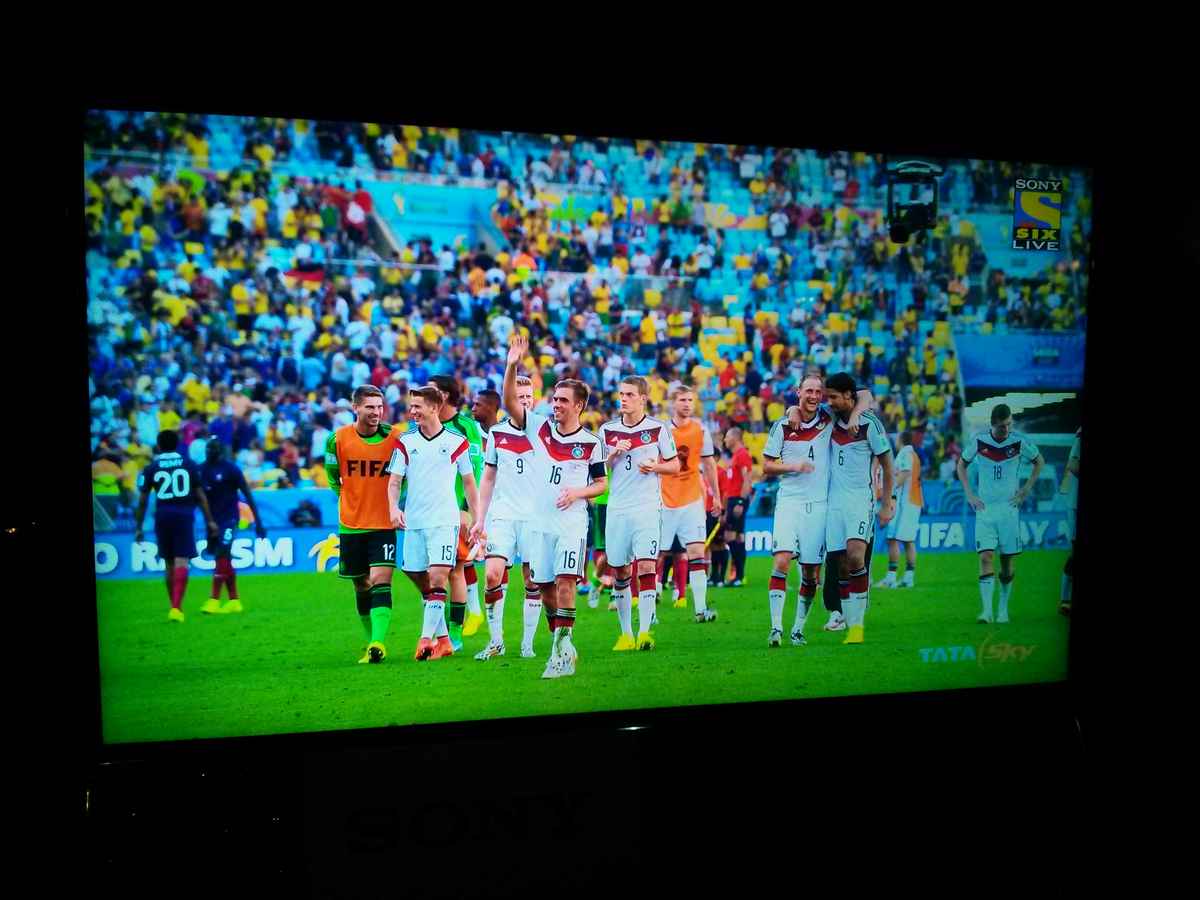 We at Digit have always been on the front seat of the roller-coaster ride that is technology and since this was the first time when a live 4K broadcast was being made, we were excited to witness it first-hand. Regarding the quality of the 4K broadcast, we must say that we were quite impressed by the uninterrupted and glitch-free broadcast of the match which looked absolutely stunning with an amazing level of detail. We could actually make out subtle facial details and differences of the players and also the fans while the environment looked vibrant and encompassing. Be it sweat, hair or even the intricately drawn tattoos on players, we saw it all, that too very clearly if we might add.
Considering how Tata Sky has been providing Full HD broadcasts for a long time now, it was interesting to see that the full HD broadcast stream had a time delay of about 12-13 seconds as compared to the 4K broadcast which was in-fact there for only a demo of 4K technology. This was funny because the SD and HD streams acted as though they were meant for watching a live replay of the match while the match went on ahead in the 4K telecast - A weird but classic example of how new technology can poke and make fun of older technology.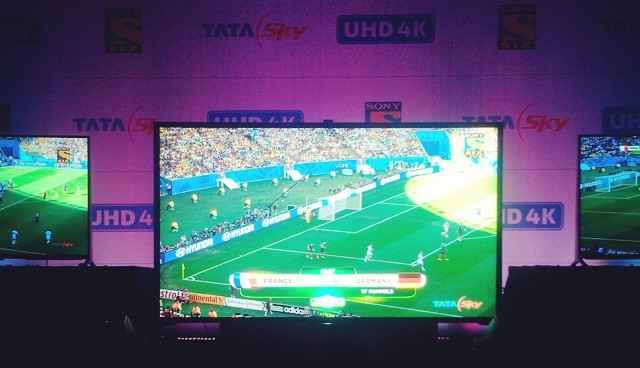 At the event, Vikram Mehra, Chief Commercial Officer at Tata Sky was quoted saying, "Being the market leader, we are always at the forefront of technology and have worked on delivering world class TV viewing experience. In today's day and age, following global trends is not enough, we try to leapfrog them. Launch of 4K UHD STBs next year is another example of the same. 4K is the future for our subscribers and we are very happy to bring this preview to India for the first time together with Sony Six, showcasing the world's biggest sporting festival."
Though there is a serious lack of 4K content available for consumer consumption, we're seeing a slow but steady rise in the adoption of 4K. If things keep going like the way they are now, we may soon see the launch of new channels with 4K content after 4K broadcast reaches mainstream. Tata Sky didn't comment on the prices at which they'll be offering connections and plans for their 4K services but judging by the way penetration of new technologies go, these services won't come for cheap. Determining by the quality of the 4K demo broadcast, we can say that if that's exactly how Tata Sky rolls out their final 4K services for consumers in 2015, it would definitely be worth considering a switch. We'll see how it actually pans out in 2015. Until then let's hope that the prices of UHD 4K enabled TV's falls down enough to actually make sense in investing in them.