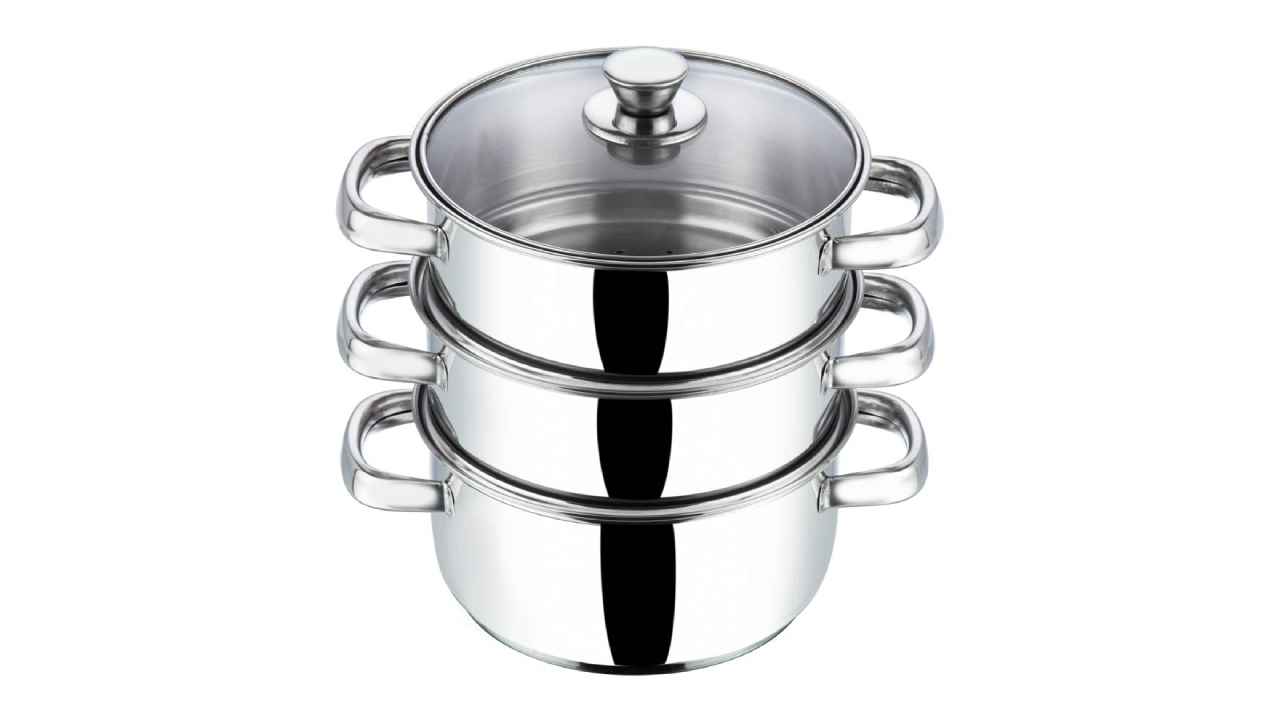 Health is wealth and, in this day and age with the internet full of medical information, people have realised the importance of this adage all the more. Given below is a list of Steam cookers helpful in making healthy food at home available on Amazon. Check them out right away!
Vinod Stainless Steel 3 Tier Steamer
Vinod Stainless Steel 3 Tier Steamer is an induction friendly steamer that enables the user to steam assorted delicacies such as momos, modaks, veggies, etc., at home. It has a thick aluminium core with sandwich bottom technology which prevents food from getting burnt and facilitates fast cooking. The steamer has a piece glass lid made out of tempered glass, and it has a steam release vent. The product is easy to clean. The item weighs 1.5 kilogrammes and is three-tiered. It is durable.
Livzing 2-Tier Bamboo Steamer
Livzing 2-Tier Bamboo Steamer is designed with 100% bamboo and is reusable. It is reinforced with stainless steel. It is versatile, and one can easily prepare traditional Asian food such as dim sum, dumplings, vegetables, rice, beef, meat, chicken, fish, rice, vegetables, momos, wanton, Chinese dishes, etc. The cooking is healthier as it allows the food to retain more nutrients. It is made of two tiers, allowing multiple items to be steamed at once.
Solimo Stainless Steel Induction Bottom Steamer
Solimo Stainless Steel Induction Bottom Steamer is made from 100% food-grade steel. It has solid double-riveted handles, a heavy-gauge induction bottom and comes with a glass lid. It is two-tiered with a top casserole and bottom steamer with a capacity of 2 litres. It has double-riveted stainless steel ear handles with both pots. Apart from Induction cooktops, it's also compatible with gas stoves.
Glen Electric Steam Cooker 3052
Glen Electric Steam Cooker 3052 is made of three polycarbonate food grade containers for multi-level cooking. It even has a special slot for holding eggs. The steam cooking in this product will help retain essential nutrients and vitamins in the fish, chicken, vegetables and eggs that have been steamed. It has ultra-compact storage. The product comes with a 60-minute timer, a quick start power indicator and has the option of online water filling. It is made out of food-grade plastic. This 900W cooker is fast and efficient.