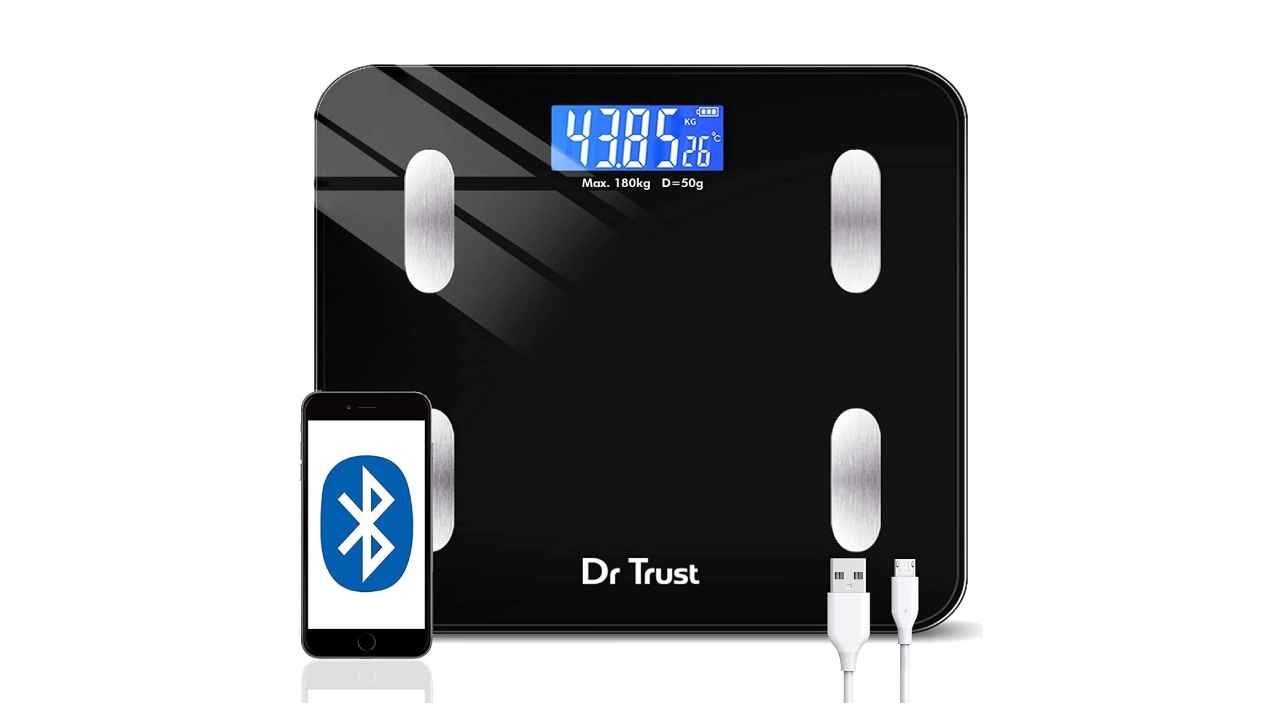 Measuring your weight is a vital part of any fitness journey. However, weight is only one aspect of our health which can often be misleading if measured in isolation. For instance, you could be at the right weight while also having excess unhealthy fat in your body. To avoid planning your health on an incomplete picture, you need to get a body fat analyser. The right one can help you check your body fat composition, as well as other metrics like BMI, muscle mass and more. Here are some models on Amazon that deliver a great combination of impressive features and capable specifications.
Actofit Body Fat Analyser Smart Scale Lite
With 12 different health indicators like visceral fat, body water percentage, muscle mass and more, the Actofit Body Fat Analyser gives you a complete picture of your health. The model supports a database of up to 16 users, making it capable of use by the entire family. Its historic data monitoring ability lets you measure your progress over time. When you have the Actofit smart scale app installed, the scale automatically syncs all your measurements to the app. The design features rounded corners to avoid the risk of injury. Dual-frequency BIA Technology on the scale aims for the highest precision possible.
Omron HBF 222T Complete Digital Body Composition Monitor
The Auto User Recognition feature makes the Omron HBF 222T seamless to use for multiple users with minimal manual intervention. Useful metrics like BMI and Body Age give you an overall picture of your health without requiring detailed analysis. The Omron Connect app syncs with the scale to track your data over time. It also allows you to export your data as a CSV file for easy sharing. Its helpful battery indicator informs you about the right time to change the batteries to avoid interruptions in your health tracking journey. Manual Power and Bluetooth buttons let you disable the scale or wireless connectivity to prevent battery depletion when it is not required.
Dr Trust Digital Smart Fat Analyzer
The Dr Trust Digital Fat Analyser supports charging via microUSB, making it easy to keep it available at all times. The design features a single rigid tempered glass bearing that makes it durable in all situations and suitable for travel. Its portability is further enhanced by its lightweight 1.3kg design. With four high precision sensors, the model ensures high accuracy and faster results for your measurements. The rounded corners of the scale's frame help avoid any accidental injuries at home. The strain gauge sensors on the model deliver a precision of 0.05kg for exact readings. It supports measurements up to 180kg, making it suitable for a wide range of users.
Lifetrons Slinky Lite Complete Fat Analyzer
When paired with the official app, the Lifetrons Slinky Light fat analyser supports up to 10 users with a single login. Its automatic step-based on-off feature helps you conserve the battery for maximum usage. Weighing at 850g and with a thickness under 2cm, the model is very light and perfectly suited for travel. The design features rubber stoppers under the base, which keep the model from slipping during usage. Using just two AAA batteries, the Lifetrons Slinky Lite keeps power usage low for long battery life. The sleek black design makes it a stylish addition to any room in your house.