Today, we are comparing the Xiaomi's Android One Smartphone Mi A2 with the Xiaomi Redmi Note 5 Pro to see which one comes with a better hardware on paper.
Xiaomi recently launched its second Android One smartphone in India, the MI A2. Xiaomi has made several upgrades in its Mi A2 in terms of display, processor, and camera. The smartphone has a dual 12MP + 20MP rear camera setup. The 4GB/64GB variant is available in India at Rs 15,999. On the other hand, we have the Xiaomi Redmi Note 5 Pro, to which company gave the tag of "India's Camera Beast". So, let's take a look at the specifications of these two devices to see which one offers the best value for your money.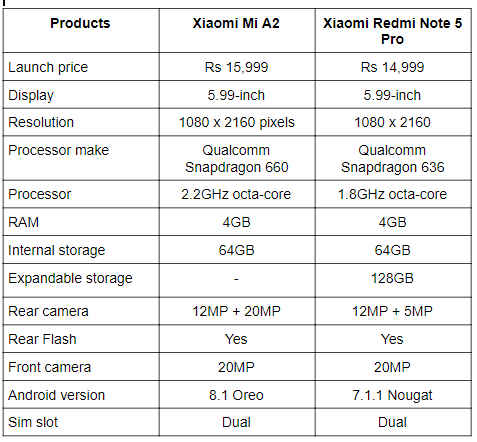 Let's start by comparing the display of these two devices in detail. Both Xiaomi Mi A2 and the Xiaomi Redmi Note 5 Pro sport a 5.99-inch display and offer a resolution of 1080 x 2160 pixels.
Coming to the processor, the Xiaomi Mi A2 comes with a Qualcomm Snapdragon 660 octa-core processor, while the Xiaomi Redmi Note 5 Pro features a better Qualcomm Snapdragon 636 octa-core processor.
When it comes to the cameras, if you're looking for a dual rear-camera setup smartphone then both devices will not disappoint you. However, the Xiaomi Mi A2 has a better 12MP + 20MP dual camera set up at the back in comparison to the Xiaomi Redmi Note 5 Pro, which comes with a dual 12MP + 5MP rear camera. In the front, both devices have a 20MP unit.
Overall, there is not much of a difference between the two in terms of specifications. However, one should keep in mind that the Xiaomi Mi A2 is a part of Google's Android One program, which means the device will receive updates early from Google. The Xiaomi Mi A2 is available on Amazon at Rs 15,999, while you can get the Xiaomi Redmi Note 5 Pro for Rs 14,999.