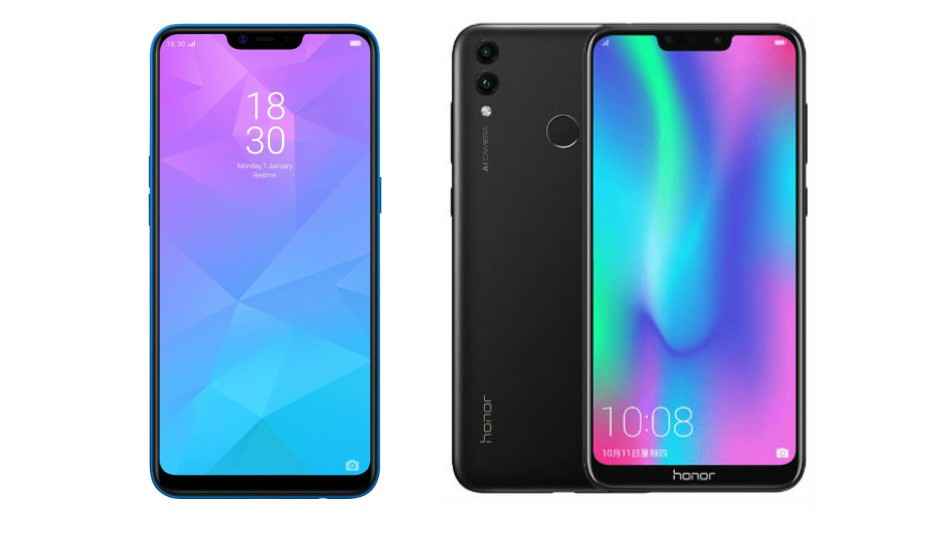 HIGHLIGHTS
Today, we are comparing the Honor 8C with the RealMe 2 too see which one provides the best value for your money?
The Honor 8C is about to launch in India soon with a Qualcomm Snapdragon 636 processor. The smartphone sports a notched display and feature AI-cameras. On the other hand, the RealMe 2, which was launched back in September at a price of Rs 9,490 is a pretty strong device. The smartphone comes with a dual camera set up at the back. So, let's begin with a quick specification comparison between the two to know which one offers the best hardware under a limited budget.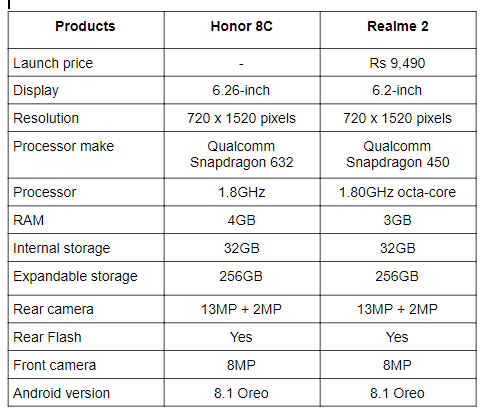 Let's begin with discussing the display of these two smartphones in detail. The Honor 8C sports a 6.2-inch display, which offers a resolution of 720 x 1520 pixels. The RealMe 2 also features a 6.2-inch display with a resolution of 720 x 1550 pixels. Besides that, both device also comes with a notch on top of the display, which means there is no difference between the two when it comes to the display at least on paper.
When it comes to the performance, the Honor 8C is powered by a Qualcomm Snapdragon 632 processor, which is faster than the Qualcomm Snapdragon 450 processor in the RealMe 2.
Coming to the cameras, both devices are equipped with a dual 13MP + 2MP rear camera along with an 8MP front shooter.
Overall, there is not much of a difference between the two as it looks like on paper. However, it would be unfair to judge the capability of the device on the basis of specifications. The RealMe 2 is available on Flipkart at Rs 9,499, while the Honor 8C price has not been revealed yet by the company