Sellers of Fake YouTube views are making as much as $30,000 a month, The New York Times reports. One seller reportedly bought a BMW 328i and a house in just 18 months. Digit.in also found the practice prevalent in India for buying fake Instagram and Faceb
We are living in a time when a person is judged by his or her likes and followers on various social media platforms. A true Black Mirror-like scenario. Many users and companies aspire to have a huge fan following on social media and want the number of 'Likes', 'Views' and 'Subscriptions' to keep pouring in. In a latest revelation by The New York Times, people are also selling fake views on YouTube and earning massive amounts of money on the back of video views generated by bots.
The report in the national daily starts with the story of one Martin Vassilev who makes a good living by selling fake views on YouTube. Vassilev is based in Ottawa, Canada and has sold about 15 million views since the start of this year. He has reportedly earned over $200,000 in the process. "Mr. Vassilev, 32, does not provide the views himself. His website, 500Views.com, connects customers with services that offer views, likes and dislikes generated by computers, not humans. When a supplier cannot fulfill an order, Mr. Vassilev — like a modern switchboard operator — quickly connects with another," the report said.
It is common knowledge that people on Instagram are selling likes, followers and even comments. We at Digit.in got in touch with one such person who sells fake followers, likes and more. The person provided us with a social media costing sheet which you can see below. For reasons of anonymity, the seller of these fake likes and followers refused to be named.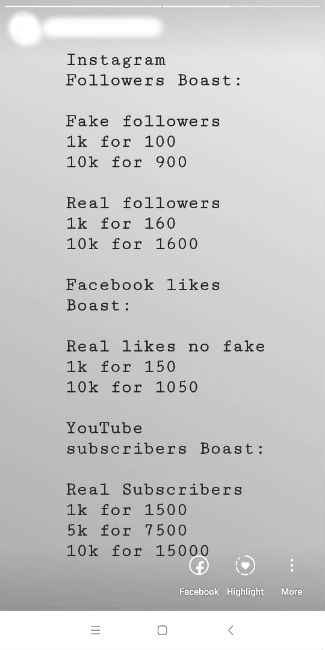 A cost sheet for buying social media followers and likes in India, obtained by Digit.in
In the NYT story, fake views seller Vassilev claims that he can deliver an unlimited amount of views to a video. "They've tried to stop it for so many years, but they can't stop it. There's always a way around," he added. According to the NYT, it took Vassilev about 18 months from "living with his father in Canada to buying a white BMW 328i and a house of his own." In late 2014, his website 500Views.com was on the first page of Google search results for buying YouTube views, fulfilling 150 to 200 orders a day and bringing in more than $30,000 a month.
Apparently, Vassilev is not the only fish in the pond. There are several other players in the fray. To test the sites, the media organisation ordered thousands of views from nine companies. Nearly all of the purchases were fulfilled in about two weeks, The NYT claimed. "One of the businesses was Devumi.com. According to company records, it collected more than $1.2 million over three years by selling 196 million YouTube views. Nearly all the views remain today. An analysis of those records, from 2014 to 2017, shows that most orders were completed in weeks, though those for a million views or more took longer. Providing large volumes cheaply and quickly is often a sign that a service is not offering real viewership," the national daily reported.
According to Google, this has been a problem that they have been working on for several years. "The company's systems continuously monitor a video's activity, and the anti-fraud team often buys views to understand better how these sites operate. Our anomaly detection systems are really good," Jennifer Flannery O'Connor, YouTube's Director of Product Management, was quoted as saying. But these sites still continue to advertise on Google search. "The only way YouTube could eliminate this is if they removed the view counter altogether. But that would defeat the purpose of YouTube," Vassilev added.