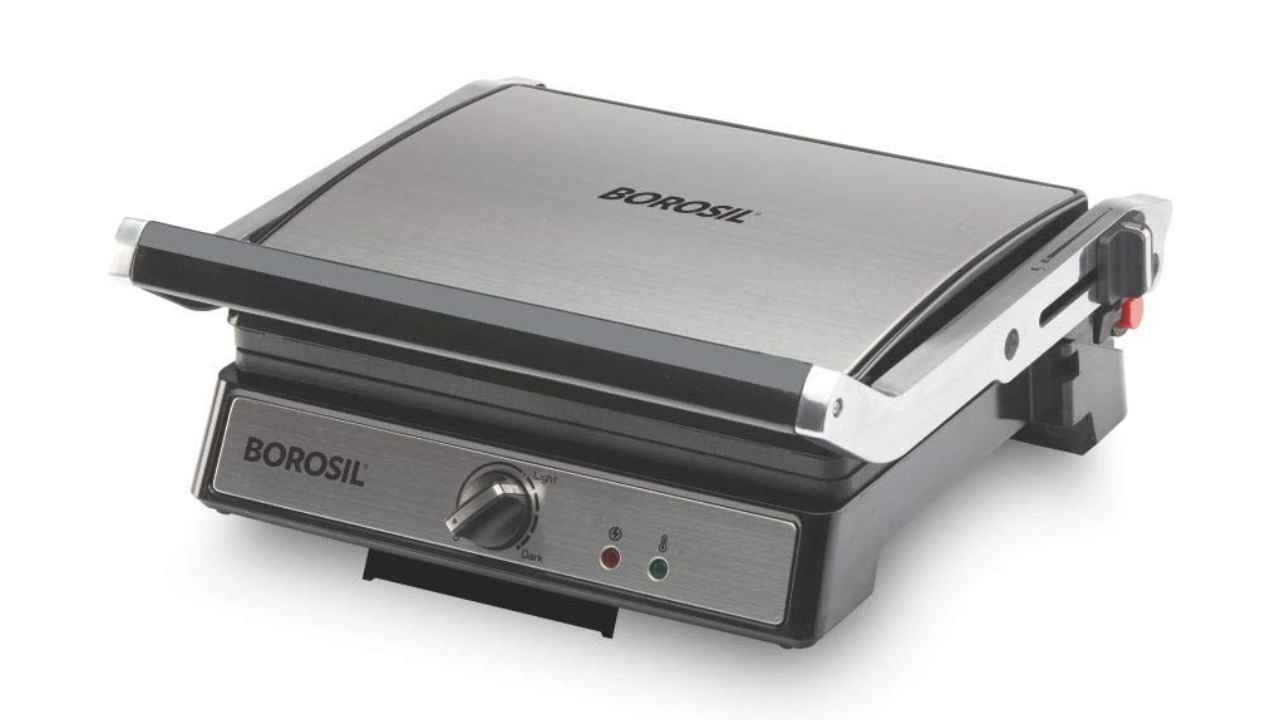 Let your inner Joey run wild and make delicious crispy grilled sandwiches in your kitchen by getting a good quality sandwich maker. But finding a decent one out of the bunch would be like finding a needle in a haystack. So here's a list of some of the best sandwich makers out there in the market that can handle multiple large-sized jumbo bread slices.
Borosil Super Jumbo 180°
Borosil Super Jumbo 180° is a large sandwich maker with a grill large enough to hold up to 4 sandwiches without a sweat. The non-stick plates have dip ribs and can go up to 180-degrees making it a convenient choice for grilling multiple things at once. The oil drip collector tray collects all the excess oil or butter dripping down from your food. This 2000-watt sandwich maker has a temperature control knob and can reach the desired temperature in no time. Borosil has even equipped it with a thermal fuse that prevents it from reaching dangerously high temperatures protecting you, your food and sandwich maker from any mishaps. It has a cord length of 1.4 metres which can be wrapped around for easy storage. Apart from that, Borosil has equipped it with a slide-type plate locking mechanism, indicator display and cool-touch handle for easy and safe operation.
Homeberg HSG – 736 Sandwich Maker
Homeberg HSG – 736 is another great 2000 watt sandwich maker with large grill plates that you can use to whip up to four sandwiches at a time. The grill plates have a Teflon coating which offers a non-stick surface making it easy for you to grill your sandwiches to a crisp. Homeberg has even equipped this sandwich maker with a drip tray to collect all the excess oil/butter from your food, preventing wastage as well as ruining your cooking area. It comes with power/ready light indicators that ensure that you don't burn your food simply by lighting up the indicator when it's ready. Homeberg has given it a metallic finish with a cool-touch body that not only helps in easy handling but also lets you operate it without worrying about burning your hand.
Havells Toastino Sandwich Maker
This sandwich maker by Havells can grill four slices simultaneously. Havells has equipped it with an oil collector tray at the back which collects all the excess oil. This makes sure that your breakfast is healthier and isn't dripping in oil. It consumes approximately 2,000 watts of power and has a heat-resistant body so you don't burn your hands while using the sandwich maker. It has non-skid feet to prevent it from slipping off the kitchen slab. Its non-stick coated grills are durable and won't lose their lustre for a long period. This 180-degree open grill comes with a timer and a temperature control knob so you can configure it as per your liking and make sandwiches while multitasking. It has ergonomic hinges and an easy lock. Last but not least, It has a stainless steel body which gives a classic and sleek look, making it a great addition to modern kitchens.
KATTICH Big Sandwich Maker
The KATTICH Sandwich maker features 1000 Watt powerful elements that rapidly heats up and provide uniform heating to the entire area of the plate for even grilling. The non-stick coated plates can accommodate two deep sandwiches so you don't miss out on any of the fillings. The plates can be cleaned using a wipe or a tissue and are easy to maintain. It is housed inside a stainless steel body that is cool to touch so you can easily hold the handle or use the lock even while grilling. There are dual indicators to let you know when the sandwich maker is powered on and ready. The cord can be wrapped at the back and its slim design ensures easy storage so your kitchen doesn't look like a mess. The company claims that it has one of the biggest dimension plates (11,1 by 6 inches) and can handle all kinds of bread.