Indian smartphone market registered its first year over year decline in shipments during the second quarter of 2017. Samsung continues to lead with a market share of 25 percent while Xiaomi registers quadruple growth in shipments.
India's smartphone market contracted for the first time while Chinese smartphone vendors strengthened their position. According to Canalys, the Indian smartphone market registered its first decline in shipments during the second quarter of 2017. The overall smartphone shipments came in at 27 million units, a marginal decline of 4 percent from the same period last year.
The decline resembles the sentiment of Chinese smartphone industry, which also registered a 3 percent year over year decline in shipments during Q2 2017. Samsung maintains its leadership position with 25 percent market share but it is facing stiff competition from Chinese players. The report indicates that Samsung is sustaining its position due to strong sales of its low-end J-series devices but its mid-range devices are under pressure from Chinese offerings. The South Korean smartphone maker has also managed to regain its share in the premium segment with the launch of Galaxy S8 and S8+.
Xiaomi holds onto its second position with a shipment of 4.8 million units in the second quarter. Xiaomi CEO Lei Jun recently confirmed that his company saw 328 percent growth in its India revenue during the first six months of this year. Canalys adds that Xiaomi's shipments more than quadrupled in this quarter and it is inching closer to dethroning Samsung as the leader.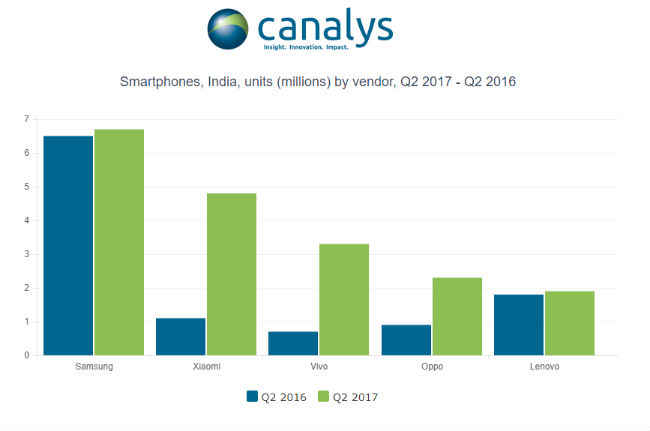 Vivo took the third position with an all-time high shipment of 3.4 million units and it continues to grow its popularity in the tier-two and tier-three cities. Oppo dethroned Lenovo as the fourth largest smartphone brand in India while Lenovo took the fifth spot with 1.9 million smartphone shipments. "With China suffering its own decline this quarter, India is a market of huge strategic importance to Chinese smartphone vendors," said Canalys Research Analyst Ishan Dutt. He added that Xiaomi, Oppo, Vivo, Gionee and Lenovo collectively control over 50 percent of India's smartphone market.
While the second quarter registered a marginal decline, the third quarter could see continued downward trend due to the Goods and Services Tax (GST) rollout. Canalys notes that there is general confusion in the market over GST and the lack of awareness is leading to a wait-and-see policy. "The market will emerge stronger post-GST. Vendors can look forward to a leaner distribution, faster delivery and increased demand from local retailers and distributors," said Canalys Analyst Rushabh Doshi.
Tags:
india smartphone shipments
samsung
xiaomi
oppo
vivo
india smartphone shipments second quarter
india smartphone shipments decline
mobiles
smartphone sales